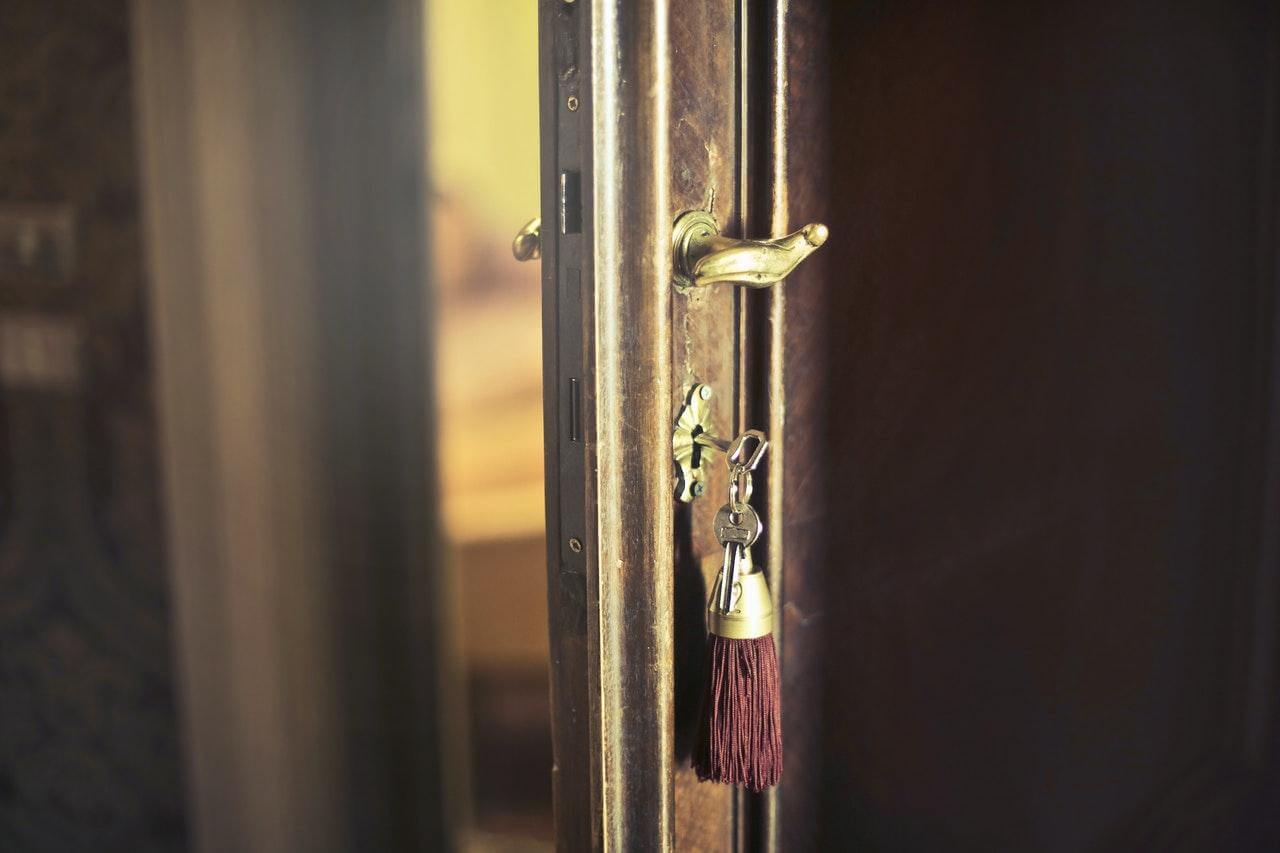 The intrusiveness of having a stranger in your home is upsetting and often life-changing, even if they leave empty-handed. Unfortunately, most thieves are never caught. Only 13% of burglars are arrested, making prevention one of the best ways to protect yourself from a home invasion.
How to Make Your Home More Secure
Most thieves will go for easy targets. Burglary is a crime of opportunity, so criminals will take the path of least resistance. Here's what you can do to make your home less vulnerable.
1. Reinforce Door Locks
It's uncommon for burglars to enter a locked home or one with reinforced windows or doors. A 2012 study of 422 convinced burglars surveyed admitted they always entered unlocked homes.
However, even if you do lock your windows and doors, it doesn't guarantee a burglar won't brute force their way in. If the deadbolt on your door enters into a strike plate with half-inch screws, they're easy to kick down. Replace them with three-inch wooden screws to deter thieves.
2. Installing a Security Gate
Some older homes or farm properties will have a long path leading to their backyard or property. If it isn't gated off, thieves can easily get behind your home and break in uninterrupted.
By using a large swing gate and an opener, like one of LiftMaster gate openers, you benefit from both the ease and security an automatic gate can bring. Not only will you be able to enter your property without getting out of the car, but the gate will stay locked until you enter a password.
3. Seal All Glass Doors
Glass doors look really stylish, but without reinforced glass, a burglar can simply break them and unlock your door. If you want to keep glass doors on your property, install security film and keep the camera batteries charged all the time.
Security film holds up against a lot of pressure, so even if a thief throws a rock or kicks the glass, your door will remain intact. If the burglar breaks the glass or the window spiders, the glass will stay in place. Plus, security film is pretty cheap, costing less than $10 per square foot.
4. Install Motion-Activated Lights
No burglar wants to be seen, so something as simple as a motion-activated light can keep thieves away from good. For added protection, swap porch light bulbs with LED bulbs.
If you plan on going on vacation, automatic lights can also make your home look lived in. For example, if you install smart lights into your living room, bedroom, and kitchen that turn on and off at night, burglars will think you're home. However, installing a house sitter wouldn't hurt.
5. Fortify Sliding Patio Doors
Most thieves won't break sliding patio doors because they can simply pull them open with a bit of force. Some burglars will even remove the door off the tracks by using a crowbar or stick.
A security bar can prevent any burglar from tearing the door off, but if they're too discrete, thieves may try anyway. A good visual deterrent is an obvious stick that sits inside the tracks and/or between two doors. A simple glance will determine your home isn't worth the trouble.
6. Install an Alarm (or Fake It)
The vast majority of burglars will check if your home has an alarm before breaking in. They're more likely to go elsewhere if they see an alarm company sticker pasted on your windows.
The sticker or lawn signage is more than enough to deter most thieves. If you can't install an alarm system right away, we recommend purchasing believable props. Burglars also hate dogs, so keep a "Beware of Dogs" sign and a large food bowl on your property at all times.
The Energy-Efficiency Advantages of Vinyl Window Replacement

Windows are more than just portals to the outside world; they play a significant role in determining the comfort and energy efficiency of your home. If you're looking to improve your home's energy efficiency, consider the advantages of vinyl window replacement. In this article, we'll... The post The Energy-Efficiency Advantages of Vinyl Window Replacement appeared […]