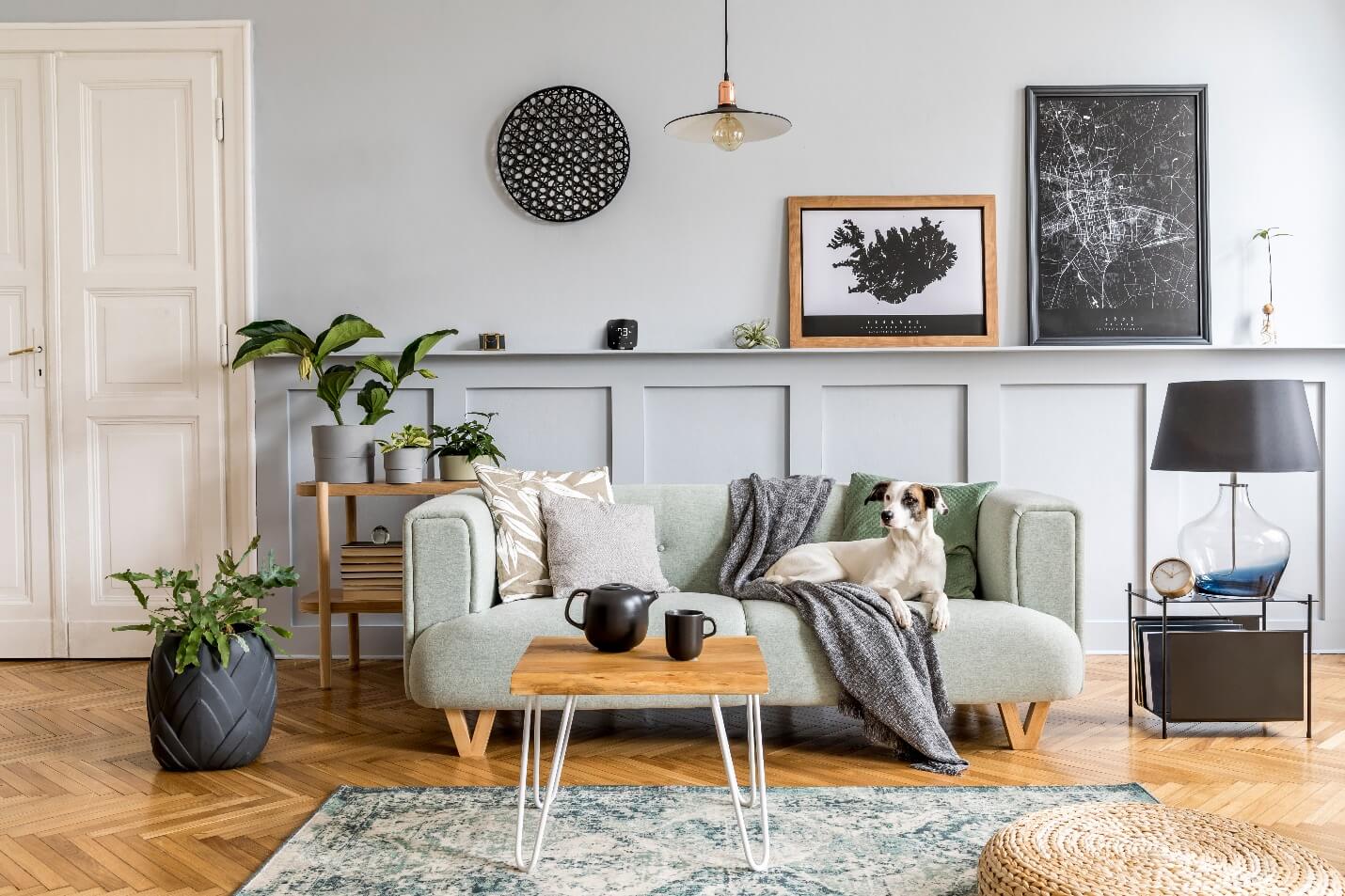 With the advancement in technology, a number of cool gadgets are adorning every home. They not only add to the aesthetics but also provide a sense of convenience and comfort. With smart home devices, you get to have a perfectly chilled living room after a long, tiring day, you can enjoy watching shows without even moving from your couch, plants can take care of themselves when you are on vacation, and so much more.
But with so many options available, you might be wondering which ones are actually worth buying. From smart planters to smart air conditioner controllers, we have compiled 6 smart home devices to help you upgrade your living room. They are easy to set up and complement what's already in your space.
Smart Thermostat or Smart AC Controller
A perfect temperature can take your comfort to the next level while watching a TV show or reading your favorite book.
But does achieving an ideal temperature seem like an impossible task?
Well, with smart thermostats or smart AC controllers that work with mini-splits, portable or window ACs, achieving your desired settings is a breeze!
You can control temperature, set weekly schedules, create zones, and keep track of your AC air filter cleanliness level through these smart devices. In addition, you can tweak all your AC settings from anywhere in the world using your smartphone.
If you forget to turn off your AC while going out, it will automatically turn off through geofencing mode. Further, they can also send you monthly reports about your energy usage patterns. This helps you in making the required changes to save on your energy bill.
Smart Speaker
You can listen to songs, or get weather updates with smart speakers, but that is just the tip of the iceberg. They are capable of doing so much more!
Smart speakers are basically voice-assisted virtual assistants equipped with artificial intelligence. They can carry out various tasks for you, in addition to playing songs. You can ask them to set the alarm, note down your grocery list, and various other tasks.
Moreover, you can integrate them with smart thermostats, smart AC controllers, smart locks, and other smart devices.
If you are relaxing in your living room and just remembered that the basement air conditioner is turned on, you can use just your smart speaker to turn it off. No need to disturb your comfort anymore!
Smart Planters
Do you struggle with keeping your plants alive? Do water, temperature, and humidity requirements confuse you?
Then smart planters are definitely for you!
They come in various designs and colors. Some even have a display that shows different emotions depending on the state of the plant. You can place them on the coffee table or a book rack in your living room; just make sure they have a good amount of light.
In addition to adding to the aesthetic value of the living room, they have tons of useful features too. Smart planters have light, temperature, and soil moisture sensors. You can connect the planter to your smartphone using an app. The app will notify you when your plants are thirsty or when they need more sunlight. You can also keep a growth record of all your plants using a plant diary feature in the app.
Some smart planters in the market even water your plants when you are away. They have a water tank that you have to fill in. The planter will water the plant using the water from the tank when it needs it. This feature is perfect for those who dread leaving their plants when going on a vacation.
Smart Lighting
Smart lighting lets you set the ambiance of your living room. You can change the color and the brightness level, depending on your preference. You can also change the settings according to the time of the day. They also can come in with built-in presets. Some presets are designed to mimic sunrise and sunset, some claim to promote concentration, and others are for relaxation.
If you forget to turn off lights, you can use your smartphone or voice assistants like Alexa to turn them off.
Smart bulbs are not better at conserving energy than simple LED lights. However, you don't leave them running unnecessarily due to the remote control feature, which can save on bills.
Smart Air Purifier
Indoor air is 2-5 times more polluted than outdoor air. This calls for immediate action on improving your indoor air quality.
You can take control of your home's air quality by using a smart air purifier. They remove airborne toxins and pollutants that cause health issues.
Smart air purifiers are WIFI enabled and help you monitor your home's air quality in real-time. You connect the device to the mobile app, and you get all the controls in your hand. For example, you can use the app to check your air filter quality and set schedules for air cleaning.
Smart air purifiers send you alerts when the air quality levels fall below the safety threshold or when it's time to change your filter.
Smart Essential Oil Diffuser
Whether you need to unwind after a long, tiring day or just want a pleasant smell in your living room, smart diffusers can help.
You can use smart diffusers for aromatherapy. It can soothe your mind and can serve as a wellness booster.
They come in hundreds of designs you can choose that suit the overall theme of your living room. You can control a smart diffuser remotely through an app. You can also connect it to a voice assistant like Alexa to have a hands-off control.
In addition to going smart you should also think about going solar on your energy consumption. It'll not only add to your comfort but also help save on bills in the longer run. Now sit back and enjoy your modern living room with a touch of smartness!
Smart Plugs
One easy and quick but powerful way to upgrade your space is to automate the devices you plugin. For example, you need new barn lights but you want them to come on illuminating the porch or interior of the house when you get home. You can turn just about any device that has a hard on off switch into an automated system working with other plugs to create awe-striking effects! The app used to network the plugs into a system i.e. turning on lights automatically or with your voice can create amazing results!
Homeowners Guide to Black Mold Removal in Toronto

Learning that you may need black mold removal can be outright scary for many homeowners. Black mold is also known as toxic mold, which has been portrayed in the media as a threat to people, animals, and children. The truth about black mold is a... The post Homeowners Guide to Black Mold Removal in Toronto […]