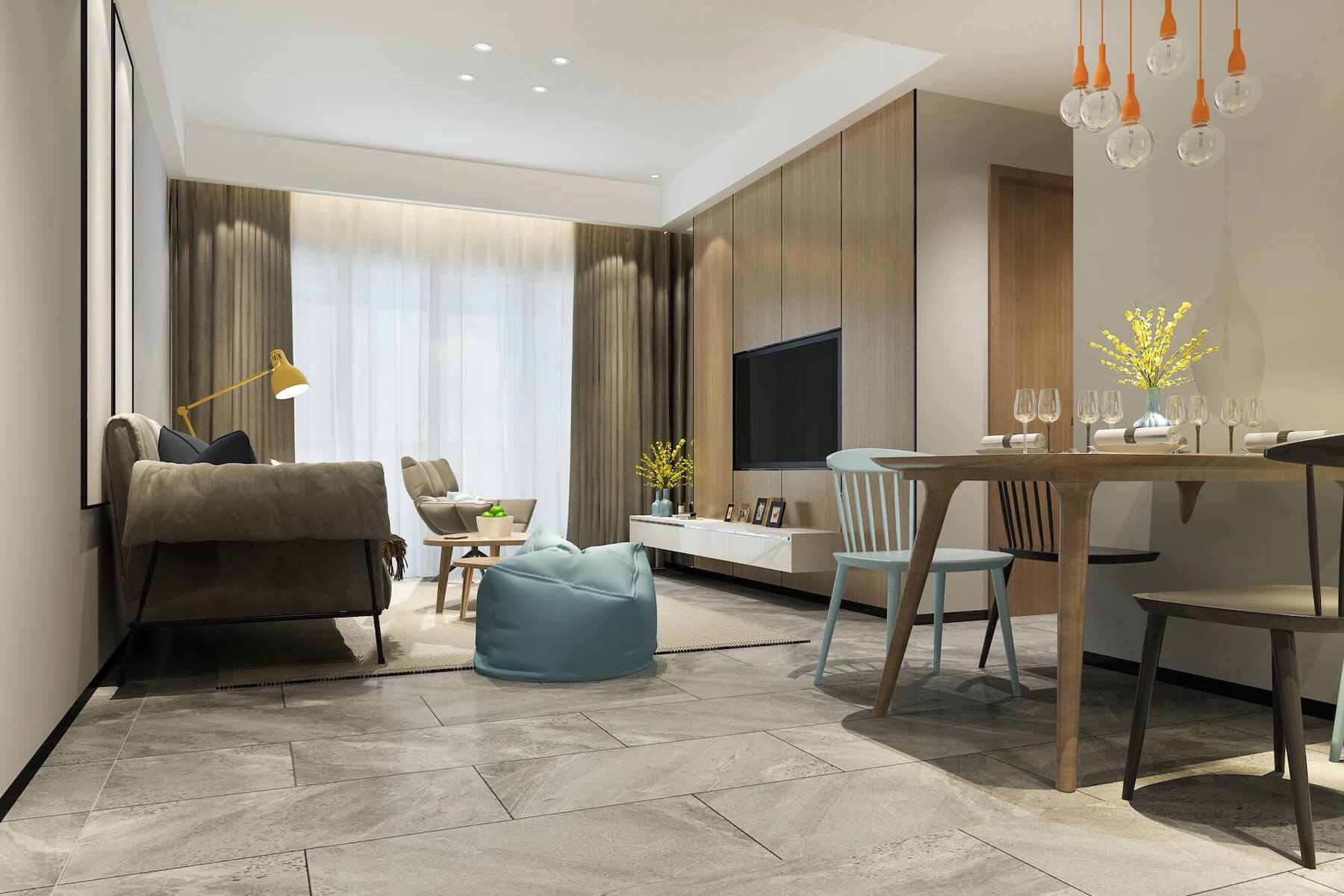 The TV has become a staple of entertainment in almost every household. After a long day, binge-watching your favorite shows or movies gives you a break to escape from the real world for a while.
But, have you ever wondered how the setup of the TV can affect the interior decor of your living space? Yes, typically, we tend to mount our sleek devices in the center of the wall but what if we can hide or disguise it and make that wall space look more trendy?
Let's take a look at some of the smart and creative ways you can seamlessly incorporate your TV into your living space.
Use TV Lifts to Hide Your TV
One of the best ways to hide your TV is by using TV lift mechanisms. These come in two types: drop-down or pop-up. Drop-down TV lift systems are those where the TV is fitted up on your ceiling and it literally "drops down" with the touch of a button. You can then adjust the height of the TV to your preferred viewing angle.
Pop-up TV lift systems are where you hide the TV inside a cabinet where it slides up, down, or from the sides. These can also be easily installed on the foot of your bed so you can enjoy those late-night movies comfortably.
Using TV lift systems comes with certain advantages:
It'll protect your TV from dust and moisture.
Your TV will stay safe and secure from children playing and thieves.
You can install it anywhere you like – for example, in your kitchen.
It creates more room for you to do up the space creatively.
Paint Your Wall in a Dark Tone
Don't worry! You do not need to paint your entire house a dark color. However, mounting your TV on a dark-colored wall is a smart and clever way to camouflage your TV. You can try painting navy blue, dark green, or indigo on just one accent wall while keeping other walls light and bright.
Use TV Cabinets
You can install a built-in cabinet for your TV if you plan on setting it up above a fireplace mantel. If you don't have a fireplace, you can buy a tall dresser that would hide your TV behind closed doors.
When purchasing cabinets, make sure it places your TV at a perfect viewing height and that you have punched a few holes at the back of the cabinet for the wires.
Install Sliding or Folding Doors
If you want a rustic look for your living space, you can install sliding barn doors to hide your TV. Or you can also use retractable artwork or frames that are hinged and fold like shutters or screens to hide your TV.
When not in use, the doors would simply close to reveal a family picture or a beautiful framed painting to match the decor of your living room.
Install TV Mirrors
A mirrored TV is basically a dielectric mirror that covers the TV with a frame and holds it together. If you're looking for a living room makeover, this is a perfect way to hide your sleek device, as when turned off, it becomes an ornamented mirror that accentuates your living room.
You can also hide it behind sliding mirror frames if you have space cut out for your TV inside the wall.
Decorate the Space Around Your TV
To draw attention away from your device, you can put up picture frames or artworks around the TV wall space.
Another great idea is to place low bookcases or floating shelves beneath your mounted TV. This is a good space-saving idea where you can organize books and artwork and also place small plant pots to complete the look in your living space.
Use a Pull-Down Map
If you want to give a more vintage look to your living room, you can go old-school and install a pull-down cloth map to hide your TV screen. This will give your entire living space an antique feel especially if you have placed a wooden cabinet underneath.
Use a Monochromatic Color Scheme
Monochromatic literally means "one color". However, when it comes to interior decorating, you can mix the tones and shades of different colors to brighten up your living space.
For example, you can use the black and white color theme and decorate your wall space with white paintings in black frames. You can also add in a tint of green, or red by placing a small flower plant on a floating shelf. That'll help take the attention off the large TV and make your living space look more elegant.
Use a Gallery Wall
A more simple idea would be to blend your TV with a built-in gallery wall. You can place books, magazines, artwork, picture frames, and a number of other decorative things to get attention away from your big screen.
In a Nutshell
There are a number of smart and decorative ways to hide or camouflage your TV.
No matter which idea you use to hide your TV, it's very important you make sure that no wires are sticking out. You can hide them behind your walls or you can install wire covers that match the color of your wall to blend in.
After everything is set and done, you can now enjoy your living space without your TV taking up most of the attention and space.
The Energy-Efficiency Advantages of Vinyl Window Replacement

Windows are more than just portals to the outside world; they play a significant role in determining the comfort and energy efficiency of your home. If you're looking to improve your home's energy efficiency, consider the advantages of vinyl window replacement. In this article, we'll... The post The Energy-Efficiency Advantages of Vinyl Window Replacement appeared […]