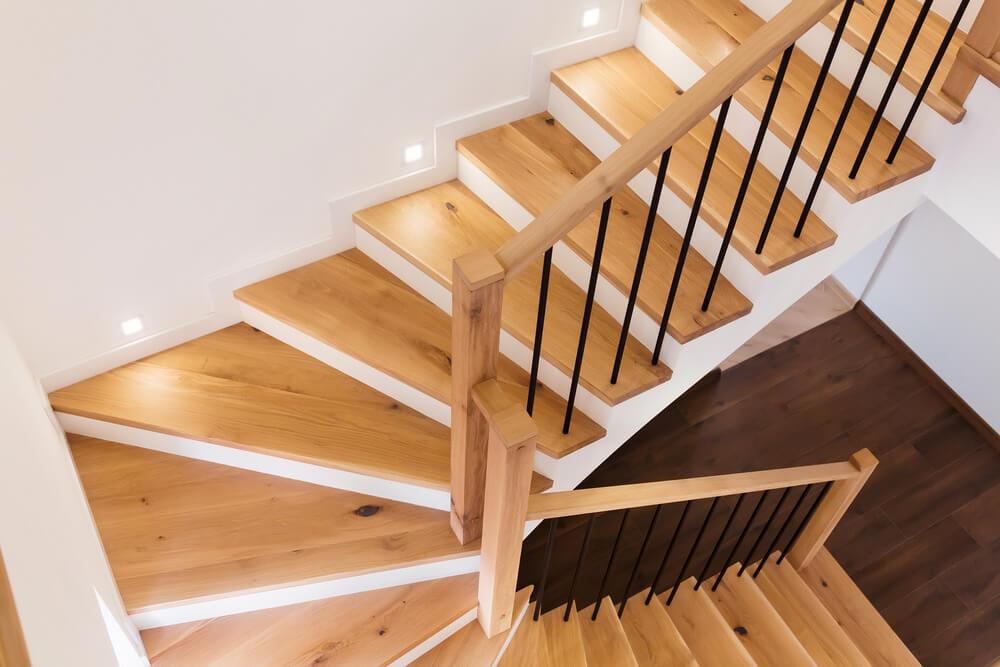 Multi-level homes have one major thing in their home: stairs. While important, it's also that humble and underrated feature, given how homeowners may not always give it the attention it needs and deserves. It's a functional feature but can also be a focal point with a huge potential to inject design and creativity into it.
Stairs can come in all styles and designs, usually based on the home's interior. However, what matters most is how the stairs look so they can bring a strong visual impact to any home.
If you feel like something's wrong with your stairs, this could be that nudge you need to seriously consider giving it a new look. Fortunately, this article will look at some of the easiest ways to bring new life to your stairs.
Repaint The Banister
A staircase comprises many parts, one of which is the banister. This part provides structure to the stairs, usually formed by the upright and the handrail. There are many different ways a banister can be designed, the most common of which is made of varnished or painted wood.
Over time, the paint may chip and fade for banisters with the latter, which calls for repainting to revive its look. Your stairs may be old, but you don't have to give away their age through chipped and old paint. It's a simple and easy upgrade to your stairs, making them look brand new.
Put Up A Gallery Wall
Most homes have L-shaped stairs for a good reason. It's a great space-saver, but it also means it's placed on a corner of your home with a blank wall. You can design this blank wall so it doesn't stay dull and lifeless. And while it can be tricky to do so, the options are limitless.
One of the best ways is to put up a gallery wall. Frame up photos of family memories, be it of the children growing up, your travels, and other important milestones. Not only does it bring to life a blank wall, but it also adds a personal touch to your home instead of putting up generic photos.
Incorporate Storage
Another way to elevate your stairs is to incorporate storage. Many homeowners do this to make empty spaces under the stairs more functional. You can use it to store shoes, as a pantry, or as a small closet for coats and outerwear.
The added storage space works as another design element in your stairs. This way, your home can be more organized since you have more storage space, and it also adds style to any awkward voids or sections under the stairs.
Install Stair Runners

Wide stairs do well with stair runners. Like table runners, these can add personality to an otherwise empty and flat space. Unlike carpets, runners don't cover the entire tread or steps, giving way to show off the tiles or wood your stairs may have on each side.
There are several options for stair runners, so it'll ultimately boil down to personal style and preference. But, when in doubt, it's best to go for neutrals; You can't go wrong with these. Your stairs look classy and will do well with just about any other interior decorative elements you'll have.
Add Lightings
Make your stairs more elegant and posher by lighting the steps. If you're up for a major renovation, you can have an entire electrical system placed to switch the lights on and off as you please. You can install the lights either on the side or below each step.
You can opt for motion detector light emitting diode (LED) lights on each step for a more budget and time-friendly option. Stick them on the side of each step, so it lights up when someone passes by.
Lights are a great feature to have on your stairs at night. It doesn't just make your stairs a lot safer, but there's something about the magic of lights that can instantly level up any space.
Install Ceiling Lights
Pin lights are good. However, if you want to spruce up your stairs, it's best to change those with hanging ceiling lights to add drama and style. Stairs usually have a high ceiling above the first corner landing, so make the most of that space with hanging and drop lights.
There are several hanging ceiling light designs to choose from. You can choose a simple design that'll seamlessly match your home's interior or an eye-catching, bold design for that wow factor.
Final Thoughts
Stairs are a functional part of multi-story homes. At the same time, they can contribute to a home's overall interior design. It can also be challenging to miss, given its size. Therefore, it's only right to make it a beautiful thing to look at rather than an eyesore. Whether you have new or old stairs, don't leave them behind in your renovation projects. Consider the tips shared above and spruce it up, especially if it looks like it's screaming for new life.
How to Find a Good Locksmith in Germantown, MD | Tips You Need to Know

Choosing the wrong locksmiths in Germantown could put you and your family at risk. This is why you shouldn't just choose the first 24-hour locksmith you find. Whether you need to install a new high-security system or change a broken lock, ensuring your service provider... The post How to Find a Good Locksmith in Germantown, […]