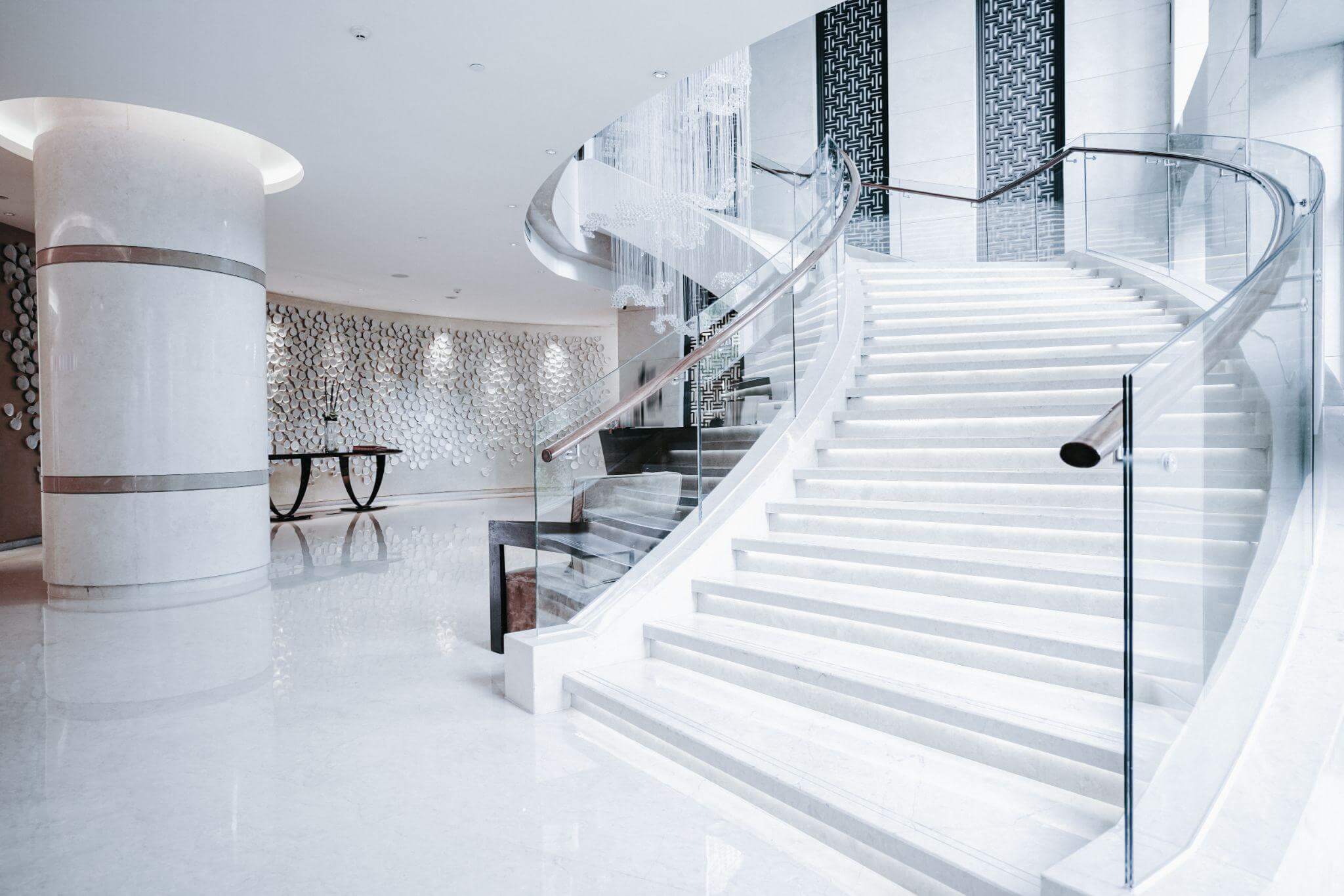 Any deck, porch, or stairway may be made more appealing with the addition of an attractive railing. There is also the added benefit of keeping everyone safe. It is possible to entirely modify the look of your staircase or balcony with a matching fence.
As with decking materials, designs, and patterns, railings should be carefully chosen since they are visible from your house, much of your backyard, and on the deck itself.
Additionally, it's a must for your own safety, particularly if your deck is on a higher level.
This guide will help you choose the most refined home railing designs that meet your demands and expectations.
But first…
What Are the Benefits of Adding House Railings?
While most people don't think twice about using the stairs railings, they're an essential part of any home or building, not just for its aesthetic value but also for the safety and convenience like Honeywell thermostats they provide for those with mobility challenges and those who are prone to accidents.
When it comes to safety, even a modest railing in the home may make a world of difference. Why?
Balance
People tend to cling to a platform's railing if they lose their footing. Railings are essential for the safety of youngsters and the elderly because they create a sense of security.
Safety
Railings offer a necessary boundary between a surface and a steep drop in order to safeguard inquisitive youngsters, wild pets, or ignorant adults.
Convenience
High platforms may be perilous in bad weather. The addition of railings improves the safety of those using the platform by providing more support and reducing their risk of injury.
Low Maintenance
If the railing is made of weather-resistant material, it will likely survive extreme weather conditions and need little upkeep. Balcony railings are a cost-effective alternative to the risky situations that might arise if you don't have them.
Aesthetics
While safety is a primary consideration, railings may offer visual appeal. They may be tailored to suit your aesthetic demands and taste because of the wide variety of materials available.
Trendy Types of Railings
Choosing the appropriate deck railing material may be difficult for homeowners, as there is a wide variety of ideas to select from that may completely change the appearance of your property.
To get you started, we'll take a look at the most popular and attractive styles of railings below:
1. Steel Railings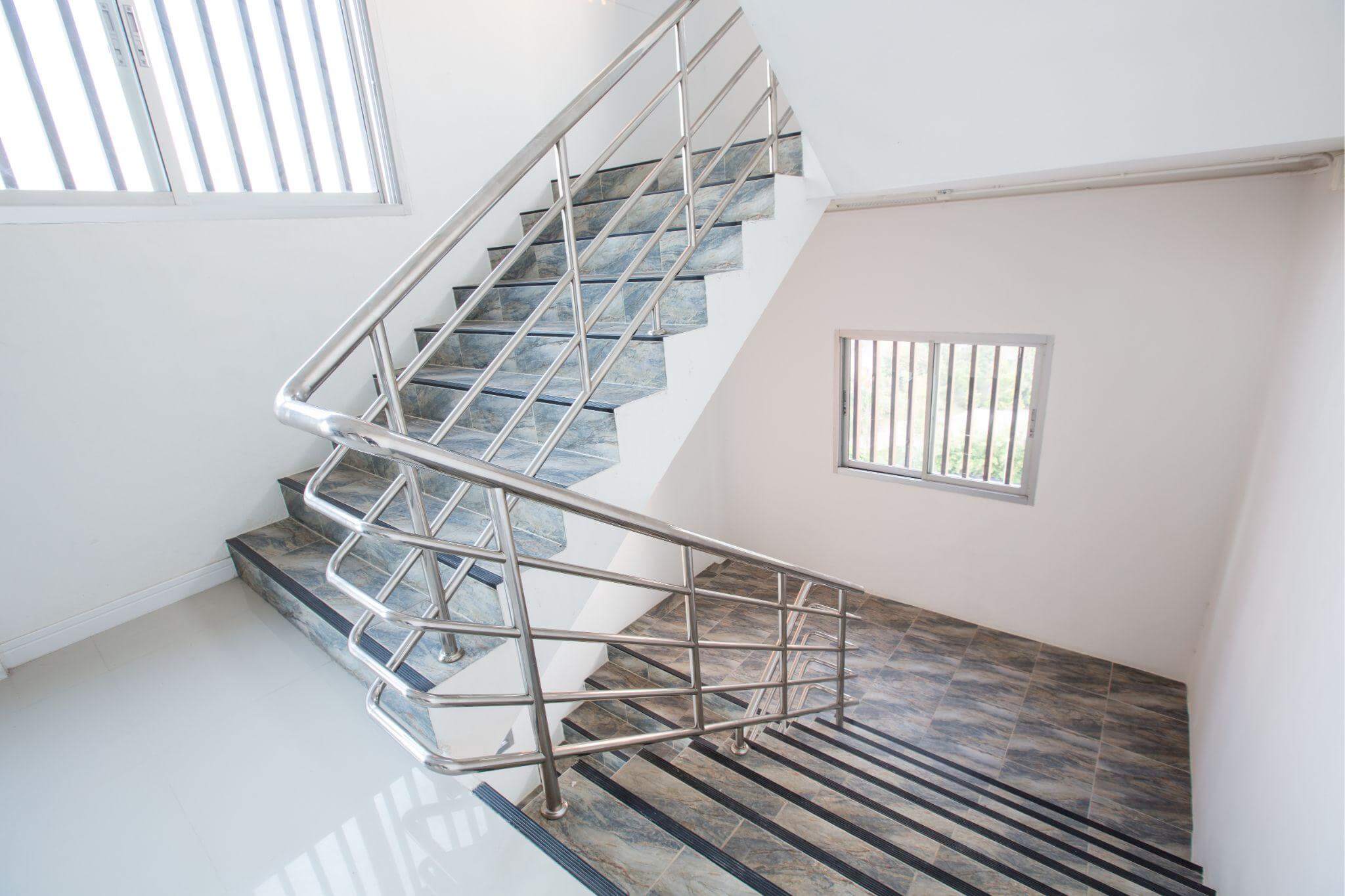 Steel railings, one of the most prevalent materials, are not usually utilized for balconies. Despite its long-term durability, it is susceptible to corrosion because of its metal composition. Because of this, they may frequently be combined with other materials to get a more polished and clean aesthetic. As a modern-looking staircase, it's ideal for use in any home's interior.
Stainless steel railings may be used in both residential and commercial settings to provide a sleek, contemporary effect. As earlier said, stainless steel handrails may be used with other types of railings, such as glass or wood, to produce a more modern look.
They offer a more practical purpose when installed in industrial settings, but may be used in both homes and offices because of their clean lines and modern look.
Advantages of stainless steel railings:
Handrails and railings made of steel are exceptionally sturdy and long-lasting, making them one of the safest options available.
Powder coatings, liquid paints, and primers may be applied to steel to enhance efficiency.
For the most part, you can get away with using a sponge and a light detergent to clean galvanized and stainless steel.
Steel is a durable, all-purpose material that can be used both inside and out.
2. Wood Railings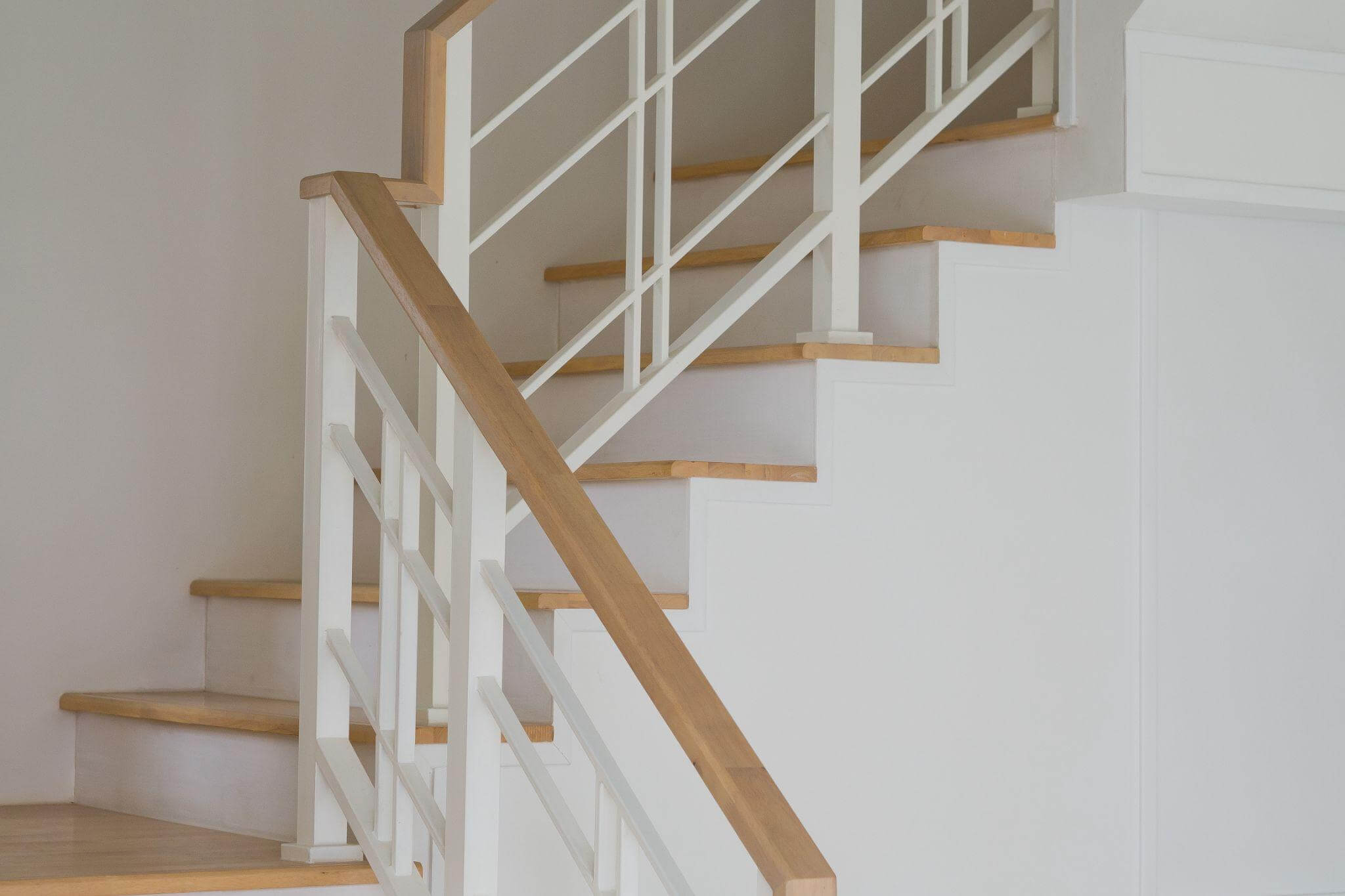 Wood is the most frequent material for a balcony railing, and it is also the most expensive. Wood has a wide variety of patterns, kinds, and finishes that may be combined to meet your specific needs. Wood isn't only for classic houses; it can also be used to improve the look of a modern property. Additionally, wood is a more cost-effective alternative than aluminum and steel railing systems, which are more pricey. It's a lot of work (it has to be cut and polished with CBN grinding wheels or diamond grinding wheels), but it's worth it in the end.
Railings made of wood are often seen in residential structures. Depending on the application, wooden railings may be used on decks, garage steps, and even grand staircases in historic houses. They may complement contemporary railing materials like metal or glass to create a distinctive look.
If treated appropriately, they may be utilized on decks and other outside constructions as well as in interior spaces.
Advantages of wooden railings:
The natural beauty that wood railings bring to the surroundings is one of their primary benefits.
Due to its versatility in shaping, wood may take on a wide range of looks. Staining or painting wood to whatever color you like might also be an option.
Wood is a popular option for DIY remodeling projects since it is often inexpensive to acquire and install.
It is simple to maintain wooden railings since they naturally resist stains and scratches.
3. Glass Railings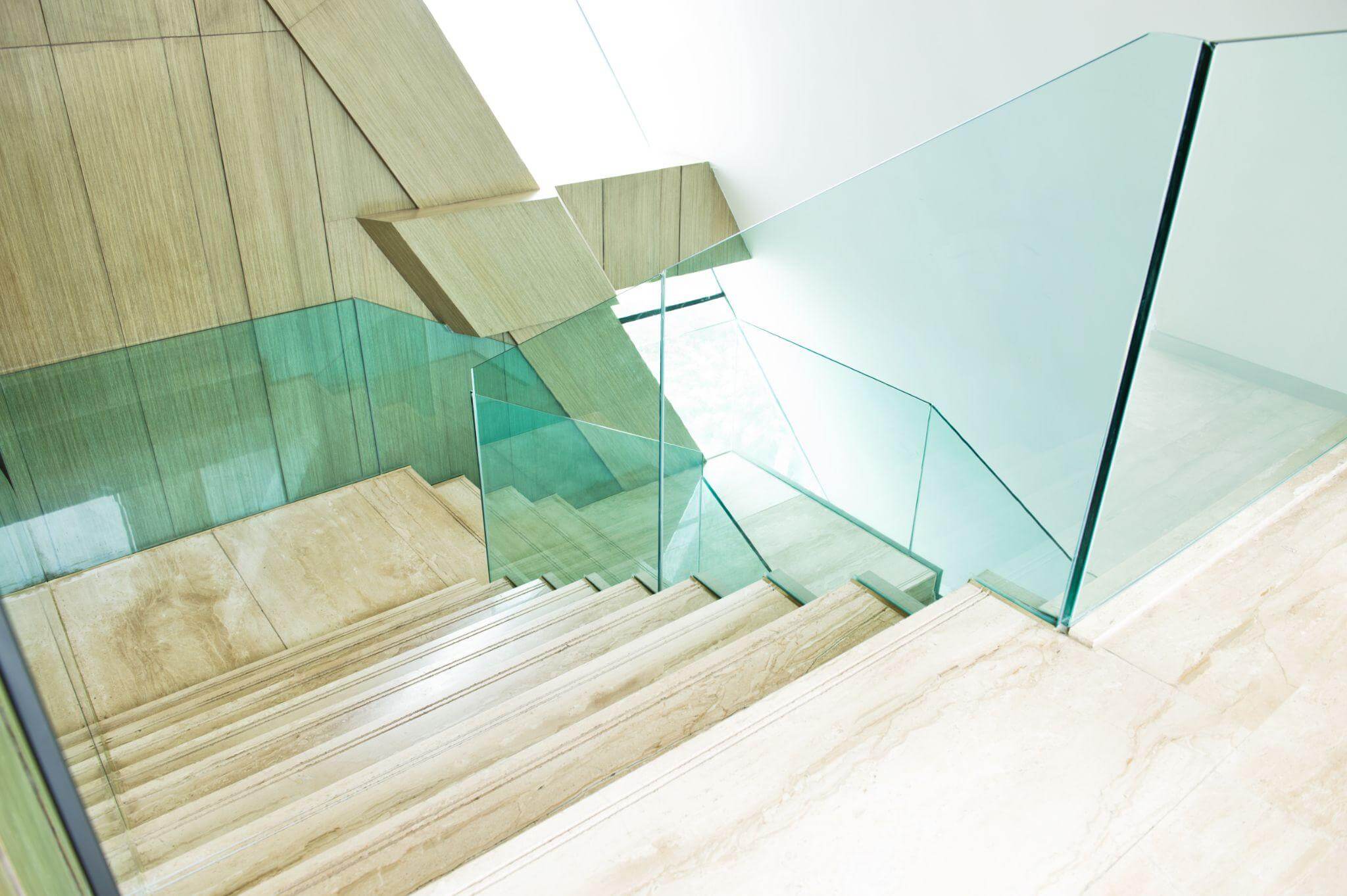 Glass railings provide unrivaled vistas that no other kind of railing can provide. Not only do they look great on any modern balcony or deck, but they also allow you to take advantage of the breathtaking view from the comfort of your own balcony.
Choosing a tempered glass arrangement ensures that you and your loved ones are protected at all times. Even though the glass railing looks great on just about every deck or balcony, it's more costly than some of the other options on our list.
Staircases made of glass may not appear very secure, but this isn't always the case. Glass may be transparent, semi-transparent, colored, frosted, or engraved in various ways.
Modern business and residential buildings often have glass railings, which may be installed inside or outside. For the stair railing, stainless steel or aluminum may be utilized to frame the glass panels, or they can be frameless.
Advantages of glass railings:
There is no obscuring the view with glass fences, making them ideal for public spaces.
Transparent railings bring in more light, making a space seem larger.
Glass railings may provide a wind barrier when installed outside.
Keeping a glass railing in good and clean condition is a cinch.
4. Wrought Iron Railings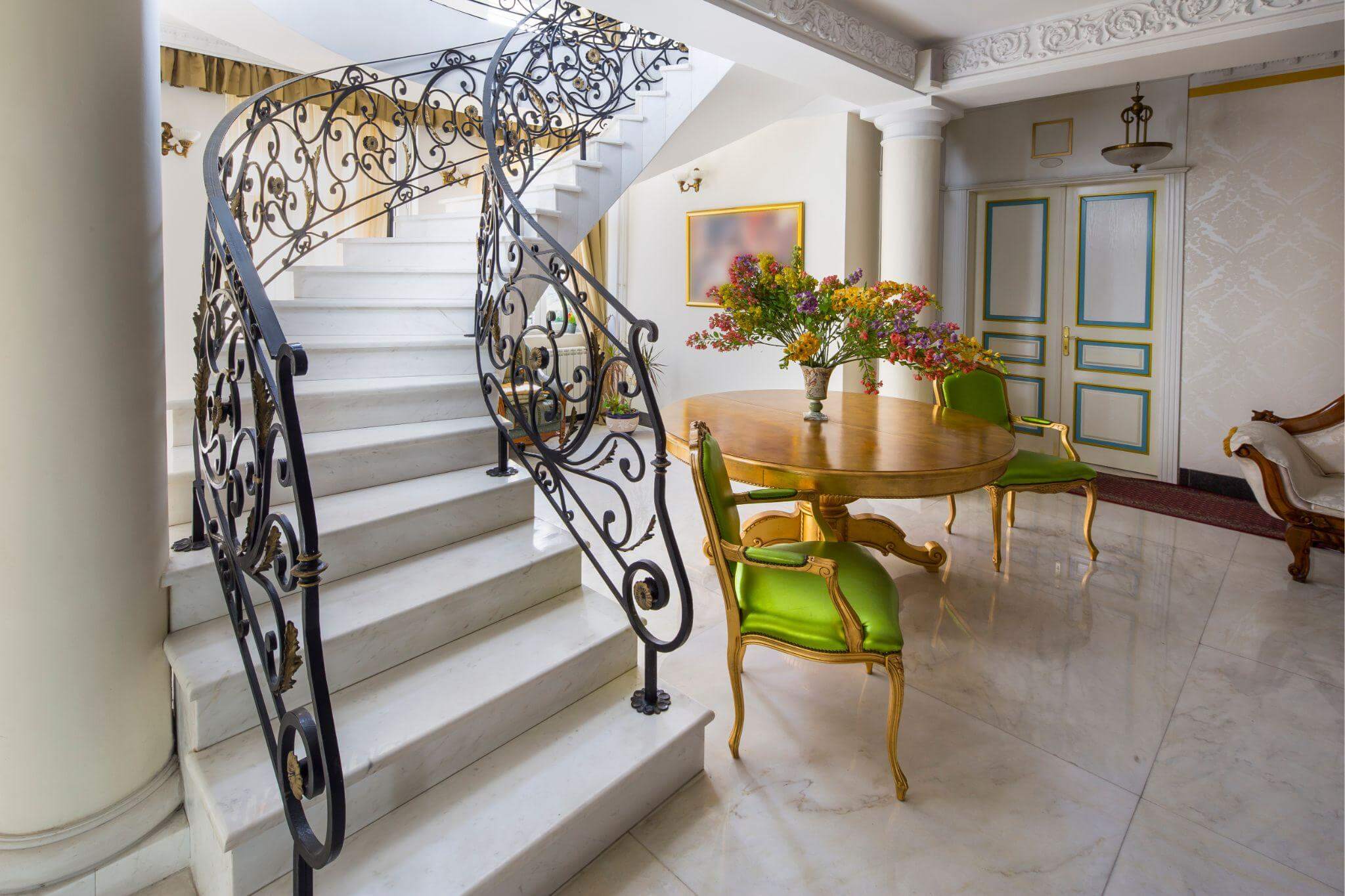 Staircase railings made of wrought iron have a classic look and are an excellent choice for any home. You can expect these railings to last for a long time and withstand the test of time, assuming they are properly cared for. It is necessary to do routine maintenance on iron because, like other metals, iron tends to rust with time. Despite their high price tag, wrought iron railings are an excellent way to give a touch of subtle beauty and refinement to any property.
Wrought iron stair railings are common in both private homes and commercial structures. Depending on the situation, they may be used indoors or outside as part of a large landscaping project. The mix of wrought iron balusters and wood handrails creates a stylish and dramatic look.
Advantages of wrought iron railings:
Wrought iron's adaptability is a major asset. In order to obtain a wide range of styles, from a sleek contemporary appearance to more ornate leaves or scrolls, the material may be molded.
Wrought iron, because of its sturdiness, is ideal for stairs.
Powder-coated wrought iron handrails and railings are available in a wide range of hues.
5. Aluminum Railings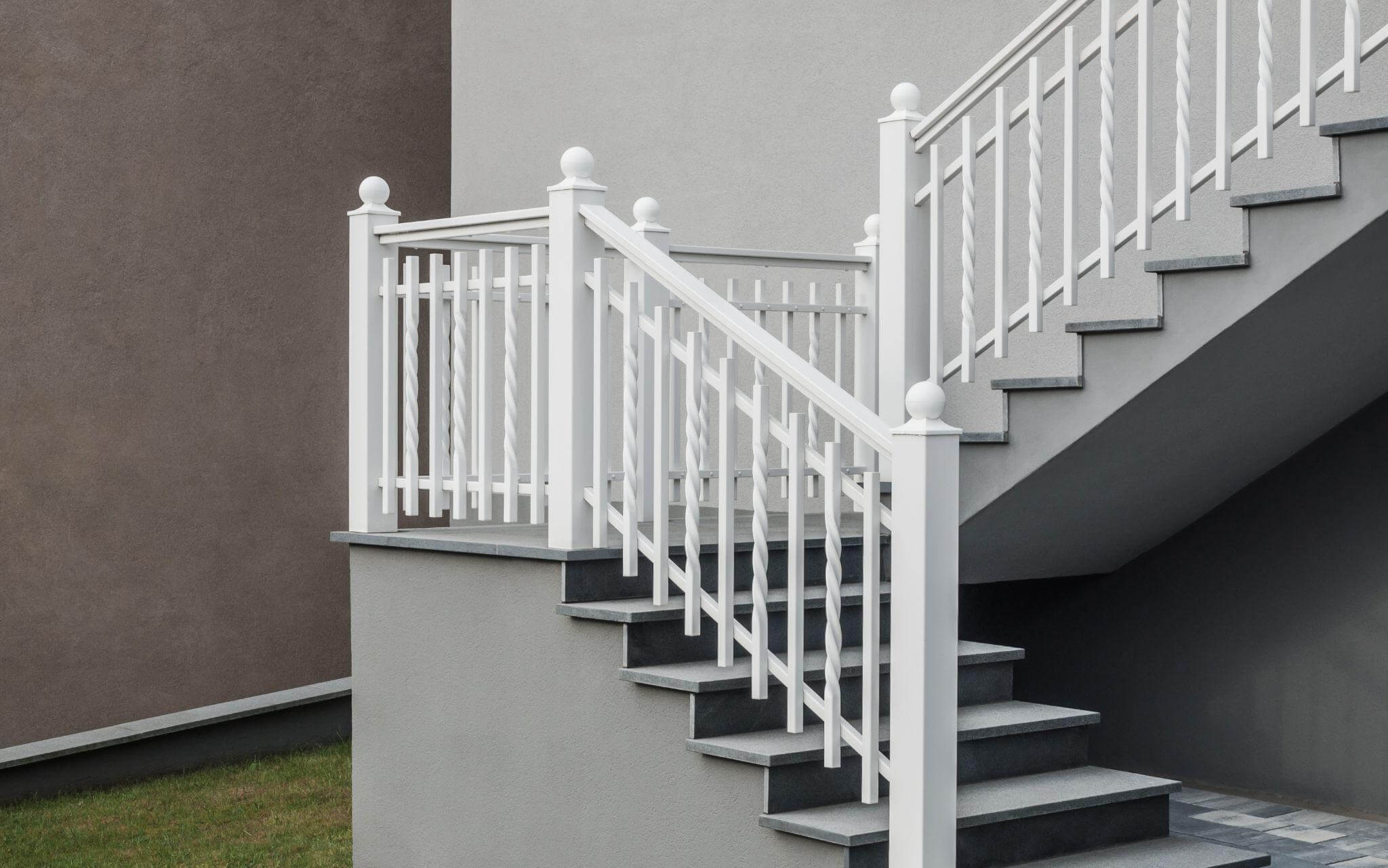 For outdoor applications, aluminum railings are preferable since they are light, sturdy, and easy to install. Aluminum railings are naturally rust-resistant and corrosion-proof so that they can withstand even the most extreme weather conditions.
It's also simple to add beauty and elegance with minimum care, so aluminum railings are a great option for projects of any size and scope. The durability makes it an excellent choice for both staircases and balconies. It is available in various surface finishes, from a soft-matted or satin touch to a more polished appearance.
Outside, aluminum stair railings are often utilized on porches, patios, and other decks. They may, however, be found inside in any structure.
Advantages of aluminum railings:
Aluminum, like steel, is very robust and long-lasting, making it an excellent material for creating secure surroundings.
Aluminum can resist even the most extreme weather conditions and needs very little upkeep.
Aluminum is simpler to cut and shape than steel because of its reduced weight. As a result, a greater range of styles, colors, and patterns are accessible.
Did You Choose Your Favorite Railings Type?
The use of railings on a stairway increases a person's sense of security and reduces the risk of a slip and fall. In addition, these stair elements significantly influence how the staircase looks from the outside.
Various materials, such as metal, wood, or glass, may be utilized for each component to generate a wide range of aesthetically attractive and unique styles.
Staircase railings come in various forms, from the more conventional picket to the more contemporary cable wire, so choose wisely and arrange your home with the best railings that suit your needs and preferences!
The Energy-Efficiency Advantages of Vinyl Window Replacement

Windows are more than just portals to the outside world; they play a significant role in determining the comfort and energy efficiency of your home. If you're looking to improve your home's energy efficiency, consider the advantages of vinyl window replacement. In this article, we'll... The post The Energy-Efficiency Advantages of Vinyl Window Replacement appeared […]