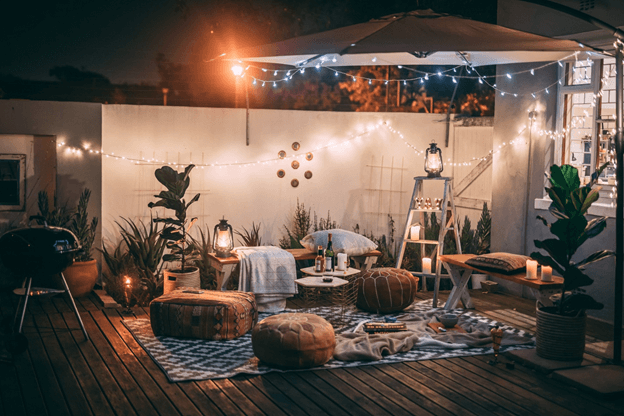 Installing the right deck lighting can add beauty and value to your home and boost the safety and security of your outdoor spaces. Ample deck lighting can also enable you to extend hours of outdoor enjoyment into the night, whether you're cooking, hosting an event, or star gazing.
While there is a wide range of outdoor lighting products, you want only to install high-quality, low-voltage LED deck lights from in-sider.com that feature modern designs and unmatched energy efficiency to meet all your outdoor lighting needs.
Like traditional lighting, solar LED lights provide ample illumination for your outdoor seating space and a host of other benefits. Here are top reasons to install solar LED deck lighting over traditional lighting:
1. Inexpensive to Install and Maintain
Solar LED lighting offers a cost-effective lighting source for your deck due to its low installation and maintenance cost. Solar LED lights don't require any form of trenching or wiring during installation, allowing you to save money.
They also require little to no maintenance because LED bulbs are highly durable and can last up to twenty years or even more. The rechargeable batteries only require checking or maintenance every five to six years, and you only need to check and clean the solar panels once in a while to extend their lifespan. On the other hand, traditional deck lighting has a limited lifespan, so you'll have to repair them every so often. They are also more expensive to install since they require hiring a qualified electrician to do the wiring and may also need trenching.
Manufacturers of well made solar lights often go the extra mile to provide comprehensive services and warranties to ensure peace of mind and customer satisfaction. Many reputable solar light manufacturers offer free installation services to their customers. Some manufacturers are so confident in the quality and performance of their solar lights that they offer a money-back guarantee on installation.
When choosing solar deck lights, set a budget and explore options within your price range, remembering that higher-quality lights can offer long-term cost savings. Seek reviews and recommendations for insights into specific product performance and reliability.
2. Reduces Your Energy Bills
Another main reason you should install solar LED lighting on your deck over traditional lighting is that it uses a renewable energy source. With solar LED lights, the energy from the sun during the day is stored in rechargeable batteries and used to illuminate your deck and make your home stand out at night. That means that you don't incur any electricity costs to light up your deck, since it uses energy from the sun, helping significantly reduce your home's energy bills.
While solar-powered LED lights be it neon or no, cost more money upfront, they offer a higher return on investment in the long run by reducing your energy bills. Designed with LED bulbs, solar deck lights consume less energy and last longer than traditional bulbs that usually use more energy by producing plenty of heat. Solar LED lighting will illuminate your deck like traditional lighting without any energy bills.
3. Highly Versatile and Safe
With solar LED lights, you don't need any electrical wiring or trenching to light up your deck. That means you can enjoy a steady stream of lighting on your patio without pesky cords and wires everywhere. This reduces the risk of being electrocuted, strangled, or tripping. Also, solar lights don't overheat, making them a safer alternative to traditional deck lighting.
The cordless design of solar LED deck lighting makes it incredibly versatile since you can install the lights anywhere you wish. If some parts of your deck receive minimal sunlight, you can easily reposition the solar panels to ensure they absorb maximum solar energy. This way, you'll have enough power to illuminate your deck from dusk till dawn. Besides illuminating your deck, you can install your solar lights along your deck's railings to also light up your pathways. Not to mention you can even use your solar LED deck lights on the go to guide your footsteps, like when you're out for a late-night walk.
Endnote
Installing solar LED lights on your deck can provide you with ample outdoor lighting like traditional lighting but at zero energy costs since they use a renewable source of energy. They also help reduce your carbon footprint. You also can position solar lights to provide illumination in dark areas of your deck. Since solar lights come in different sizes, shapes, and styles, you can choose solar LED deck lighting that best suits your unique preferences and tastes.
The Energy-Efficiency Advantages of Vinyl Window Replacement

Windows are more than just portals to the outside world; they play a significant role in determining the comfort and energy efficiency of your home. If you're looking to improve your home's energy efficiency, consider the advantages of vinyl window replacement. In this article, we'll... The post The Energy-Efficiency Advantages of Vinyl Window Replacement appeared […]