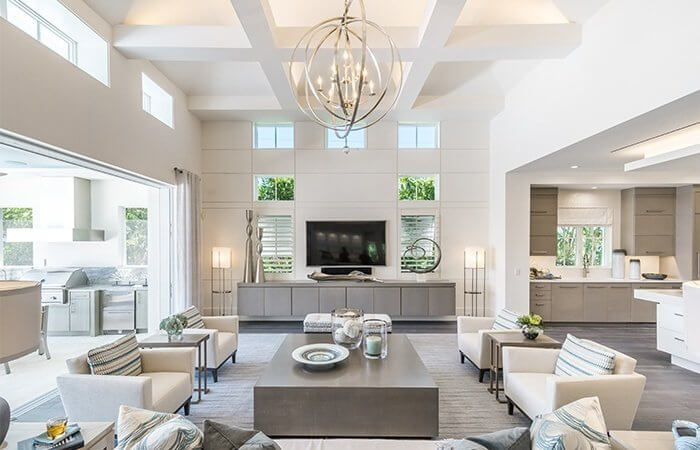 Accessories bring a space together by adding character, vibrancy, and a sense of cohesion. A room is soulless without these little extras. When it comes to selecting and arranging accessories, as important as they are, many of us throw our hands up in frustration.
We admire interior designers who seem to have an innate ability to style a space down to the last detail. Some people are born with special abilities, but most people learn through experience—and you can decorate your home too. You'll be accessorizing like a pro in no time if you use a few tricks of the trade and follow a few basic design principles.
Decorative accents can make or break the look of a place. Rugs, throw pillows, lighting, special artwork or vintage collectibles makes your home look more appealing and decorative. They can, however, fill up your living space, in case you are not mindful.
Do you want to be able to put your spaces together like an experienced interior designer? This article will help you in selecting the right decorative items for every space in your home.
Accessorising tips for your home
Accessory wardrobe
Considering and balancing the decor deck
Playing with colours
Balancing quality and quantity
Home accessorising don'ts
Avoid buying things in bulk just because they're trendy
Accessorising tips for your home
Avoid the temptation to run out and buy a bunch of trendy items just to finish a room. Rushing into buying things will make your home bland. Over time, acquire a collection of accessories and focus on those that speak to you. Many home decorators and experts use selected art and souvenirs, vintage accents, rugs, and one-of-a-kind items to display their work. These objects should reflect your personality rather than the latest home decor trends found in magazines and on television shows.
Accessory wardrobe
Have you ever dug an old belt out of the back of your wardrobe and worn it with something new? It appears to be freshly new all of a sudden. Compiling an accessories decor closet might help you achieve the same for your spaces. You can store accessories in this manner as you become tired of them. As the mood strikes, rotate and reintroduce objects. Limit the number of accessories on display at any given time by using your decor closet. Your home design store is now your "hidden" accessories closet
Considering and balancing the decor deck
With layering strategy, room design entails decorating from the inside out. A balanced and appealing space is created by putting separate items in an orderly development. Your personality and design flair will pop through in the final layer of decoration. Start with a clean slate when it comes to accessorising a room. Remove all lights, decorative items, orders from the big basket, artwork, and cushions that are little or mid-sized. A clutter-free environment helps you avoid distractions and picture where you want to put your accessories. This also allows you to rearrange furniture before designing the space.
Home accessories don'ts
When it comes to buying home accessories, make sure you don't jump on to the bandwagon and buy all the 'trendy accessories' to make a trendy home. It is important to understand the vibe of your house and buy things that are suitable as per the theme. Don't buy things in a rush to complete the decor but plan things accordingly. Understand the colour palette, theme and decoration potential to buy the right accessories for your home.
Above all, don't choose decorative accessories solely based on how they'll look in your living areas; only accessorise with pieces you adore. After all, these are the pieces you'll be gazing at every day. As a result, it makes sense to select goods that reflect your personal preferences, personality, and style. Choose your preferences, and your home will reflect your personality. You'll get greater satisfaction out of your living areas if you love your home furnishings. For help with accessorizing, visit a store for home decor items in Australia. Interior designers who are trustworthy and experienced can coordinate your home's décor with the right architectural accents.
The Energy-Efficiency Advantages of Vinyl Window Replacement

Windows are more than just portals to the outside world; they play a significant role in determining the comfort and energy efficiency of your home. If you're looking to improve your home's energy efficiency, consider the advantages of vinyl window replacement. In this article, we'll... The post The Energy-Efficiency Advantages of Vinyl Window Replacement appeared […]