Yes, it's time to ahead and renovate your bedroom – we believe you deserve it! As they say, a change is as good as a holiday, so why not get cracking?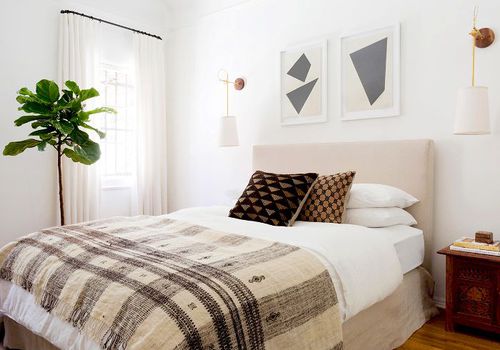 But hang on! Before you go ripping up the carpet or replacing the curtains, you need to decide how you'll go about this project. To ensure that your renovation adds value to your home, it needs to be done right, so you'll need to decide whether you can handle this project yourself, or whether you need to hire a home renovation specialist. That's your decision.
Ok, now let's take a moment to stop and think about the must-haves for your bedroom makeover, and what you want to get out of your new-look space. It must be:
Calming
It's a place to unwind, relax and sleep, so your bedroom must feel cozy and inviting for attractive home decor.
Practical
Your renovation must balance style with functionality – remember that you'll need to include plenty of storage space
Private
You'll need your privacy so keep this in mind, especially if you are adding extra windows
With these 3 points in mind, let's move on and see how it's done.
We get it: renovating bedrooms comes with a few challenges, so we'll talk about them too!
Right now, we're obsessed with gorgeous bedroom makeovers. So if you're looking for some bedroom design ideas that are right on trend, here you go:
1. Add an Ensuite
There's no doubt about it: adding an ensuite to your bedroom will take it up a notch. Whether it's the master suite or a guest bedroom, an ensuite is the perfect way to create that extra luxury and wow factor.
Home designers recommend one bathroom per 2 or 3 bedrooms, so if your home is lacking the extra shower and toilet, an ensuite is a way to go.
And of course, there's the comfort factor. We know it's a no-brainer but having your own private bathroom facility makes the daily showering routine so much more convenient that you can even binge on solarmovie.
2. A Fresh Coat of Paint
Don't underestimate the power of paint! A fresh layer of color on the walls, woodwork, and ceiling is guaranteed transform the look and feel of your bedroom, so make sure this is part of your bedroom remodeling ideas!
Take time to think about your palette. Remember, light colors will make the room feel bigger and brighter, while darker tones are moodier and cozy – there's no rights or wrongs when it comes to choosing a color theme for your bedroom, so let your inner creativity come to the fore!
3. Lighting
Lighting is everything. Think about creative ways to incorporate ambient, task and accent lighting into your remodel. It might look something like this:
Ceiling lights – downlights are a popular choice, or a center pendant for a more gracious look
Reading lights – wall mounted reading lights above the bed/s are cozy and super practical
Decorative lighting – e.g., a downlight to draw attention to a particular design feature or piece of wall art
Make the most of any natural light. If yours is an internal bedroom or if the existing window is small, what about installing a ceiling window as part of your bedroom design ideas? Velux windows are a great way to flood any space with natural light and improve ventilation too.
1. Keep it Simple
There are times when less is more, and bedroom makeovers are one of those times. There's a certain undeniable sophistication that goes along with a simple room – elegance doesn't have to mean having the space full of unnecessary 'stuff'.
Keeping your bedroom layout simple and uncluttered will help to create a relaxed, calming atmosphere: a clear space = a clear mind and, seeing that your bedroom should be your personal sanctuary, this is super important.
Furnish your bedroom with the essentials – a bed, a bedside table or two, and a chair. If you have built-in storage, good for you; if you don't, you'll have to think about a closet or storage solution.
Decorate modestly – one piece of artwork, some candles, an ornament or two – then call it quits (off course, you don't have to take this literally, but you get the gist – what we're trying to say is that a few items chosen and displayed thoughtfully is better than a room full of odds and ends).
2. Storage
British homes typically have smallish bedrooms, so maximizing storage is essential. Built-in wardrobes are a fantastic option if you have the space. But if you don't have room to do this, don't fret – you'll just have to be a bit more creative!
Under bed storage is hugely popular across the UK. Check out this option from Evesleep, or this one from Ikea – both offer heaps of space for clothing, extra bedding, shoes or anything else that you need to store!
Custom built storage units are a great option for unusual spaces or sloping attic rooms – it's about making the most of every square inch without making the room feel cluttered.
3. Polish the Floor
Your remodel might be the perfect time to re-discover some long-covered-up floorboards in your bedroom! Many older British homes have wooden floors which have been carpeted over by previous owners, and if you're in luck, yours might be one of them!
Sanding and polishing floorboards isn't everyone's cup of tea, but with a team of specialist home renovators in North London, it's not hard to restore the original timber to its former glory.
4. Include a Piece of Nature
Blurring the boundaries between the indoor and outdoor spaces in our homes is a growing trend, and the perfect way to do that in your bedroom is to include an indoor plant or two.
When choosing plants for your room, think about what size they'll finish up – there's no point buying something that's going to grow too big for your space (and your pot!). It's important to think about your plant's light requirements too – if yours isn't a well-lit room, choose something that will thrive in low-light conditions.
5. Lovely Linens
Finish off your bedroom renovation with some luxury linens – beautiful bedding is a sure-fire way to make your bedroom feel like a suite at the Ritz!
Think comfort and practicality as well as aesthetics. Take the time to read the care labels – who wants a duvet cover that can only be dry cleaned?!
A throw rug and a couple of cushions will soften the look and feel of the whole room – those creature comforts are hugely important in a bedroom.
Got plenty of ideas flowing? Can't wait to get started? At Combit Constructions, specialist home renovators, North London, we love helping our clients achieve beautiful and functional bedroom designs, and we're excited to help you achieve that space you've always dreamed of!
The Energy-Efficiency Advantages of Vinyl Window Replacement

Windows are more than just portals to the outside world; they play a significant role in determining the comfort and energy efficiency of your home. If you're looking to improve your home's energy efficiency, consider the advantages of vinyl window replacement. In this article, we'll... The post The Energy-Efficiency Advantages of Vinyl Window Replacement appeared […]