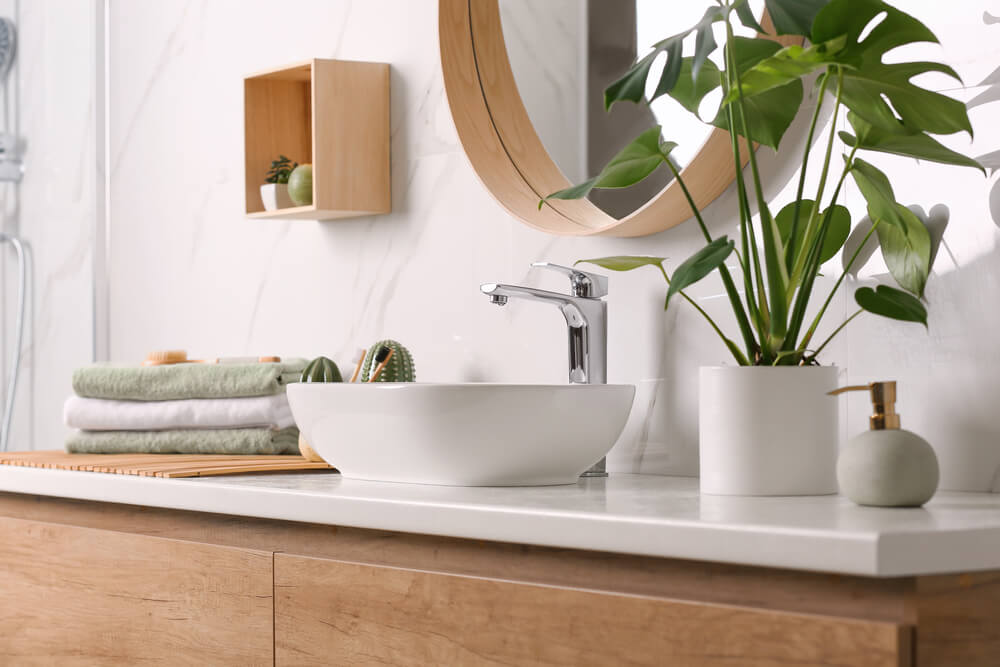 As one of the most frequently used rooms in the home, we believe that the bathroom should be given special care and attention just as much as any other space in the home. If you are a homeowner who is looking to redesign your bathroom, chances are you are looking to create a space that offers the perfect balance of visual appeal while being hard-working and functional all at the same time. Thankfully, finding the sweet spot between practicality and aesthetics needn't be difficult to pin down.
Today, we're sharing 5 expert tips for balancing aesthetics and functionality in your bathroom redesign. Read on to find out more.
Quality Over Everything
When it comes to designing a visually functional and appealing bathroom, quality is paramount. At the end of the day, even the most stunning bathroom interior can deteriorate fast if not designed with quality and longevity in mind. This is why opting for the best of the best when it comes to your bathroom fixtures, fittings and accessories is key. Your choice of bathroom fittings and fixtures should be able to easily stand up to humidity, water and high traffic without losing their aesthetics, function or performance. Poor quality choices will only end up rusting, collecting mould and costing you thousands to rectify in the long run.
Not sure where to start? We recommend heading to a reputable bathroom fixtures and fittings store to source the best quality bathroom shower screens, toilets and tapware in Melbourne.
Let There Be Light
A functional bathroom is one that plans for plenty of light to assist you in performing your daily tasks such as showering, grooming, makeup, hairstyling and more. Just like any other room in your home, your bathroom should include at least 3 different types of lighting (ambient, task and accent) to not just offer adequate illumination to perform tasks, but also offer heightened aesthetic value.
Ambient Lighting
Ambient lighting, also referred to as general lighting, serves as the primary source of light in a certain room. In bathrooms, this ambient lighting may come in the form of a frosted ceiling light that offers the perfect amount of warmth and illumination to the entire bathroom. Some other ideas include a soft, dimmable light or natural skylight over the bath and shower to create a relaxing mood.
Task Lighting
The goal of task lighting is to increase illuminance for the better accomplishment of a specific activity. In a bathroom, the most common form of task lighting is found on either side of the vanity/mirror to brighten up the face and eliminate shadows for cosmetic application and facial grooming. If you apply makeup, be sure to look into the CRI (Colour Rendering Index) which can affect the look of your skin tone and makeup.
Accent Lighting
Accent lighting helps to emphasise objects by focusing light directly on them. In bathrooms, accent lighting is often found in the form of pendant lights or strip lighting around the mirror or for a spectacular effect.
Get Smart About Storage
Is there anything worse than a bathroom that simply doesn't offer enough storage? Many of us store dozens of products in the bathroom, making storage one of the key elements of a well designed bathroom. Without adequate storage, you'll soon find toothbrushes, cotton swabs, towels, beauty products and spare rolls of toilet paper covering every available surface – leaving your bathroom looking small, cluttered and unappealing.
A bathroom redesign is the perfect opportunity to assess exactly how much storage you need and to explore a variety of smart storage solutions that are guaranteed to help you keep clutter at bay. For example, if you are someone who has a relatively spacious bathroom, installing a wall cabinet or built in drawers underneath your sink can offer you greater scope for creativity. However, even if space is limited, there are a number of innovative storage solutions to choose from. Head to this page to find out more about how you can become an expert in bathroom storage and organisation.
Consider Low Upkeep Materials
When it comes to choosing the materials for your bathroom, it is vital to be mindful of how easy a type of material is to clean and take care of. For example, an immaculate natural stone benchtop by all means looks fantastic and may help to create the luxurious look you're going for. However, you'll also have to pay special attention to keeping porous stone sealed to prevent moisture damage and dirt from damaging and staining your benchtops. If this isn't something that you can religiously keep up with, it's time to look for other, equally good looking alternatives.
Thankfully, it's not all gloom, doom (and hours of upkeep). Options such as quartz and acrylic offer stunning visual appeal, all whilst remaining easy to clean and maintain over the years. Aside from your benchtop, it is equally important to choose low-upkeep materials for your shower walls, screens, floor tiles and more. For a detailed list on the best materials to use in your bathroom redesign, head on over to this article.
Don't Neglect Ventilation
Last but not least, let's talk about ventilation. One of the biggest mistakes a renovator can make when designing a bathroom is not allowing for appropriate ventilation. Ventilation is especially important in a bathroom due to the high humidity levels that, if left unchecked, will lead to condensation, mould and a myriad of serious problems in the future. Thus, the right exhaust fan can help prevent these issues by extracting air from the room.
One thing to note is that not all exhaust fans are made the same, and as a general rule you should always choose one that is big enough to handle the size of your bathroom. For example, a 50 sq ft bathroom should have an exhaust fan rated around 50 cfm.
To find out more about how to pick the best exhaust fan for your bathroom, hop on over to this page.
And there you have it – 5 expert tips for balancing aesthetics and functionality in your bathroom redesign. A stylish bathroom doesn't have to leave functionality at the door. With these tips, you will easily be able to design a visually appealing and practical bathroom space that both you and your guests will love.
Who Knew? You Can Enjoy Professional Quality Office Software for Free

Gone are the days of spending hundreds, if not thousands, of dollars on office software. If you're looking to set up your home office or update the one at work, you may be surprised to know that there are a few free options available to... The post Who Knew? You Can Enjoy Professional Quality Office […]