Did you finally decide to buy a new kitchen but don't know where to start from? The process of planning a kitchen and generally a renovation project can be daunting and stressful, that's why you should carefully examine a lot of things before embarking on this long journey.
Whether you're moving out or starting a major makeover, purchasing a new kitchen implies many choices and decisions, you might want to just order online and eat rather than cook. We know how overwhelming this could be, that's why we came to your aid with some simple yet effective tips to consider when buying a kitchen.
So, your dream kitchen can be closer than you think if you follow the recommendations below: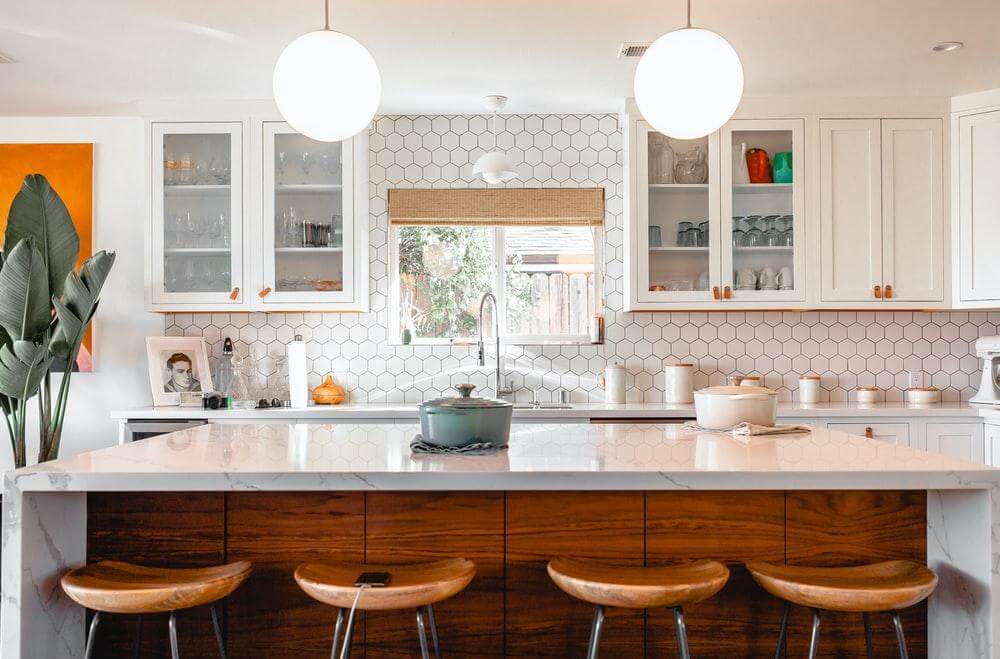 Set up the budget
Budget is always the deciding factor when planning a major renovation, especially when remodeling a kitchen. Given that the kitchen is the most functional room in your house, you should know that it implies a lot of costs to renovate it. Planning a kitchen makeover can sometimes be challenging – from cabinets and appliances to stools and dining tables, you have to think about everything. That's why you should first create a budget before making any plan. Ask yourself what changes you need to make and if you actually afford everything. It would be helpful to create a priorities list to determine what needs to be remodeled immediately and what can wait. Cabinets and appliances should be on the top of your list, while an island, for example, is not really necessary. Sometimes you have to make compromises because you don't always afford to make all the changes you initially planned.
Besides the general costs, you should also consider additional ones, such as installation, plumbing, wiring, or delivery, as well as unforeseen expenses. Try to be realistic and prepared for everything that might interfere with the remodeling project.
Think about functionality and layout
Now that you've built a financial plan, it's time to think about how you're going to use the kitchen space. The kitchen is the heart of your home, given that you spend most of your time there. So, it's natural to look at functionality. Depending on the space you have in the house and, of course, your preferences and needs, you can choose from using your kitchen just as a kitchen, which means you can only cook and eat there, or, if your space allows, you can opt for an open plan kitchen that encourages socialization. You can transform it into a kitchen/diner or kitchen/living and enjoy the luxury of gathering with your loved ones at mealtimes and not only, without worrying about space. Even if these kinds of changes often imply tearing down walls, we assure you the effort is worth it.
Choosing the kitchen layout is also crucial, as it determines the way you use that space. You can choose from various designs, such as L-shaped, U-shaped, single wall, or gallery. You should also consider the size of your room when making such a decision. For example, installing a U-shape kitchen is not recommended if you have a narrow space. Opt for a single wall instead, as the linear arrangement ensures a good running of your kitchen activities without being forced to clutter the already-small kitchen.
The working triangle might be of great help when looking for a kitchen layout. This kind of arrangement involves placing three essential elements – sink, hob, and fridge – close to each other for a perfect working kitchen.
Choose a kitchen style
Deciding on the perfect style that would fit both your personality and needs can be anxiety-inducing, as there are so many options to choose from. Whether you opt for a traditional kitchen, which is generally characterized by mantles, pilasters, and dresses, or a modern one, you must ensure that it's the best variant for you. Contemporary kitchens, for example, are often defined by accent colors and daring textures, such as marble and glass which can break from heavy big basket orders. However, you don't have to limit yourself to traditional and modern. Many other styles came on the market lately (and are becoming increasingly sought-after), such as Scandinavian and Mediterranean. If you want to give a hint of warmth to your kitchen and get that hygge feeling everything is about, you can choose a Scandinavian style. It's distinguished by minimalist fixtures and materials that make it simple yet elegant. As for the Mediterranean style, it's perfect for those who want to give their kitchen a fresh touch. Tiles, in this case, play a key role in making your kitchen look vibrant and welcoming.
Choose materials carefully
Thinking about materials when looking for kitchens for sale is of the utmost importance because the choice you make can influence the room's overall look. It would be helpful to choose materials according to function, as they can make your activity in the kitchen more or less comfortable. Several aspects come into play when selecting the kitchen materials, whether we're talking about cabinets, floor, worktop, or sink. Choosing the worktop material is vital because you'll use it for cooking, most probably every day. Therefore, think about the advantages and disadvantages each material comes with. Marble, for example, is not the most practical, despite its luxurious look. It has a staining and scratching tendency, so if you're an avid cooker, it's not recommended to get a marble worktop (unless you're not bothered by these aspects). You can pick a stainless-steel worktop instead, which in turn can scratch and dent, but this is part of its charm. Plus, it's extremely hygienic and easy to clean, which makes it perfect in professional kitchens.
To make sure all these fit in your budget, you can combine materials and create a multifunctional space at the same time.
Pick a color
We know that it's probably the most exciting part of planning a renovation, so make sure you choose a color that best suits your personality and taste. There are plenty of options, from the classics white and cream to more vibrant colors, such as olive green, dark blue, and honey yellow. A splash of color will always be well-welcoming, even if you don't opt to color your entire kitchen. For a contrasting effect, you can mix colors, for example, lighter colors on cabinets and bold shades on your island. And if you can't decide, you can always ask for samples, since many manufacturers offer them today.
The Bottom Line
Buying a new kitchen can be challenging, especially when there are so many aspects to consider. Understandably, you're a bit anxious about this, that's why we came up with some valuable recommendations you can follow when looking for a kitchen.
The Energy-Efficiency Advantages of Vinyl Window Replacement

Windows are more than just portals to the outside world; they play a significant role in determining the comfort and energy efficiency of your home. If you're looking to improve your home's energy efficiency, consider the advantages of vinyl window replacement. In this article, we'll... The post The Energy-Efficiency Advantages of Vinyl Window Replacement appeared […]