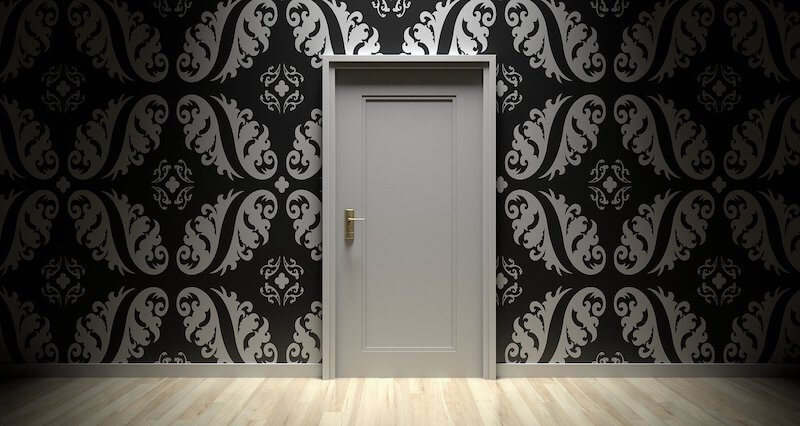 Whether you are remodeling your existing home, moving into a new one, or being involved in a custom build, many factors are to consider from choosing the right sliding to the right paint. The fixtures and fittings are the details that make a home individual. Let's think about interior doors, which this article is concerned with.
What sort of doors do you want in your home? And what is available? There was a time when the choice was simple: wooden interior doors were the only option. However, there is a much greater choice in terms of materials, styles, and colors.
We're going to be talking about interior doors and how the affect the appearance and atmosphere of the home. Let's start by looking at the interior door as furniture.
What Types of Interior Doors are There?
When we think of interior doors, we envisage a simple wooden door that opens traditionally – with a handle and by swinging from hinges. That's great, and it might be what you want, but this is the 21st century, and there are many other options. We've chosen to split the categories by material. Still, we're also going to introduce other concepts such as sliding interior doors and concertina examples, each of which can add style and originality to the home with vivint doorbells and Honeywell thermostats.
We wanted to find a door and window supplier that gives a good idea of what is available in the market, and Mikita Door & Window, which is based on Long Island, is a good starting point. Have a look at their range for an idea of what you can choose in a modern interior door, and then read on. Let's look first at the traditional wooden interior door and why it is still popular.
Traditional Wood Interior Doors
The sheer choice of interior door designs means that the traditional wooden interior door – either a flat example or one sculpted with panels – is no longer the only choice. However, it remains among the most popular, and for a good reason.
Wood is an attractive material. It comes in various types, and each has its color and finish. As a natural product, wood is usually sourced from sustainable supplies, so it is eco-friendly. Some wooden doors are so attractive that they are left unpainted to get the appeal of the finish of the wood. It's worth recognizing that every wooden door is, in fact, unique.
Painted wood doors also look superb, and you can choose any color you wish. If wooden doors are your intention, we strongly recommend you look at some of the more unusual wood species for your doors as spectacular natural colors are available. Wooden doors are usually the traditional hinged design. Now let's have a look at the increasingly popular uPVC interior door.
PVC Interior Doors
PVC or vinyl doors are among the most popular modern doors and fittings for newly built homes and renovations. They are made from a form of plastic and are molded into a shape or design. Lighter than the wooden version, these doors can be more expensive, especially if you want them in a particular color. This is because they cannot be painted and have to be manufactured in a custom color.
However, they can be made very attractive even if there is no matching natural finish as the wooden door. PVC doors are also more secure than wooden examples and often come with sophisticated locks. If you have rooms that need added security from within, this might be the way to go.
Both of the above options have one quality that can be positive and negative: they are solid. Neither can be seen through, so they are great for bedrooms, bathrooms, and other rooms in the house where privacy is a priority. However, they block out light which can be a problem in smaller rooms or rooms with little natural light access. That's where glass doors come into the picture.
Interior Doors with Glass
A glass door can be one of many designs. It may take the form of a wooden interior door of traditional design but with glass panels in place of the upper and lower wooden ones. Or it may be a full-length sheet of glass with a metal or plastic frame. Each has the advantage of allowing light through.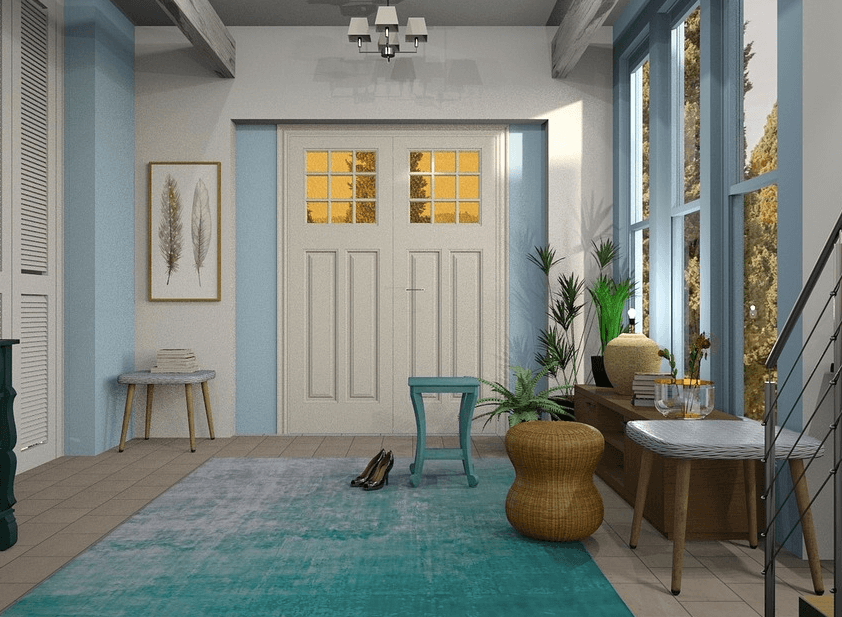 Many new homes use frosted glass in their doors for every room. This allows for light to permeate the entire house from the external windows and still provide privacy to an extent. For example, you may want a glass door in your kitchen and living room, and this option can be highly attractive.
The glass used is normally toughened especially and, rather than shattering into splinters in the event of an accident, will crack and remain in place. Such security measures mean these are ideal for homes with pets and children.
So far, we've talked about hinged doors of the traditional type. We'd like to finish with some innovative ideas in the form of more original interior doors.
Unusual Door Designs
We mentioned sliding doors earlier, and these are rapidly becoming more popular, especially where bathrooms are concerned. A sliding door requires a trade-off in space usage: it will save space because it does not open into the room but will need a space to slide into next to the entrance. Some clever designs slide into the cavity in the wall so effectively disappear completely.
The other popular type is the concertina door. Usually, this is made from soft fabric material and may slide the width of an entire room, thus creating an opportunity to cut one half of the room off from the other when needed. This innovative method of giving a room dual-purpose is also becoming more popular.
We believe we've covered the interior door subject as best possible, and we hope that this article has inspired your interior home renovation or new-build décor ideas.
The Energy-Efficiency Advantages of Vinyl Window Replacement

Windows are more than just portals to the outside world; they play a significant role in determining the comfort and energy efficiency of your home. If you're looking to improve your home's energy efficiency, consider the advantages of vinyl window replacement. In this article, we'll... The post The Energy-Efficiency Advantages of Vinyl Window Replacement appeared […]