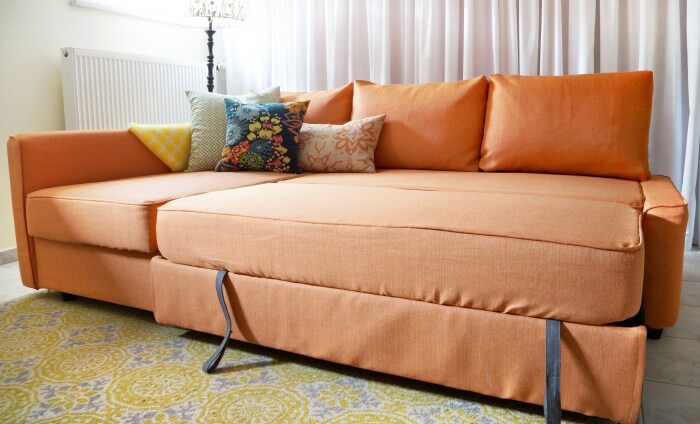 A sleeper sofa is a sofa that can double as an extra bed when guests stay overnight to watch Dramacool. Read this article to get to know how to choose the best sleeper sofa for your home!
If friends or relatives often come to your house to stay overnight, you might want to purchase a sleeping sofa for them. When you don't have guests, such a furniture item can function as a regular sofa — and turn into a bed only on selected occasions. In this article, you'll find a list of questions that you should ask yourself when choosing a sleeper sofa. You'll get to know about the available types of sofas and discover tips on enhancing their level of comfort.
Which Questions to Ask to Yourself When Choosing a Sleeper Sofa?
To make the most of your purchase, you should concentrate on three vital questions:
What's your budget? People with limited budgets might consider buying inflatable mattresses instead of sleeper sofas. Yet it would be wiser to get a futon whose price is more or less the same as that of an inflatable mattress. The latter might be noisy and fail to provide enough support for hips and shoulders, while a futon guarantees a higher level of comfort.
How much space do you have? Sleeper sofas are available in different configurations. Depending on where you're planning to place it, you might opt for a foldout model, a pullout or a reclining one. If you have free space to fit extra seating in your house or apartment, that should be enough for a sleeper sofa.
Who are your guests? Most likely, you'll strive to surround elderly people with maximum comfort. If you buy a sofa as a temporary solution for kids who will quickly grow up, it might be enough to get one of the most budget-friendly solutions.
Your choice of the type of modern sleeper sofa will depend on the answers to these questions.
Sleeper Sofa Types
Sleeper sofas are available in the following varieties:
Futon. It's the most basic and cost-efficient type of sleeper sofa. It's a bed with a metal or wood frame and a single mattress on top. When you fold up this mattress in half, it creates both the back and seat of the sofa. In most cases, it will lack armrests. A futon provides a higher level of comfort when you use it as a bed and not a sofa.
Daybed. It's a single twin mattress that sits in a frame to give it the look of a sofa. The frame lacks the cushioning of a standard sofa, so it might not be the best solution for the living room. Such a furniture item is not too convenient to sit on while watching TV or enjoying the small talk but your guests should have a very good sleep at night.
Pull-out. This type usually has a higher price tag, compared to futons or folding sofas. It looks like a regular sofa but features a compact bed frame and mattress under its seat cushions. Remove the cushions, unfold the frame — and you'll get a bed instead of a sofa. Since you'll be sleeping parallel to the back of the sofa, such a furniture item requires very little space. This one should be equally comfortable for sleeping and seating.
Foldout. Such a sofa might look like the one that you use for sitting — but it lacks supportive springs and feels a bit different. To unfold them, you'll need more space than in the case of pulling the mattress out. The mattress of a foldout sofa is supported by a thick, canvas-like fabric, secured by springs on the side. You should be able to choose from the following types of mattresses: all innerspring, all foam or innerspring with an air topper (the latter is the most comfortable). When you lie down, you might feel the support bars of the mattress.
Reclining. This type is slightly less popular than the above-listed ones. It enables you to adjust its settings to recline on one or more of the seats. On such a sofa, you should feel equally comfortable while sleeping, watching TV or reading books.
Just like conventional sofas, sleeper ones are available in a wide variety of shapes, colors and sizes. You should be able to easily find a furniture piece that fits your home interior.
Tips on Enhancing the Level of Comfort of a Sleeper Sofa
A sleeper sofa might lack the comfort of a full-fledged bed. Yet you might resort to the following tricks to surround your guests with maximum comfort.
Buy pillows that everyone likes — for instance, the ones with adjustable loft and install a thermostat for a comfortable atmosphere. You should avoid pillows that are great only for certain body weights or sleeping positions.
Use a mattress topper. A medium or medium firm topper with moderate contouring should be a perfect solution. You might need it if your sleeper sofa comes with a thin, innerspring mattress that lacks ample cushioning.
Provide the people who will be sleeping on the sofa with a full set of bedding: high-quality sheets, a blanket or comforter and several pillows. These items should provide both warmth and softness.
Final Thoughts
Hopefully, you found this article informative and it will help you to select an ideal sleeper sofa. You should be able to choose between a daybed, a futon, a pull-out mattress, a foldout or a reclining model. When picking a sofa, you should estimate your budget, the size of the available space in the room and the needs of people who will sleep on that furniture item. Your guests will be grateful if you provide them with a mattress topper, high-quality pillows and a full set of bedding before they go to sleep.
The Energy-Efficiency Advantages of Vinyl Window Replacement

Windows are more than just portals to the outside world; they play a significant role in determining the comfort and energy efficiency of your home. If you're looking to improve your home's energy efficiency, consider the advantages of vinyl window replacement. In this article, we'll... The post The Energy-Efficiency Advantages of Vinyl Window Replacement appeared […]