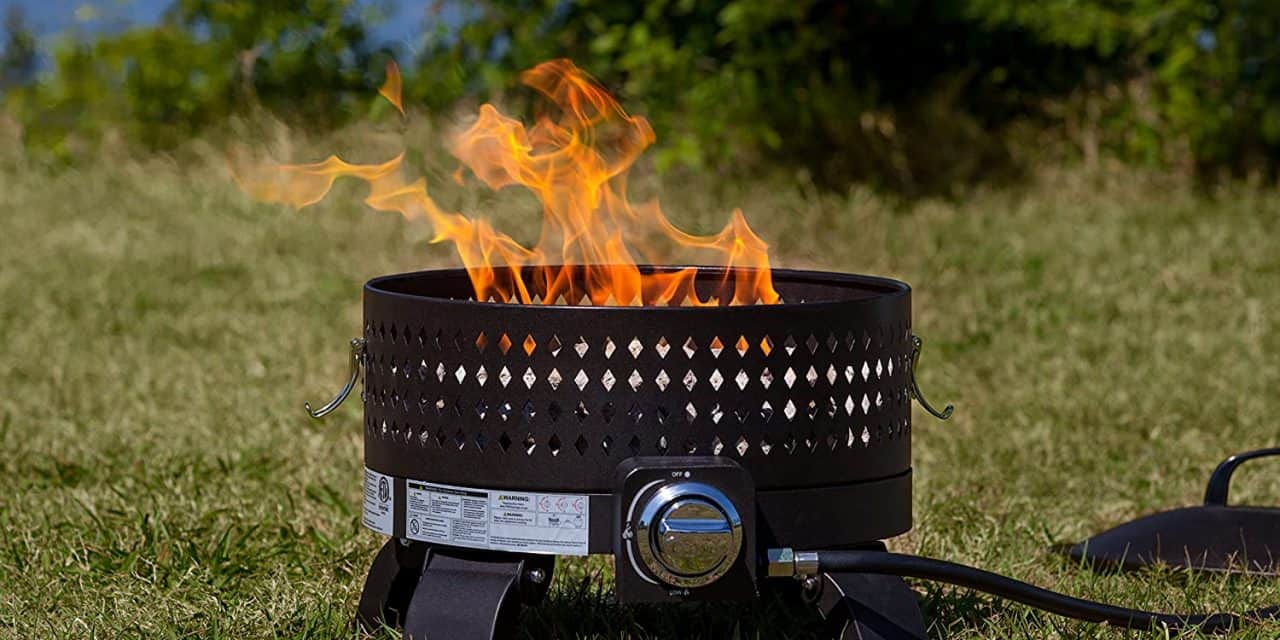 Everybody loves the idea of a warm fire out in the open while enjoying the surrounding view. But not everyone has the time, energy, or even patience to get a traditional wood fire started for the purpose – not to mention that it isn't safe in many areas either. Propane fire pits are an excellent alternative in these situations.
But are propane fire pits safe on decks? What do they cost? How long do they last? Also, how easy is the maintenance?
These are just some of the several queries first-time propane fire pit owners have. And if you are thinking about getting one yourself, read on to find out the answers to your questions.
How safe are fire pits on decks?
Fire pits come in various sizes and have features, including portability. There should be little to no safety concerns when you use certified, high-quality propane pits correctly. Unlike wood-burning fires, gas pits do not produce flying embers or sparks, in addition to giving you control of the flame.
Unsurprisingly, an increasing number of people are now preferring propane or gas-burning pits at home, boosting the global gas fire table market.
That being said, you need to ensure you follow proper safety guidelines while using the fire pit to prevent unforeseen incidents. For instance, if it is a portable pit, keep it at a safe distance from the house and ensure children are always kept at a safe distance from it. However, you can watch movies with your family around it with little care.
You must also be sure to keep the gas burners and valves free of any debris or impurities by cleaning them regularly. This helps avoid blockages.
Fire pits on different types of decks
People use fire bowls, permanent pits, portable pits, and fire tables on all types of decks with ease. Many of them also move the fire pit to their backyard or patio occasionally. However, using fire pits on decks comes with specific challenges that you must deal with effectively.
Potential threats you may face while using a fire pit on wood decks include full-on fire damage, weakening of the deck wood, and damage to the supporting structure. Since composite decks are pretty similar to wood ones, the challenges are pretty much the same. So, take care to prevent anything hot from the pit from spilling onto the deck.
Concrete decks are sturdier than wood ones, being able to withstand constant fire pit use with ease. However, consistent use in a single spot may damage the area underneath the pit over time.
Safety tips
Listed below are some of the top safety measures you should take when using a propane fire pit on your deck.
Meet clearance criteria: Any fire pit requires a good amount of clearance to work correctly. And the exact clearance measure depends on the pit model and manufacturer. So, ensure you meet the clearance requirements before purchasing the propane pit.
Follow safety guidelines in your area: Some areas have burn bans besides regular fire codes, whether seasonal or year-round. If you happen to live in such an area, you may not be allowed to have a fire pit at home. Therefore, confirm with your local fire department before you purchase a fire pit so that you enjoy food from swiggy later.
Avoid using a pit that's too heavy for your deck: Familiarise yourself with your deck's weight capacity beforehand. It would be unwise to buy a heavy pit without knowing if your deck can handle its weight.
Set the pit on a non-combustible surface: It is not safe for the pit to be in contact with grass, wood, and other combustible materials. Bricks, stone pavers, and concrete decks are more ideal. Alternatively, you can place a fire pit pad underneath the pit for improved safety.
Never place the pit too close to the house: The danger in setting the pit too close to the house is that it may inadvertently start a fire, encouraged by even the slightest winds. So, avoid this at all costs. Also, do not add flammable things to the propane pit. You can also invest in spark screens for wood-burning models.
Clear pit debris before use: Always ensure the pit is clear of dry leaves and other combustible debris before lighting it.
Keep a fire extinguisher on hand: While propane fire pits are safe to use, it is always recommended to keep an extinguisher nearby as a way of erring on the side of caution.
Summary
So, are propane fire pits safe on decks? Yes, they are, but only if you take extra care and follow all the aforementioned safety tips.
Remember to buy a high-quality product from a reliable dealer at a reasonable price. One other reason to buy from an expert is that they can easily guide you on how best to use the pit effectively without compromising your safety.
The Energy-Efficiency Advantages of Vinyl Window Replacement

Windows are more than just portals to the outside world; they play a significant role in determining the comfort and energy efficiency of your home. If you're looking to improve your home's energy efficiency, consider the advantages of vinyl window replacement. In this article, we'll... The post The Energy-Efficiency Advantages of Vinyl Window Replacement appeared […]