Ideas for Designing the Ultimate Home Poker Gaming Space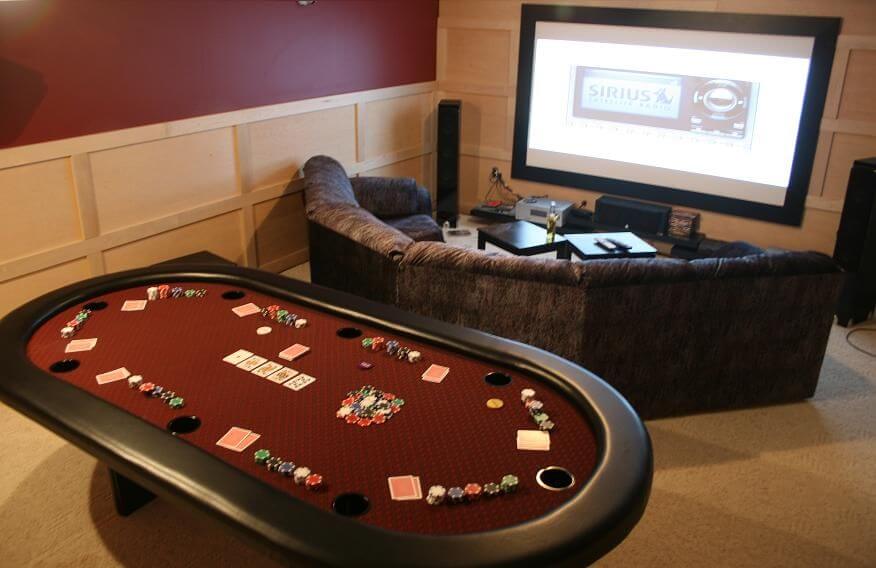 Poker remains to be one of the most popular card games both online and at retail casinos. The land-based casino experience is often quite a big deal especially because of the social element of the game. However, it is not the only way for poker lovers to indulge in the thrill of the card game. It is possible to bring the ultimate poker experience to your home. All you need to do is build or design a home poker room for yourself.
Avid poker players will have an idea of what makes up an amazing poker room. Even so, not everyone is an interior design. It could thus be an uphill task if you are trying to create a poker room with no help. That is what this guide is all about. We outline all the important things that you will need to pay attention to as your get ready to play your home poker games with friends and family.
Setting Up the Space
The best thing about home poker gaming is that there are lots of ways of making it your own. There are lots of different ways you can customize the space based on the theme that you are going for. As such, building the foundation for this starts with finding the right kind of accessories and stuff to bring out the right atmosphere.
A great place to start with this would be by looking into the right kind of furniture for the poker room. Tables and comfortable seats are a defining element of any gaming room. For your home poker room, a high-quality poker table and chairs just show how much you are committed to the experience. For everyone who will be playing to be at their best, they will have to be as comfortable as possible.
Furniture aside, lighting and sound also play a huge role in boosting the ambiance of your home poker room. A centered lighting element on top of the poker table is a must-have for a poker room. Soft lighting spread across the rest of the space also helps in giving the feel of a high-quality casino experience.
When it comes to sound, poker rooms are not quite as big on music as other parts of the casino. Still, a solid surround system is great for when you are unwinding from an action-packed poker game or are getting ready for one.
The Game Elements to Consider
Once you have figured out how you want the space to look like the next step is to customize the actual poker experience. Poker is a straightforward game which makes the choices for many of the essential parts of the game very straightforward as well.
To begin with, poker chips could be a great addition to your home poker game. This is especially true if you are holding tournaments or are aiming for a casino-like experience. There are lots of amazing poker chip sets available online and at local stores. You can pick one based on your budget or their designs. There are even sets that let you customize poker chips for a more personal poker adventure.
The playing cards are perhaps the most important part of the poker game. You simply cannot play without them. As such, it is vital to have the right set of these. Quality is a key priority as you will want to get cards that are durable and have a great feel in the hand. Like in the case of the chips, these can be found all over the place. Some sites even allow players to customize cards which are then delivered right to their doorsteps.
In some cases, you can opt for a timer and fabric for the playing surface. For casual games, these might not be necessary but they do contribute to giving a casino-like experience in the home.
What If You Want to Play Online Poker?
One of the best things about modern gambling is the variety of ways that players can use to access their favorite free slots at https://www.slotozilla.com/au/free-slots . For those times when you are not able to have your friends come over for a quick game of poker, there is always the option of playing online. The best online poker sites are designed to make the experience nearly as lively as it would be at land-based casinos or in your poker room. This could get even better as Augment Reality (AR) and Virtual Reality (VR) technologies become more popular.
Thanks to high-speed networks and high-definition streaming technology, live online poker games are more life-like than ever before. That said, having a decent gaming device in your home poker room is something worth considering. It does not even have to be a desktop or laptop. Modern smartphones and tablets are now so powerful that they can handle online poker games very well. However, bigger screens would probably offer the best experience in that case. Keep that in mind.
With all that covered, you will be all set to bring out your inner poker pro. Enjoy!
About the Author
Adrian Sterne has been working in the poker industry for the last 15 years, providing valuable content for many different sites. He is now the Chief Editor at Top10PokerSites.net, loves to play poker tournaments and cash games in his free time but he is also a web developer experienced in HTML, CSS, Javascript, and related technologies.
Homeowners Guide to Black Mold Removal in Toronto

Learning that you may need black mold removal can be outright scary for many homeowners. Black mold is also known as toxic mold, which has been portrayed in the media as a threat to people, animals, and children. The truth about black mold is a... The post Homeowners Guide to Black Mold Removal in Toronto […]