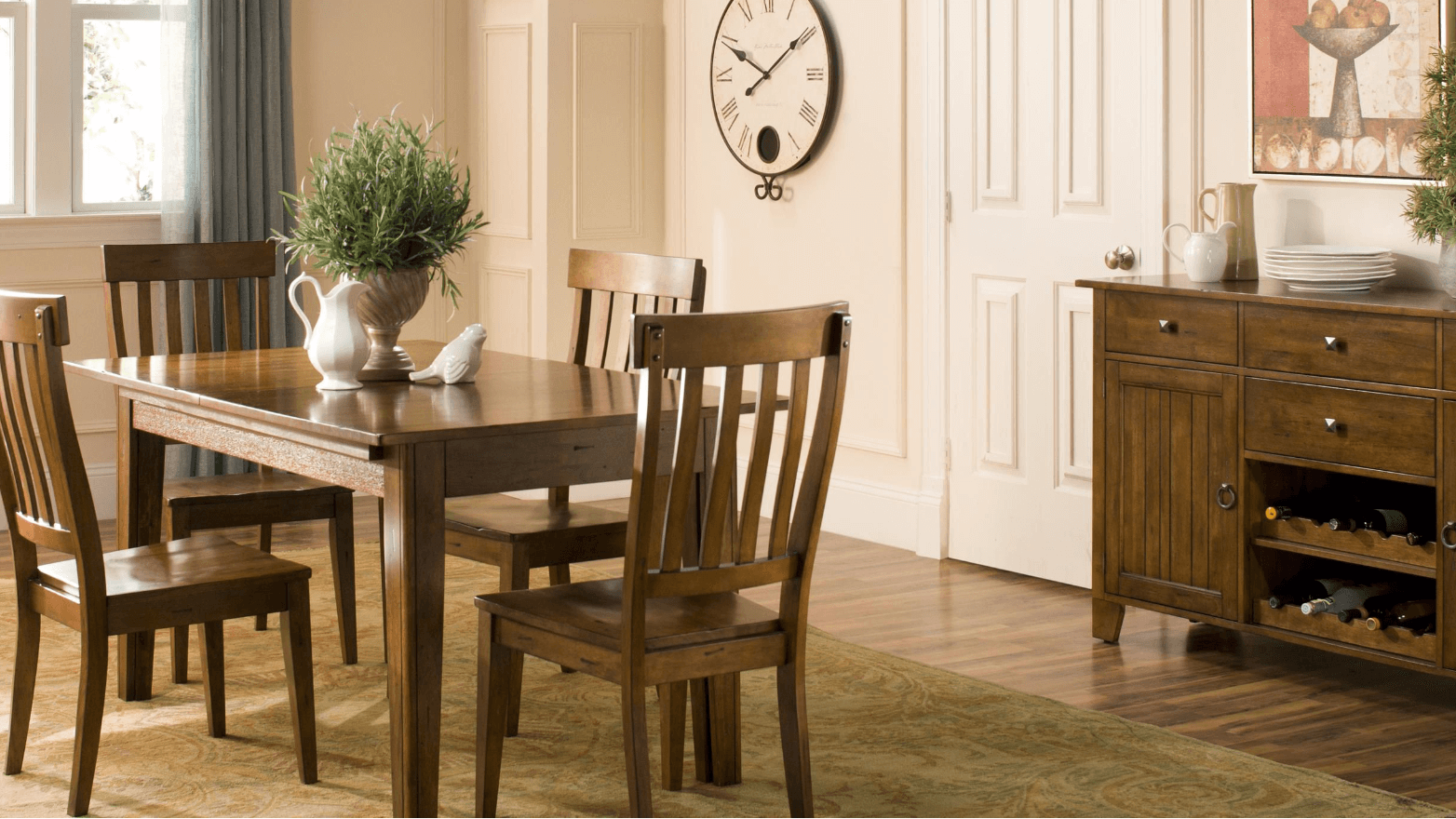 They say, "Together is a wonderful place to be…" and likewise dining room is the most social space in the house where we spend our quality time with family & friends. More the dining space will be comfortable, it will be more inviting. Be it a dedicated dining area in the kitchen or a corner in the living room, accordingly pick the 4 seater dining tables or 6 seater dining tables or more that suit your requirement and makes it comforting by all means.
Here's some crucial things to consider while buying a dining table set.
1. Easy to clean
The first and foremost factor to consider while buying a dining room set is that it should be easy to clean, keeping it newer for longer. When taken good care of, dining table sets can last you for a lifetime. With a wide range of dining sets available in different materials including veneer, marble, solid wood, glass, and more, you can pick the one that best compliments your personality and home décor.
2. Perfect table size & shape
More than the style, finding the dining table set that perfectly fits the room is a crucial step. Depending upon the available space and the number of users, pick the table size that fits right without overwhelming the décor.
3. Number of seating
Choosing the size of a dining table without giving a proper thought is a common mistake. Consider the number of members at home and an average number of guests before deciding on the number of seating for the chosen dining table set.
4. Quality material
Dining room sets come in a myriad of materials including veneer, marble, solid wood, glass and more suit your interior style. For those who prefer luxurious appeal can lean towards a veneer dining sets or marble dining table sets. For minimalists, who likes to keep it simple and elegant can pick solid wood dining table sets that look timeless for years to come. Whereas glass-top dining table sets look airy and light, perfect for modern urban spaces.
5. Comfortable Chairs
Make sure that the dining chair you have chosen is made with ideal seat height and depth to be assured of a comfortable seating experience for all generations. Available in numerous designs, materials, and seat softness, pick the one that best matches your style and comfort preference. While the dining chairs look perfect in most homes, you can replace them with upholstered benches. Benches are one of the most versatile pieces of furniture that add visual interest to your dining space. Available in vibrant jeweled tones and whimsical floral prints, it adds a touch of glamour to modern Indian homes.
One can discover various types of dining table sets online or offline to find the perfect match that compliments the home décor, all while offering a perfect spot to cherish memorable mealtimes.
Happy Shopping!
The Energy-Efficiency Advantages of Vinyl Window Replacement

Windows are more than just portals to the outside world; they play a significant role in determining the comfort and energy efficiency of your home. If you're looking to improve your home's energy efficiency, consider the advantages of vinyl window replacement. In this article, we'll... The post The Energy-Efficiency Advantages of Vinyl Window Replacement appeared […]