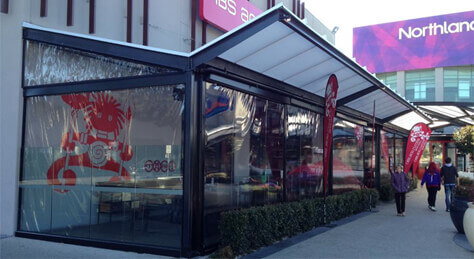 While running a coffee shop into today's economy can be challenging, there are ways of making your café more attractive to customers. Getting creative needn't cost you an arm and a leg either! When thinking of all your customers' needs, you'll be able to come up with ways of making them feel comfortable when visiting your outlet.
Have you considered adding outdoor cafe blinds to the outside seating area of your shop? Or perhaps, more comfortable chairs will do the trick? There's a lot you can do to make your coffee shop attractive and comfortable at the same time.
If you're looking for ideas that'll help attract customers to your coffee shop, read on. We've shared six creative but effective ways of making your café attractive, both inside and out!
1. Install Functional Café Blinds
If your coffee shop is in an area prone to hot sunny days with the occasional rainstorms, you would benefit from adding café blinds to your outdoor seating area. These outdoor blinds are also perfect for keeping your customers warm on cold winter days.
Custom-made café blinds give your customers all weather protection while still enjoying being outdoors. They also keep the views so your customers won't feel like they're sitting indoors. These outdoor blinds give your shop an appealing appearance, enticing customers to support your business.
2. Comfortable Seating
Customers want to go to an eatery that allows them to relax and enjoy their cup of coffee. Creating this ambience entails including comfortable seating that allows your customers to stay longer and order more coffee at the same time!
If you want to keep your customers drinking and eating, then make sure the seating you offer is comfortable. Soft, plush chairs and even couches may be costly to begin with but if you invest in high-quality furniture, you can be sure they'll last for a long time.
3. Get Creative With Designs
Make your coffee shop stand out by getting creative with different design features. Consider hanging funky artwork or putting beautiful pot plants in your outdoor space. Think out of the box when it comes to selecting colour themes for your shop and don't forget the storefront banner. Your shop's banner and name could be the deal breaker!
If your shop is one of many on the street, look at it from a customer's perspective. How can you make it stand out from the crowd? Think of adding something to change the architectural style or bring in some fun by displaying interesting artefacts in the shop window or at the front entrance.
4. Always Serve the Best
Every business dealing in the catering industry knows that to keep customers coming back they need to serve the best quality food and drinks. Your coffee shop will benefit from using high-quality coffee-making equipment and using only the best coffee brands.
But it doesn't stop at the coffee. Your customers will always enjoy having something to eat when having their favourite coffee brew, so make sure your menu includes tasty and fresh nibbles. You could get creative and offer pastries and other delicious cakes not often served in other coffee shops. You can also sell coffee alternatives on the shelf and have it purchasable with coupons like MUD WTR coupon to drive traffic.
5. Make it Fun
Coffee shops have been used for years as places for people to get together and connect. The more comfortable and relaxing your shop is, the more attractive it will be for your customers. But you can also make it fun for them to be in your café.
If you want your customers to linger and to engage with each other, consider keeping a few sets of chess and other board games. Interactive activities are a great way for people to connect and have fun together and there's no reason why they shouldn't do it in your restaurant.
6. Keep Up With Digital Technology
Keeping up with the latest developments means being aware of how people are using digital technology. More and more people are using online technology to find a place to eat and drink. If your online presence is non-existent or your website is boring, it's time to review this.
Consider building an attractive website and promoting your coffee shop online. Make it easy for your customers to find you when using their mobile phones and you could even offer online specials. Going online also means you can keep operating during those times when you may have to close your shop such as during a pandemic. Simply start allowing online orders and use delivery services. Also don't take security for granted, install cameras to avoid allegations in future.
Final Thoughts
Making your coffee shop stand out and attractive can be done easily!
Installing outdoor café blinds and buying comfortable furniture may seem like big investments but if it's what draws in new customers, you'll reap the benefits.
In addition, keep it simple, move with the times and review your menu every few months. Even in this competitive industry, you can give yourself a better chance of being the preferred business in town.
Write for us
HeckHome does not necessarily share views expressed by opinion writers and advertisers. HeckHome regularly invites Bloggers across the World to niche decor ideas in order to present their creative ideas.
The Energy-Efficiency Advantages of Vinyl Window Replacement

Windows are more than just portals to the outside world; they play a significant role in determining the comfort and energy efficiency of your home. If you're looking to improve your home's energy efficiency, consider the advantages of vinyl window replacement. In this article, we'll... The post The Energy-Efficiency Advantages of Vinyl Window Replacement appeared […]