If you want to demonstrate service and a high level of service in your restaurant in all its glory, you need stainless steel restaurant carts. As you know, every detail is important in the restaurant business, especially when it comes to decent guest service. A trolley will confirm the high level of your restaurant and will provide comfort for staff when serving delicious dishes and drinks.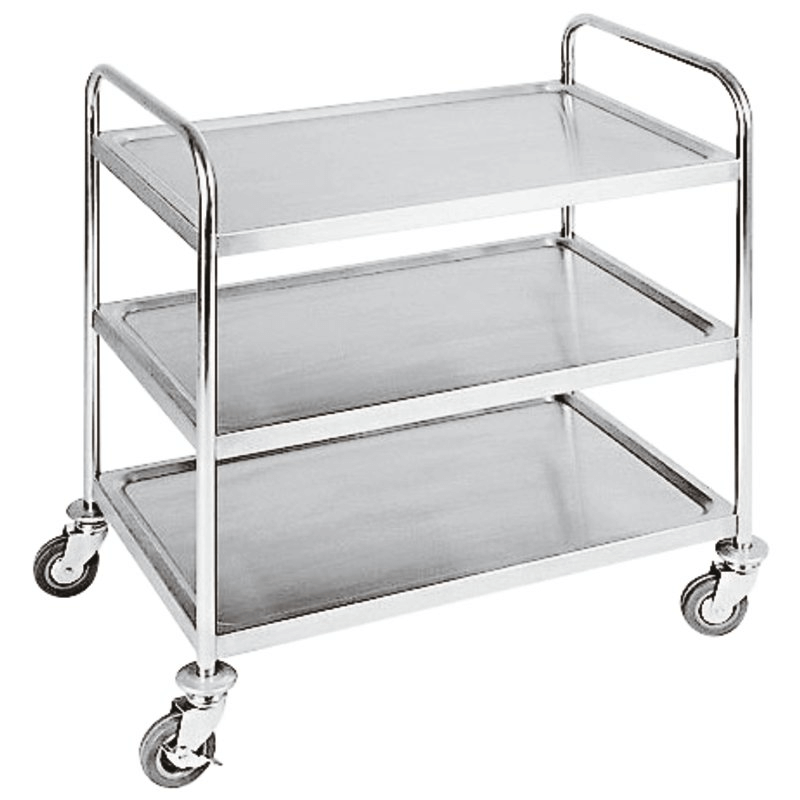 By the way, stainless steel work carts significantly facilitate customer service, not only in restaurants but in any other establishments of a closed type. Today they are indispensable at off-site events and at remote venues — on terraces, in parks, squares, on beaches, etc. — where the distance from the cooking area to guest tables can be up to several tens of meters.
What types of stainless steel work carts are distinguished?
Stainless steel restaurant carts are characterized by practicality, hygiene and long service life. The surface of the trolleys is quite easy to clean, additional processing is not required. Corrosion and chemical resistance make the models suitable for daily intensive use. There are several types of trolleys made of stainless steel:
Double layer model. Refers to universal. It can be used in a restaurant, cafe, for the needs of companies, if necessary — in the transportation of tools.
Three tier model. It is characterized by high capacity, convenient for the delivery of food and drinks in the halls of catering establishments.
Model equipped with a large capacity basket for collecting waste or small products.
Medical carts made of stainless steel are used to deliver medicines and instruments to operating rooms, laboratories and wards.
Regardless of the purpose and type, all stainless steel utility carts with wheels, which make it as easy as possible to move them from the kitchen to the banquet halls. The design of carts also varies from the most simple, in the spirit of 'no frills', to the sophisticated — ideal for luxury restaurants and elite hotels.
What are the main functions of restaurant carts?
If it is necessary to serve a large number of guests at receptions and banquets, a stainless steel utility cart with wheels becomes simply an indispensable assistant in the work of staff. Thanks to it, waiters in a short time will be able to set all the tables for banquets with the necessary utensils and serve dishes for guests. do not forget that it is now quite popular to cook dishes in front of the client — such restaurant equipment will be essential in order to serve all the ingredients to the guest's table and cook directly on it to give the most authentic experience around the aesthetic ambiance.
The stainless steel restaurant carts will be a great help in matters of quick cleaning of dirty dishes from the tables after banquets. In addition, serving large dishes, in which one waiter's negligence can cost the restaurant a bad guest experience and a round sum of a spoiled dish, a trolley will be an excellent safety net against unwanted incidents.
The Energy-Efficiency Advantages of Vinyl Window Replacement

Windows are more than just portals to the outside world; they play a significant role in determining the comfort and energy efficiency of your home. If you're looking to improve your home's energy efficiency, consider the advantages of vinyl window replacement. In this article, we'll... The post The Energy-Efficiency Advantages of Vinyl Window Replacement appeared […]