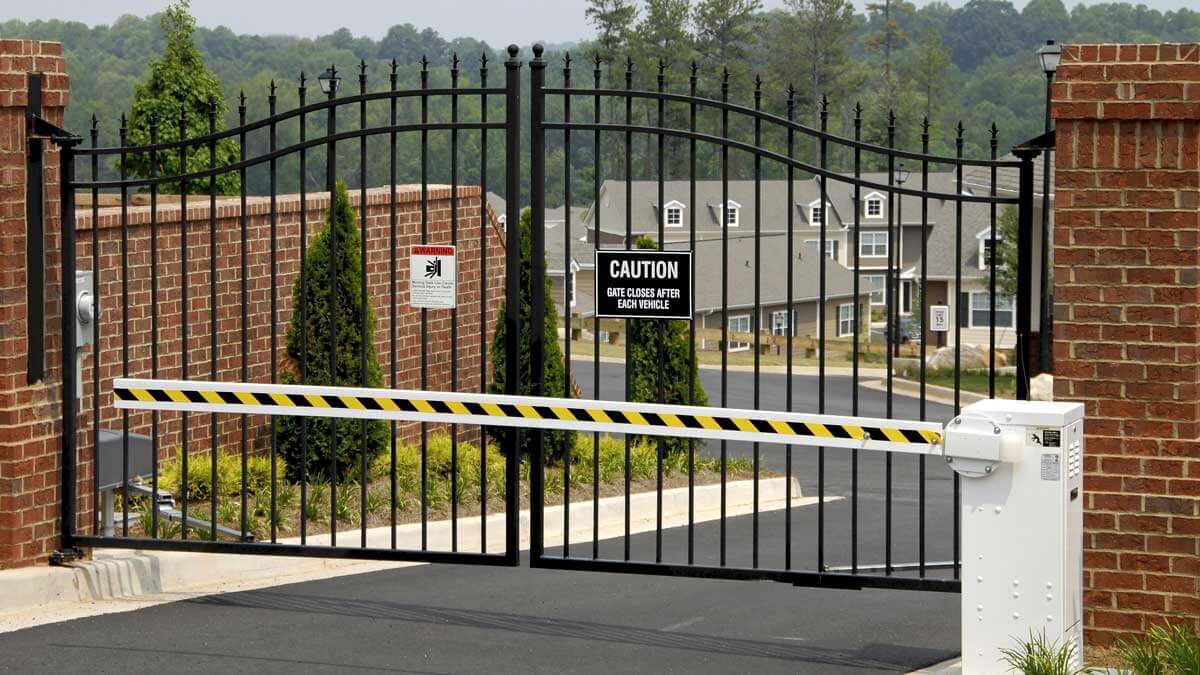 Home is the place where everyone wants to feel safe. Most people retreat to their homes for rest, time with loved ones, and a unique sense of security. Whether you live in a standalone house, an apartment, or a home in a gated community, we can all agree that psychological comfort is just as important as physical comfort when you are at home. Feeling and being safe are important. And a large part of feeling this way is in knowing that your home can't easily be accessed by unauthorized individuals.
Residential gate entry systems are a great access control solution that offers a layer of security for all kinds of homes. This article will explore the most common applications of residential gate entry systems, including their key features and benefits. Whether you are a facilities manager looking to upgrade the building access control system within a gated community, or a private property owner looking to keep your family safe, this article will offer you handy insights and considerations about the security of your property.
Why You Need a Modern Access Control Solution
Having a decent access control solution is a fundamental part of your property's security (and therefore the safety of its residents). In larger properties, it can also be a part of managing the entry and exit process for convenience and efficiency.
Gated Communities:
If you own or manage a gated community, access control should be a priority when thinking about security. A well-managed system will allow residents to access the property as and when required, without having to go through manual authenticating processes like physically signing in at a gate. This is an efficient way to manage who has access to the premises, thereby lowering the chances of unauthorized individuals entering. In addition, this can be a great way to manage traffic in large gated communities, as residents can easily enter by scanning a card or fob, a fingerprint, or entering a short code. This makes the process of entry and exit quick, smooth, and efficient. In residential communities and estates, it is a good idea to link gate entry credentials with the building access control system that manages residents' access to specific apartment buildings within the estate. You can manage building safety by only granting access to residents of specific buildings.
Private Households:
Some homeowners feel the need to have a similar access control system for their private residence. Doing so will ensure that only you and your family have access to the property, making it difficult for strangers to wander in without an authorized individual's consent.
Types of Access Control Systems
All gate access control systems function similarly: They allow authorized individuals (i.e., residents, delivery persons, family and friends, etc.) to enter and exit a property through a gate by authenticating them. The key difference between access control systems is the authentication method, otherwise known as a credential. Here are some of the most common credentials used today:
Key fob or card systems: These systems use RFID technology to communicate wirelessly between a key card or fob (in the possession of the resident) and a reader at the gate. Once a valid card or fob is scanned at the gate, residents are granted access to the property.
Fingerprint readers: Although they may have grown a lot less popular since the onset of the COVID-19 pandemic, fingerprint readers are still some of the most common types of gate access systems. They are particularly convenient because they do not require residents to carry around a physical credential like a card, which may be susceptible to theft and loss. Instead, residents scan their fingerprints at the gate and are quickly granted access.
Vehicle detection: Vehicle detection systems normally work by scanning a unique identifier on a vehicle, such as the vehicle registration plates. Residents need only drive up and align their vehicle with the scanner, upon which the gate would automatically open. If you intend to install this kind of access control system, remember to provide an alternative mode of entry for pedestrians who may not be driving into the premises.
Keypads: Keypads are considered a little 'old school' in comparison to some of the other types of systems, but they still do a good job as a security measure and a convenient mode of entry and exit. This system only requires residents to enter a code into a keypad at the gate. One of the main risks with this system is that the code can be shared with anyone, even if they are not a resident. This could cause potential security breaches. However, regularly updating entry codes and managing this process could decrease the chances of incidents.
Choosing the Right Access Control System
The constant development of these technologies can leave one feeling a little confused about which system to invest in. The truth is, choosing an access control system for your property should be based on the needs of your residents, the price you can afford, and the infrastructure of the property. Here are a few points to consider before taking the plunge:
Consider safety first. When deciding on the system that's best for you, your property, and your residents, ask yourself which system will contribute the most to safety and security by assessing your property's unique features and your residents' specific needs.
The second thing you'll want to consider is how convenient the system will be for those who need to use it. It is likely that residents will need to engage with the entry system daily, perhaps even multiple times a day. It is important to choose a system that is easy to use, and of high quality, so that residents are not frustrated and slowed down.
In an ideal world, money would be no object. But it would be foolish not to consider the cost. However, remember that safety and ease of access should be prioritized above everything else. The best access control system may not end up being the cheapest, but the investment will be a worthwhile addition to your property management and the convenience you offer to your residents.
Homeowners Guide to Black Mold Removal in Toronto

Learning that you may need black mold removal can be outright scary for many homeowners. Black mold is also known as toxic mold, which has been portrayed in the media as a threat to people, animals, and children. The truth about black mold is a... The post Homeowners Guide to Black Mold Removal in Toronto […]