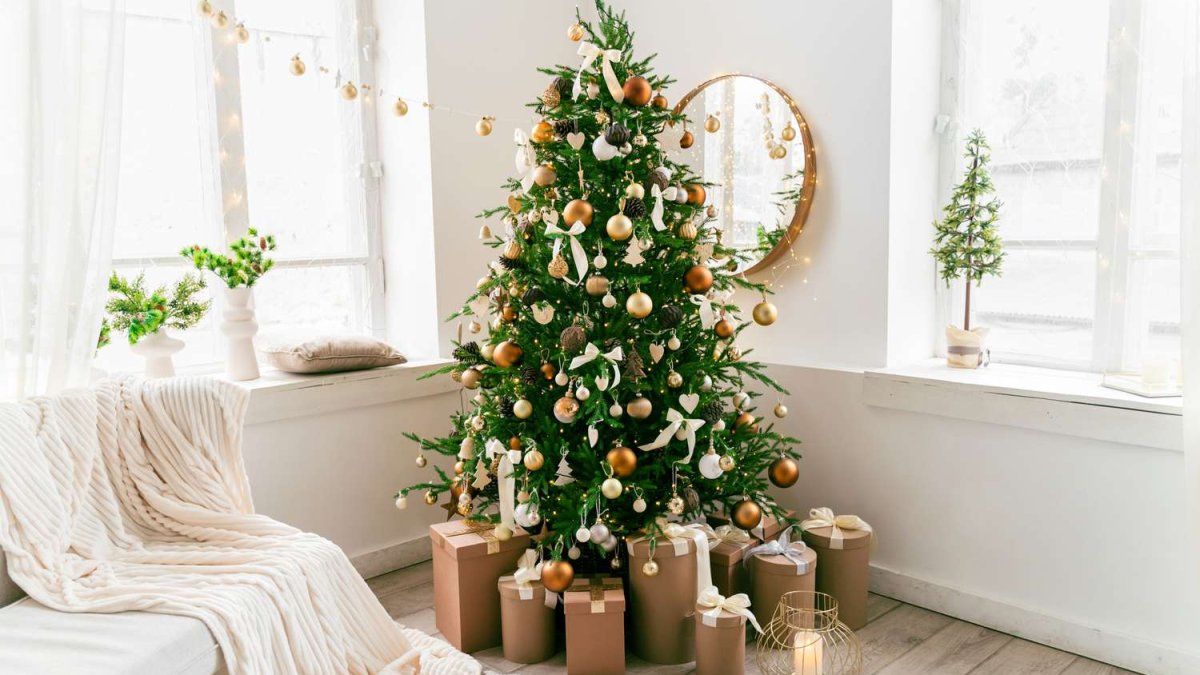 How to Put Lights on a Christmas Tree Like a Professional
Andres Walsh, 5 days ago
0
6 min

read
12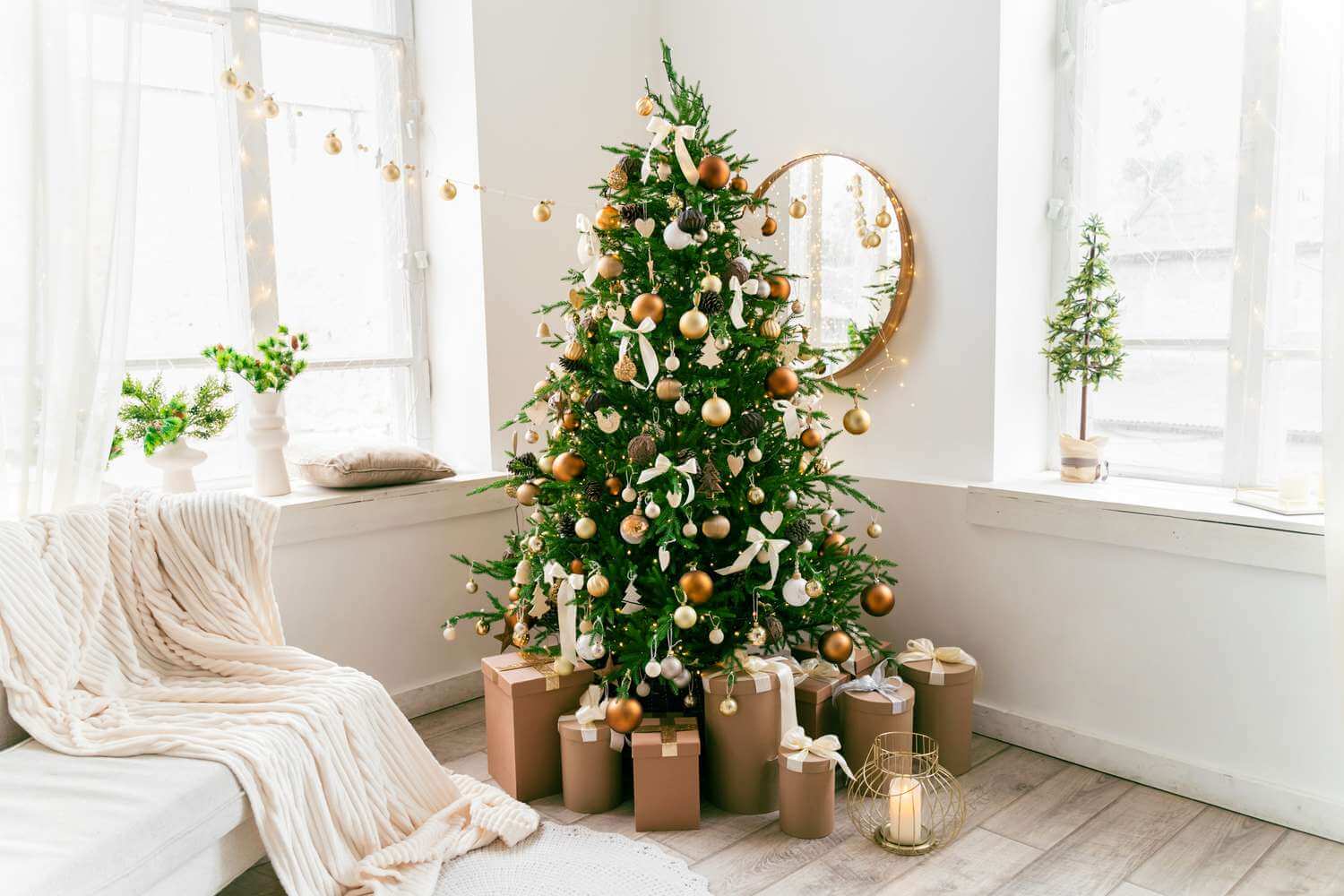 Christmas trees covered in twinkling lights are one of the prettiest parts of the festive season. However, if you've never decorated a tree on your own before, or if you always struggle to string lights on the branches, decorating a Christmas tree can be somewhat less fun than anticipated.
But don't worry – we're here with a handy guide including all the tips, tricks and info you need to hang your Christmas tree lights like a pro.
What Type of Christmas Tree Lights are Best?
There are 2 main types of Christmas tree lights in the UK: incandescent lights and LED lights.
Incandescent fairy lights are the ones you probably had on your family Christmas tree as a child. They have filament bulbs (that often need to be replaced!) and produce a soft, inviting glow.
LEDs are quickly taking over as the country's most popular type of Christmas lights. They are bright, more energy efficient, reliable and longer-lasting than traditional filament lights.
How Many Lights Do I Need For My Christmas Tree?
There is no right or wrong answer to this question. The optimum number of lights on a Christmas tree depends almost entirely on personal preference.
However, if you're at a loss and want a rough guide to use as a starting point, the general rule is 100 lights per 1 foot of tree. So, for example, a 5-foot tree would have 500 Christmas lights, a 6-foot tree 600 lights, and so on.
Choose Your Effect
Maximum Lighting
Many people like to go all out and brighten up the long, dark winter evenings with lots and lots of Christmas lights on the tree. If this sounds like you, opt for cluster lights for a fuller effect and layer lights throughout the tree, placing some on the outside and some towards the trunk to create depth.
Minimalist Lighting
Sometimes less is more, and understated lighting is perfect for creating a more natural look that lets a beautiful real Christmas tree speak for itself. Opt for well-spaced string lights and spread them out over the entire tree.
Classic or Colourful Lights
White Bulbs
Whether you opt for warm or cool tones, white bulbs provide a classic look that complements any interior design scheme. Choose warm, creamy lights for a cosy glow or embrace the season with icy cool white lights for wintry sparkle.
Multi-Coloured Bulbs
Multi-coloured bulbs have an element of nostalgia, harking back to childhood Christmases. As well as giving people a fuzzy glow inside, they are bright and cheerful and create a vibrant, fun effect. Choose a mix of small and larger lights to add more depth for an up-to-date take on colourful Christmas lights.
Before You Start
Fluff and Shape the Branches
Before even thinking about putting lights on a Christmas tree, go over the tree fluffing and shaping the branches. Whether you have a real tree or an artificial one, it will have been wrapped or boxed up for transport or storage, so take some time to fan it out and restore the tree to its original shape.
Check the Lights Work
Always check the lights are in good working order before you hang them on the tree (or even before you untangle them). As far as Christmas tasks go, few things are more soul-destroying than the lights not going on during the big 'switch on'. So, inspect the wires for any damage, then plug them in to ensure they come on and check for broken bulbs.
Start With the Lights First
Most professionals agree that the lights should be the first decorative items to go on a Christmas tree. And with very good reason. Hanging string lights can be fiddly, and if you do it after you've placed baubles on the tree, you risk knocking off and breaking some of your favourite Christmas ornaments. Doing the lights first also allows you to hide wires with tinsel, ribbons and other decorations. Finally, it's much easier to notice and correct any overcrowded or uncovered patches when the rest of the tree is bare.
Stringing Lights on a Christmas Tree
How to Hang Christmas Tree Lights Horizontally
This is the traditional way to hang Christmas tree lights and, for many people, it's still the best way. Start from the bottom of the tree and drape the lights across the lower branches. Slowly walk around the tree, moving the lights up in a spiral pattern as you go.
Go over and under branches and in towards the middle of the tree to create a more organic look.
How To Hang Christmas Tree Lights Vertically
This method has become increasingly popular over the last few years partly because it's quicker and easier than hanging lights horizontally. It also puts the lights right at the front of the tree, allowing them to sparkle and shine without getting obstructed by branches and ornaments.
Again, start at the bottom of the tree and pull the lights up to a high branch, looping it over the top before bringing it back down. Loop the string under a lower branch and bring it back up to the top again, moving around the tree to create a zig-zag pattern. You may want to secure the lights with floral wire, but it isn't strictly necessary and makes them difficult to take back off.
When You're Done
Once the lights are on, step back and look around the tree to check for patches that might be over or under-lit. Adjust the wires and bulbs, placing some lights deeper towards the trunk and others closer to the edge until the tree is evenly lit.
Storage
It may sound boring, but one of the best ways to make light work of hanging lights on a Christmas tree is to store them correctly. When the tree comes down in January, take the lights off gently, being careful not to get them tangled.
Use a coat hanger, a sturdy piece of cardboard, or an empty crisps tube to wrap string lights around, tucking in the plug at the end. Doing this keeps the wire from getting tangled or knotted, making it much faster and easier to apply Christmas tree lights the following holiday season.
It's understandable to want them down and packed away as quickly as possible. But, if you take the time to store lights in a way they won't end up in a tangled mess, you'll thank yourself next December.
Top Tips to Safely Hang Christmas Tree Lights
Ensure the Christmas tree is stable and unlikely to topple before you start.
Check lights have a CE or UKCA safety mark before plugging them in.
Unplug lights before replacing spent bulbs.
Keep spare bulbs out of reach of children and pets.
Don't overload power sockets.
Use a step or ladder to reach the highest tree branches.
Ensure extension cords are tucked out of the way to prevent them from being a tripping hazard.
Don't let wires trail into the tree stand's water reservoir.
Never leave tree lights on when you leave the house or go to bed.
Andres Walsh
My name is Andres Walsh and as far as I can recall, I have had only one passion in my life – a love of fixing things! Growing up, my friends and even my family members called me "wrench." The nickname has somehow stuck even through to my adult life.
Related posts
Benefits of a Moving Company

Moving can be an exciting yet daunting task, and if you've ever relocated to a new home or office, you know that it involves more than just packing your belongings into boxes. It's a process that requires careful planning, organization, and physical effort. This is... The post Benefits of a Moving Company appeared first on […]