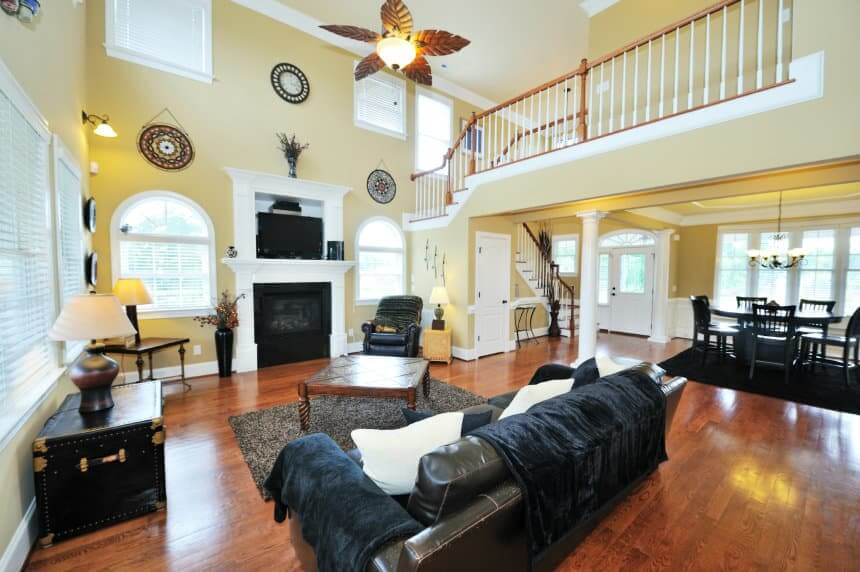 Working with wood is a satisfying hobby. Most timber is easy to shape, fasten, glue and paint, and you only need a handful of standard tools to create amazing things, be it an art project or solid home furniture, like kitchen cabinets.
If you are handy on the tools and love the smell and feel of working with wood, consider using your skills by creating some useful home decor additions. Read on for four fantastic ideas to renew your home decor with woodworking crafts.
Hanging gardens
Hanging gardens are a great way to get more greenery into your home. You can easily create a stunning hanging garden with some pre-cut pine shelves, some terracotta plant pots, and some cotton rope to suspend your shelves.
Simple drill holes around 20-cm in from the four corners of your shelves, feed the rope through and knot the cotton rope to hold the shelves in place. You can add as many shelves as you like; just evenly space your knots apart and keep them level.
Suspend your rope shelves from a large horizontal dowel, and attach the brackets via hooks overhead, either into your open beams or roof struts through your ceiling.
This is perfect for a herb garden or air-purifying botanicals like spider plants. If you feel that your pots are a little unstable, cut holes evenly spaced into your shelves, and set the terracotta pots into the timber.
Wood crate shelves
Old wooden crates can be transformed into an eye-catching set of shelves to keep your orders from the big basket, myntra, amazon and other sites, which can be attached together with some wood screws and a cordless drill.
You can either use uniform sizes for a consistent set of free-standing shelves or use different size crates to create more modular-style shelves.
You will want to source some crates that are still reasonably stable, although you can always refasten the support structures with some extra screws.
Once they are screwed together, you can either leave them as is, paint them to match your existing decor, or get fancy with a propane torch and lightly burn the wood; you are limited only by your imagination.
Wooden pegboards
Pegboards have become a popular trend in home decor, offering a versatile modular hanging station for cups, utensils, and cookware in the kitchen or hanging tools in the shed.
Why pay for a generic pegboard when you can easily make a custom design from refuge materials. There are always refuge timber materials available for free online, like old pallets. The only thing you will need to purchase is some dowel to create your pegs.
You will need a drill bit only slightly bigger than your dowel, which you can cut to any desired length. However, if you make the holes too big, your dowels will not be secure. It is also essential to ensure your board or slates are at least 15 to 20mm thick to give the pegs enough depth to support the weight of your hung items.
This is a popular trend, and there are many unique ideas available to view online; you may even find some pre-made plans and measurements you can use.
Custom wood framed mirror
Old wood can look incredible, whether it is left raw or sanded back and polished. This can be achieved using any type of store-bought or refuge timber.
Examples of the type of timber you can use for your rustic bespoke mirror include:
Old pallets
Felled branches
Old sleepers
Building surplus
Pine
Wooden bearers and more
Mirror glass used to be expensive. However, now you can pick up mirrors online or at bargain stores for no more than ten to fifteen dollars, and the existing framework is perfect for attaching your rustic wooden border.
You can cut the wood to size or leave it as is for an industrial or rustic feel, just as long as the mirror frame can support the weight. You can fasten your timber edging with screws, nails, glue, or a combination to ensure a solid structure.
You have the option of making a wall-hanging mirror, a bathroom mirror, or a tall free-standing mirror; your choices are endless.
Bespoke wall-fastened coat hanger
This may be one of the easiest projects on our list, and you can make it as simple or elaborate as you like. There are endless options for your coat hanger, including:
An old weathered sleeper
Raw timber slab
Old pallet wood
A thick tree branch
A pine board and more
You can sand your timber and stain it, paint it a color that matches your hallway, create a beaten, burnt design, or any other style that suits your taste.
You can be just as creative for your hanging hooks by using old railroad nails, rustic bolts, or fancy store-bought coat hooks. After you have completed your rack, find a secure way to fasten it to your wall, and your bespoke wooden coat rack is complete.
If you love handy building tips, home decor ideas, and fun home projects, follow us here at HeckHome and keep up to date with all the latest trends. Subscribe today and ensure you never miss out.
The Energy-Efficiency Advantages of Vinyl Window Replacement

Windows are more than just portals to the outside world; they play a significant role in determining the comfort and energy efficiency of your home. If you're looking to improve your home's energy efficiency, consider the advantages of vinyl window replacement. In this article, we'll... The post The Energy-Efficiency Advantages of Vinyl Window Replacement appeared […]