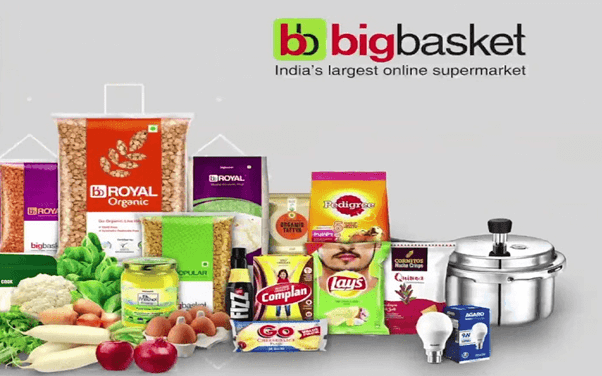 How to Get Free Delivery in BigBasket?
Andres Walsh, 5 years ago
0
3 min

read
802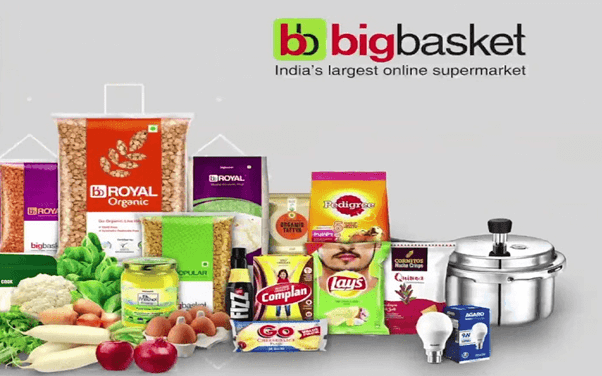 BigBasket is an online grocery store that receives more than 100,000 orders each passing day. It delivers cooking essentials like rice, oil, butter, ghee, and various other items such as laundry detergents, etc.
This company has made the procedure of grocery shopping easy by making it available online. At the same time, it is not straightforward to perform because you need to go through a variety of products by slowly looking at each one to ensure buying your desired products.
To ease this, BigBasket provides personalized recommendations to its customers. This helps the users to find their desired products easily. It is nothing but an online supermarket for completing all your daily needs.
Fresh fruits, vegetables, food grains, masala, and spices everything is available at BigBasket online and at the best possible prices.
Millions of happy customers trust it. If the order is Rs.1200 or above then, the buyer gets free delivery. The one who are the BB star members, they have the facility of getting free shipping only on orders of above Rs.600 or so.
BigBasket does not have any minimum order value. This sounds great because if you require only a single product online, you can easily buy that without any tension of reaching the minimum order value.
Now, the BigBasket referral code is something exciting to all the users of the application. Through this procedure, users can earn up to Rs.2000, which will be directly credited to their BigBasket wallet.
You can easily redeem this amount on your future orders placed through BigBasket. You can also share it with your friends or family members to earn Rs.100.
Every time you refer a person, a sum of Rs.100 gets credited to your BigBasket wallet within the next twenty-four hours. Users can do this practice of recommendation, but up to a limit of twenty friends and earn Rs.2000, which is a bonus amount for all the users of BigBasket. This bonus helps users a lot!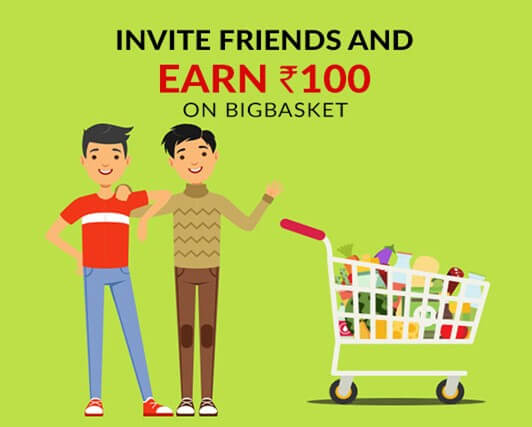 The BigBasket accepts online modes of payments. Credit cards, debit cards, digital wallets, online banking, everything is possible for making the transaction a successful one. But to enjoy this offer, the new users need to download the online grocery app and sign up to create their personal accounts.
Fill in the required information, and the friend who has referred BigBasket to you does use his or her code to enjoy the offers. Soon after that, you can start with your shopping. It might be anything, it may be alcohol, or it may be any fresh vegetable.
To redeem the new user offer, a minimum purchase of Rs.500 is compulsory at the BigBasket app. In case your order is Rs.400, or so you will not be able to enjoy the privilege of being a new user at the BigBasket application.
BigBasket has tied up relationships with several popular banks. For example, if you will pay the bill through the Federal Bank, you get a discount of a flat 10% off on your respective grocery order.
If you are paying your bill through Induslnd Bank, you get a discount of 10% off on various categories like the house cleaning products or your personal care items, and many more.
If you are willing to pay your bill through Mobikwik and at the same time if you want Supercash too, then you need to shop for a minimum amount of Rs.1000 or above to get 10% Supercash. But, remember one thing, you can not avail of two offers at the same time, to get more benefits in a single order.
To view more exclusive offers, do view the BigBasket official website to know more.
BigBasket has taken all the users by storm because of its new sort of thinking. Their thinking perhaps has revolutionized the entire idea of grocery shopping.
This does not encourage any crowding of the stores for a minimal amount of shopping. The application also encourages savings at the same time by availing several exclusive offers to its customers.
Andres Walsh
My name is Andres Walsh and as far as I can recall, I have had only one passion in my life – a love of fixing things! Growing up, my friends and even my family members called me "wrench." The nickname has somehow stuck even through to my adult life.
Related posts
Are Marble Kitchen Countertops a Good Idea?

When it comes to kitchen countertops, nothing exudes elegance quite like marble. Its natural beauty and timeless appeal have made it a popular choice among homeowners. But is it a good idea to have marble countertops in your kitchen? Let's explore the advantages and disadvantages.... The post Are Marble Kitchen Countertops a Good Idea? appeared […]