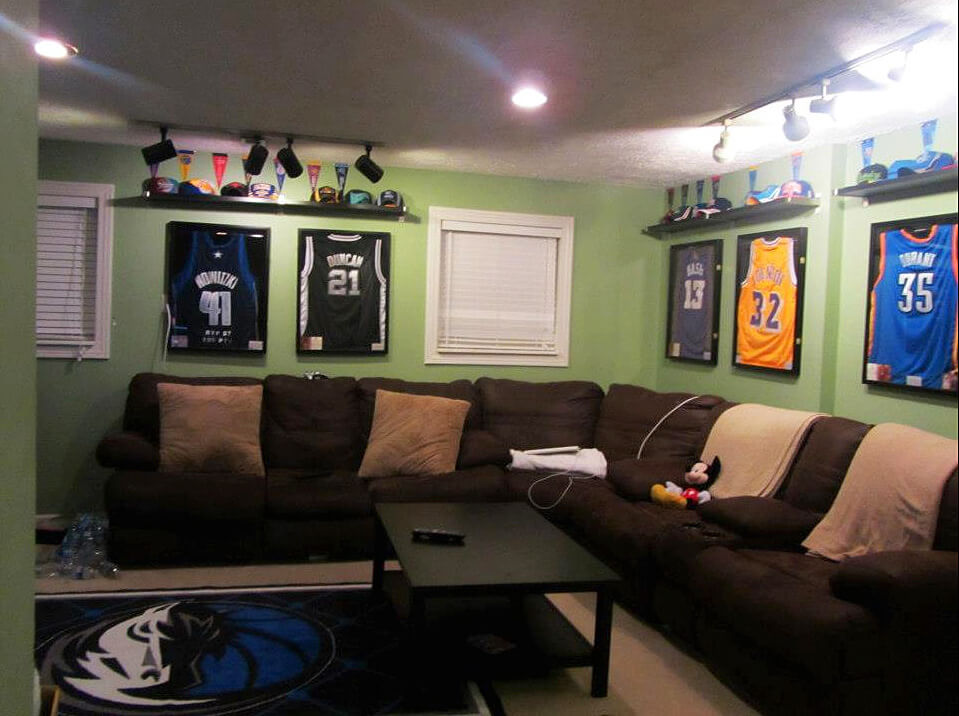 Are you a sports fan looking for creative ways to incorporate your passion for sports into your home decor? Well, look no further because this article will provide you with ideas and inspiration for creating a personalized and stylish space that showcases your love for sports, including NBA picks and parlays.
Incorporating sports-themed decor into the home is a great way to express one's personality and interests and create a fun and engaging atmosphere perfect for entertaining guests or spending time with family and friends.
Read on as we explore some innovative and fresh sports decor ideas to help bring your passion to your home.
For the Living Room
Wall Decor
You can use team logos, pennants, and sports-themed artwork to decorate your walls. For a more understated look, use neutral frames to display sports-themed artwork. If you want to be bold, consider creating a gallery wall featuring team logos, pennants, and other sports memorabilia.
Adding wallpaper and wall decals featuring your favorite sports, like a football field or basketball court, can create a bold statement in the room. Plus, it personalizes the space to reflect your sporty side.
Sports Memorabilia
Use sports memorabilia, such as jerseys, baseball bats, and autographed items, as statement pieces. Display them on shelves, in shadow boxes, or on the walls. Also, consider framing and displaying sports tickets, programs, and other collectibles.
You can use any merchandise you have, as your decor doesn't need an autograph. So, you can find pieces that reflect your favorite team, player, or even league. All details are valuable and useful.
Seating
Incorporating seating into the decor is vital for a comfortable living room. Choose your seating in team colors or sports-themed patterns, such as a football leather sofa or basketball print armchairs. In addition, sports-themed fabrics like football leather, basketball netting, and baseball stitching can be used for throw pillows, curtains, and upholstery to add texture and interest to the room.
Lighting
Place your lighting to intentionally highlight sports memorabilia on display and add ambiance to the room. You can also choose sports-themed lamps or light fixtures or incorporate color-changing LED lights that can be set to team colors.
For the Bedroom
Sports-themed Furniture
Sports-themed furniture can be a fun and unique addition to the bedroom. For example, you should consider a bed frame shaped like a race car, basketball hoop, or nightstand with sports-inspired detailing. However, it's essential to balance out the sports-themed furniture with more neutral pieces to avoid an overwhelming look.
Bedding and Pillows
Bedding and pillows with team logos and colors are a great way to tie in the sports theme. Incorporate bedding with your favorite team's logo or colors, and throw pillows in sports-themed designs.
Storage
Storage is essential in the bedroom to keep it tidy and organized. Include sports-themed storage solutions, like a basketball-shaped hamper or a football-themed dresser. You can also use storage containers in team colors or with sports-themed designs.
Final Tips
Ensure the Shades Match
When incorporating team colors into the room, choosing the right shades is essential to make the decor look cohesive. However, it can be overwhelming if the team colors are too bright or bold. Instead, choose shades that are slightly muted, such as navy blue instead of a bright royal blue, to create a more subtle look. You can also use neutral colors like black, white, and gray to balance out the team colors and create a put-together look.
Consider Having a Theme
Choose a theme that speaks to your preferences. For example, you could create a "vintage sports" theme by incorporating old sports memorabilia and vintage-style decor.
Have Fun!
Remember, the goal is to have the home decor of your dreams, and the best way to live out your dreams is to have fun during the process. So create and recreate, get creative, or be a little crazy until your home reflects your passion.
Are Marble Kitchen Countertops a Good Idea?

When it comes to kitchen countertops, nothing exudes elegance quite like marble. Its natural beauty and timeless appeal have made it a popular choice among homeowners. But is it a good idea to have marble countertops in your kitchen? Let's explore the advantages and disadvantages.... The post Are Marble Kitchen Countertops a Good Idea? appeared […]