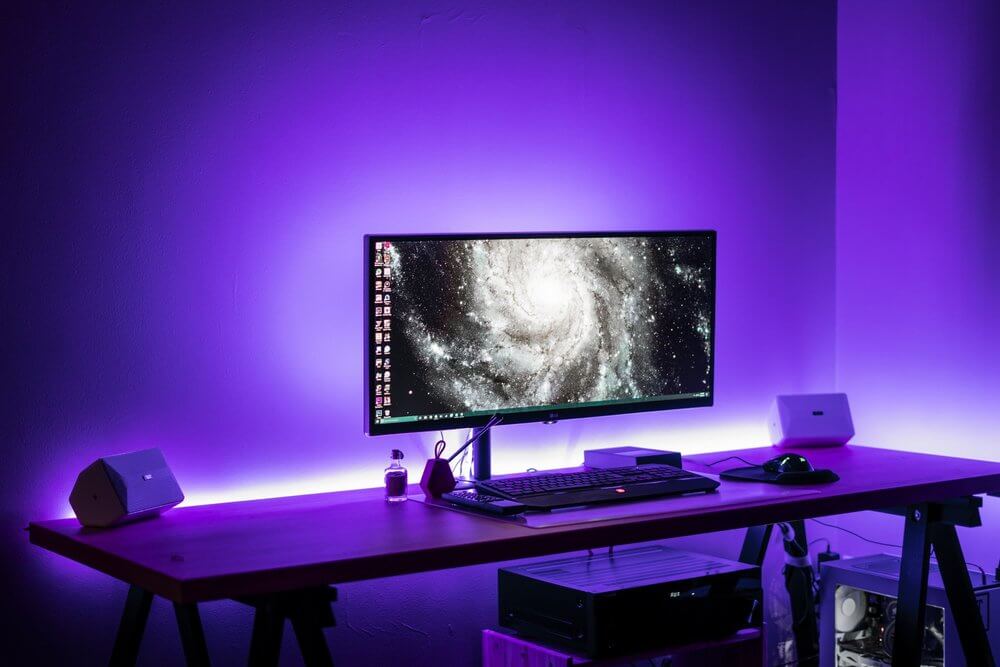 Are you an avid gamer but feel your gaming experience lacks something special? Look no further than these home automation tips to take your sessions to the next level. You can immerse yourself in your favorite games and improve your skills with the right ambiance.
Whether you're a beginner or a seasoned pro, these tips will enhance your overall enjoyment. And before you get started, check out our online casino reviews to find the perfect platform for your gaming needs.
Unique Gaming Button
Elevate your gaming experience with the convenience of a single button press. Customize your keypad to do more than just control the lights in your gaming room. With a personalized "Gaming" button, you can automate a series of actions with just one click. Close the shades, turn on the game console, activate the surround sound, and bring the TV screens to life, all with the touch of a button.
And for added convenience, double-tap the same button to bring up the lights for a predetermined amount of time, which is ideal for quick breaks or answering the door. With Control4's Keypad, which features 1-6 LED-backlit engraved buttons in four different sizes, you can design up to 38 possible configurations, giving you the power to create multiple scenes to match your unique gaming moods.
Automatic Door Lock
An automatic door lock can connect your doorbell to the lights, ensuring you'll never miss a visitor again. But that's not all – the tabletop touch screen can show you who's at the front door with just a glance, so you can decide whether to communicate with them straight from the screen or ignore them altogether.
And if you're expecting someone, simply press your "Front Door" button to unlock the door and let them in. As they make their way to the game room to join in on the fun, the door will automatically lock behind them, leaving you free to enjoy your gaming session without any worries.
Surround Sound System
For gamers, immersive sound is everything. It can truly make or break the experience. That's why a surround sound system is essential for any gamer's setup. A Sony or Denon receiver with built-in SDDP technology is the perfect solution to ensure crystal-clear audio quality.
With an advanced smart home system, you can count on your audio system to bring your games to life like never before. And with 4K Ultra HD multi-room video solutions, A good sound system offers the best possible picture and sound for all your entertainment needs throughout your entire home.
Strong Internet Connection
While it may not be the most exciting aspect of your gaming room, a reliable network is necessary for any gamer. When gaming online, nothing is more frustrating than experiencing disconnections or being kicked out of your game due to a shoddy network. That's why it's crucial to have a network you can always depend on. A powerful and configurable network is the foundation of interactivity and predictability.
Good Lighting
Combining home automation with gaming has always been more challenging and immersive than smart lighting. Lighting offers many options to enhance your gaming room's environment with just one touch of a button on your keypad. Whether you want to create a comfortable, lounge-like atmosphere with softer lighting or add colorful accent lighting to your screens and walls, Control4 has got you covered.
With bright lighting, you can even program your lights to flash on and off when the doorbell rings, so you never miss your pizza delivery. Bring your gaming room to life with captivating accent lighting that highlights your decor and adds a touch of class. You can even accentuate the lighting under your gaming chairs or side tables to create a truly immersive experience.
With these, you can always enjoy your gaming time in the comfort of your home. While some of them are very cheap to get, a few of them may cost a lot. Still, gaming isn't enjoyable without these techs.
The Energy-Efficiency Advantages of Vinyl Window Replacement

Windows are more than just portals to the outside world; they play a significant role in determining the comfort and energy efficiency of your home. If you're looking to improve your home's energy efficiency, consider the advantages of vinyl window replacement. In this article, we'll... The post The Energy-Efficiency Advantages of Vinyl Window Replacement appeared […]