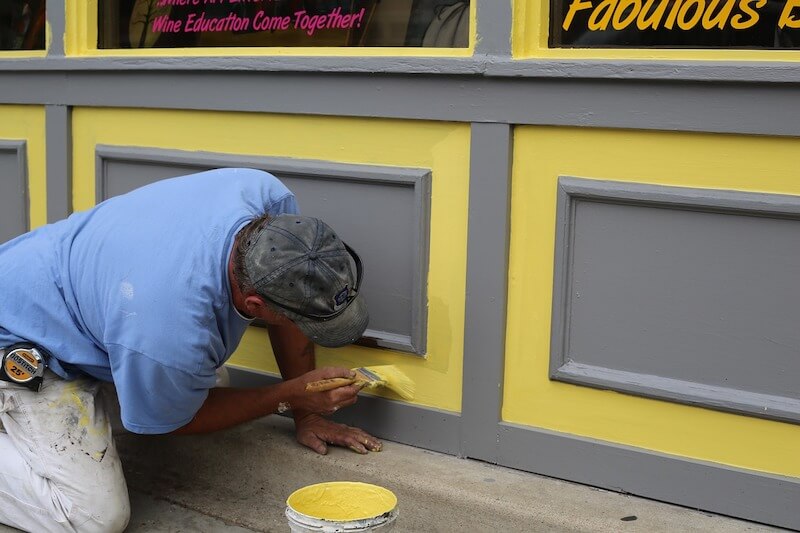 Keeping a home maintained means attending to many different factors. The interior is one thing – you need to vacuum regularly and keep things neat and tidy where possible – but what about outside? Your roof, walls, windows, and doors – as well as any other trimmings and fittings – take the brunt of the weather. Not only do rain and snow put pressure on paintwork, for example, but wind and the sun also have a negative effect on your paint as well as your vivint cameras. 
How much of a battering your home exterior talks will depend upon where you live and the local climate. Yet it remains so that there will be notable deterioration in the exterior appearance of your home over time. This is especially the case with your paintwork. Now, you may think that you can attend to exterior paintwork using your tried and tested DIY methods. But do you really feel safe at that height up a ladder?
In this article, we look at why getting the professionals to perform your exterior painting work makes sense, what special qualities the exterior will have, and a few other questions that come about where your exterior paintwork is concerned. Let's begin by explaining why a professional approach is the right one.
Why Use the Professionals? 
As with all maintenance jobs, whether on your home, vehicles, or appliances, a professional will always know best. They will understand the routines needed to complete the job in the best possible manner. Let's say you have an expensive car. Something goes wrong. You don't tackle it yourself unless you happen to be an expert on that model. Instead, you routinely take it to a dealer who has specialist mechanics and engineers for that model.
It's the same when it comes to your exterior paint. As we shall see, the paint used – and the techniques also – on the outside of the house are not the same as those you use on your interior woodwork. Check out a local painting company such as A Perfect Finish Painting, and you will get a better idea.
Further reasons for using a professional include the fact they will be equipped with health and safety equipment that you do not have and will use the safest and most effective methods to paint your home. So, what are we talking about when we say exterior painting differs from the interior? Let's have a brief look.
What is Special about Exterior Painting? 
The simple answer is that your exterior paint looks not only great and gives the home a fresh finish but also provides essential weather protection against the various elements that make their presence known where you live. It is surprising how much damage to paintwork heavy rain, for example, can inflict. The paint used will be formulated to provide as much possible protection to all of your woodwork and fittings throughout the exterior of your home.
Note that a company such as the one above will also offer services in painting and protecting fences and outbuildings. As these are usually wooden in form, they need regular treatment with particular substances in order to guard against damp and moisture which will damage the structure. A local painting company will be more than happy to advise you as to the best methods of protection and – in addition to that for the home itself – will provide you with a free, no-obligation quote for the work involved. Now the next question: how often should your home exterior be treated to new paint?
How Often Does a Home Exterior Need Repainting? 
This is a question that has several answers. The right answer depends heavily upon where you live and can you afford sliding to elevate the exterior. Some sources will advise that you leave it no longer than five years before having a home repainted, while others will suggest between 10 and 15 years. We recommend that you examine the paintwork in several places every few months. This way, you will notice deterioration in the finish and be able to see how bad it is becoming.
Once you find a local paint company, they will be happy to attend every few years, and you will find their rates to be sensible. As water ingress through unprotected fittings can lead to more expensive repairs, it is perhaps best to wait no longer than five years between paintings.
What Colors Can I Choose?
It is predicted the 2022 exterior design trends will involve homeowners opting for coloured exterior paintwork rather than the traditional white and brown. This is perhaps because of the arrival on the market of pre-coloured uPVC doors and windows that have changed the possibilities for exterior home design.
The simple answer to this question is you are free to choose any color you like, as long as there is not a neighborhood agreement to stick to a set color scheme. The last thing you want to do is upset your neighbors, so if you are thinking of going color, take the time to talk about your ideas and see if any have objections. They may be thinking the same way, and you could get a block booking for your painter, but if there are a few who object, it is wise to keep to the standard.
Do I Get a Warranty? 
This is something to be discussed with your painting company, and the usual answer is that you will get a warranty of some kind for the job for a few years. It is unlikely to be more than five due to the factors mentioned earlier. Now a few final words on which quote you should choose.
Should I Choose the Cheapest Price? 
Always get more than one quote but do not automatically opt for the cheapest. It may be the right one, but the right one comes from a company whom you talked to and felt comfortable with and who showed you examples of their work. If you liked the most expensive company, it is likely because they offered the best quality. Do not be afraid to ask if they can match or approach a lower price but remember that a quality professional job is always better than a cheap one where corners have been cut to keep the price down.
Making Invitations for a Gathering? Should You Choose Color or Black and White Printing?

When the COVID-19 pandemic was in its early stages, life changed dramatically. Public officials instituted stay-at-home orders, insisted that people wear masks in public places, and even required everyone to limit how many people they associated with to stop the spread of the virus. Did... The post Making Invitations for a Gathering? Should You Choose […]