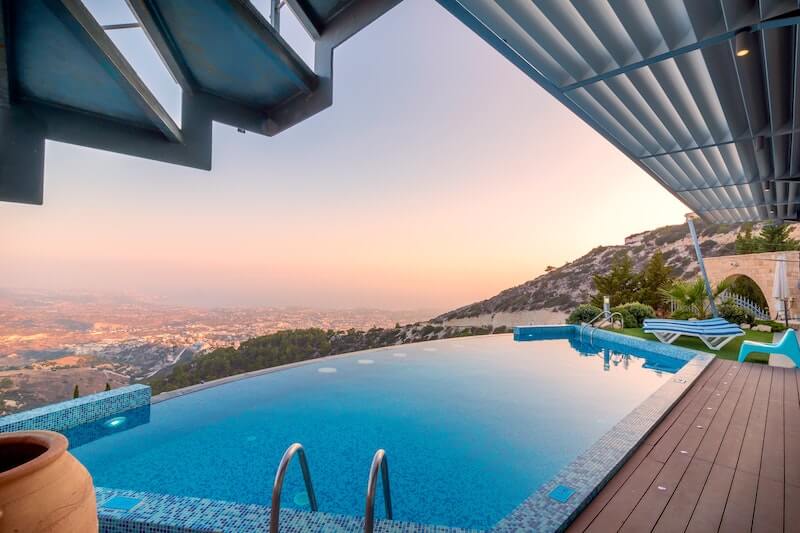 If there's one thing that American homeowners love, it's a pool! Of course, you need to live where the climate is suitable for an outdoor pool or have the space and means to build an indoor one. In fact, there has been an increase in demand for home pool installations over the past couple of years. This applies across all the home leisure and fitness equipment markets and is directly a result of the covid-19 pandemic.
With pools, gyms, and other leisure facilities closed, people began to recognize the convenience of having facilities – even in basic form – at home. Sales of smart gyms and other home gadgets that add fun and fitness to the package rocketed in 2020. Why would you have a pool installed? Isn't it needlessly expensive? And what about all that maintenance they require?
In this article, we will be answering those questions and more and also looking at why vinyl pools have become the choice for most people. We'll start by talking about what vinyl pools are and what benefits they bring.
Benefits of Vinyl Pools
First, what are vinyl pools? The traditional method of building a home pool is that of concrete construction. This has been the norm for decades, and these pools remain popular with some homeowners. Then there is the option of the fiberglass pre-moulded pool, which is also a popular choice. But vinyl is rapidly taking over, and here's why.
Vinyl pools are not pre-made. In fact, what you buy is simply a vinyl lining and a metal frame to hold it in place. This means that the design choices – in terms of shape, size, and depth – are endless. You are not limited in any way as you are with concrete – or more commonly gunite – or fiberglass.
Furthermore, where a traditional pool will take as much as eight weeks to construct and complete, a vinyl pool will half that time. The actual time depends on your design and size, plus the filters and other systems that you want to be added to your pool. Vinyl is also cheaper, it is smooth to touch, and thanks to other qualities over concrete, does not need the chemical additions that a traditional pool does.
Vinyl is also less susceptible to problems caused by the weather – concrete can be damaged by freezing and thawing, for example – and is the cheapest upfront method of all. If there are downsides to vinyl as your choice of pool, then you need to know that the liner will need replacing yet will last ten years if correctly maintained. However, a new vinyl liner is considerably cheaper than having a concrete pool relined and can be done very quickly.
One thing to be aware of is that algae like to grow on vinyl, so this must be a part of your pool maintenance routine. If you check out EverClear Pools & Spas, you'll get a good idea of what vinyl pool installation involves. Now we want to talk about your design and whether it should be above ground, in the ground, or partly in the ground.
Above Ground or In-Ground Pool? 
Most vinyl pool installations are in-ground pools, as this is the most efficient way of designing and constructing such a pool. You will need to discuss with an installer the many options in terms of filters, heating, and further, as well as the spot you choose to install your pool. Put simply, an in-ground vinyl pool involves the excavation of a large hole to the shape and size you want, the laying of the vinyl liner, and the installation of the framework and fitments required. How do you find the right installer? That's what we will look at next.
Choosing the Right Installer
First, we recommend you choose a local vinyl pool installer as they will be the most cost-effective and knowledgeable about your location. Talk to a few and invite them to survey your site. There are a few questions you need to ask, so let's briefly go through the most important.
Is Your Chosen Spot Suitable?
You will more than likely have earmarked a location in your yard for the pool, but you need to ensure that you have chosen a spot that is suitable as a pool location. The local pool company will check out the spot and advise you as to whether or not it is suitable. If not, they may recommend you move your pool to a better spot, and they will explain why.
Do You Need Planning Permission for a Pool? 
The answer to the above depends upon where you live, but in New Jersey – for instance – bylaws state that you usually do not require any special planning permission to install an open pool in your yard. There may be exceptions to this rule, and once again, using a local pool company will give you access to expertise in local planning restrictions. Make sure you have this point solidly cleared before you start your installation as you did for the sliding. 
What Experience Does the Pool Company Have?
We all like to help a new business along the way, but when it comes to vinyl pool installation, it is always wise to engage the services of an experienced and established installation company. Ask for examples of previous jobs and visit them and talk to the owners, if possible, as this will help you get an idea of which are trustworthy service providers.
Do they offer a Warranty?
This is another question that we cannot answer directly but rest assured, if you talk to the pool installers, they will explain what warranties are on offer.
What about Pool Maintenance?
Many people worry that pool maintenance is a tiresome and time-consuming job. In fact, if you regularly net leaves and debris – and any small amphibians that might take a liking to it – and keep your filters and other equipment serviced as required, it's a once-a-week job at most.
Start talking to local vinyl pool installers about your dream pool design, and you will soon be able to enjoy swimming in your own pool.
The Energy-Efficiency Advantages of Vinyl Window Replacement

Windows are more than just portals to the outside world; they play a significant role in determining the comfort and energy efficiency of your home. If you're looking to improve your home's energy efficiency, consider the advantages of vinyl window replacement. In this article, we'll... The post The Energy-Efficiency Advantages of Vinyl Window Replacement appeared […]