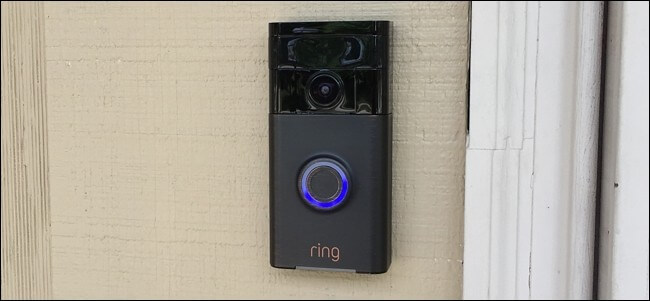 Why is Ring Doorbell Flashing White or Blue Light? A Complete Explanation

Martin Ellis, 3 years ago
0
8 min

read
7617
Advancement in smart home technology is becoming extremely popular, and video doorbell is one of the latest additions to the series. This little valuable device allows you to see who's knocking and secure your home, even when you're out for the work. If you are new to smart technology, unfortunately, it can often be challenging to set up.
No products found.
Why is My Doorbell Ring Flashing Blue or White?
The blue flashing of your Ring on your doorbell video in different patterns helps in the troubleshooting of various conditions and problems on your device.
There is a way from which we can see that either the battery of the device is low or the device has lost its Wi-Fi connection in both cases, and there is a flashing white ring on the video doorbell. There is a way from which we can see that your device is charging is if there is a solid white ring.
Flashing White Ring on Doorbell?
When your Doorbell is flashing in white colour, it merely means that your power is insufficient, or you have lost connection to the Wi-Fi. To be sure we are listing the symptoms below:
A sound is emitted when the button is pushed
Light glowing a soft white
Do not record any events
No app alerts
If you're experiencing the same issue, then discuss how to get this rid of it. Based on the problem that you're having, your ring video doorbell device is not connected to the internet, which is another problem in the device and of the device itself.
The problem might fix on restarting your Wi-Fi router, but just in case it does not fix the problem, then we have some other solutions available.
Being in some areas can reduce the power that reaches your Doorbell. If you are staying in a place that has power cuts, often could be the reason that your device is not online.
You can also have the following issues:
Power surge
Changed Wi-Fi password
Router wire is not connected correctly
Low Power
Flashing Blue Ring on Doorbell?
When there is blue colour flashing in your ring doorbell the meaning of that is it wants to give you a notification about the device's status, we are listing the status below:
If you have pressed and an ordinary button, then the blue light spins.
If the Doorbell is in the way of connecting to a network during installation, then blue light shifts upward
If the camera of the doorbell video is in the process of booting up, then the blue light turns on and turns off second by second.
If the speaker is being turned on, the Ring light up with solid blue colour light.
If you have successfully reset the device, then a short flash of blue light occurs, followed by a white circle light.
If the above list didn't help, or if you are having some other problems with your Video Doorbell, the problem can easily be searched and get to know what is happening with your device by giving some time to its way of acting.
Here we have provided some more ways to check what's going on with your Ring Doorbell if it is not working well.
As you can see, multiple instances by which your device can start blinking. But for the confirmation, you must see that the Wi-Fi is undoubtedly the problem. You should be able to see by checking your internet connection on the Ring app, that if there is a hiccup in the network or if you're connected or not.
If your Doorbell shows that it is 'Offline,' then it means there is no network connection. You might have to check your Wi-Fi router to confirm that everything is in its fixed place or not, and all the lights of the router are green and working correctly. Make sure that the wires of the router are correctly connected.
The rest is undoubtedly natural. Turn the router, power off the Ring Video doorbell, and wait for some time. If even after completing all these steps, your device is still not working, then your device could not have sufficient power from your doorbell transformer.
Ring says that if the power from the doorbell transformer is more than 16VAC, then that could be the problem as well. But if your power is less than that, the Ring Doorbell device needs a minimum power supply of 16VAC to turn on. If that is your issue, congrats, you have been able to eliminate the problem!
This may look like an approach completed one step at a time, but the best method to explain and help you to be able to eliminate what is happening is to share what process you can do to fix the issue that has arrived.
The main problems or doubts that are asked on the Ring website are related to Battery issues and, Wi-Fi loss which only means that many people go through the same problem. I also remember the problems that I had when I was trying to install this device at home.
You may have some irritation, but fortunately, Ring has tried to solve the problems easily and quickly. If your question is not answered, you can contact by calling Ring support, and they will help you with your problem, to be sure–if your device is not working, then they will send you another device in place of your old device to ensure that you are a happy customer.
Make Sure Your Ring Doorbell Is Connected to Internet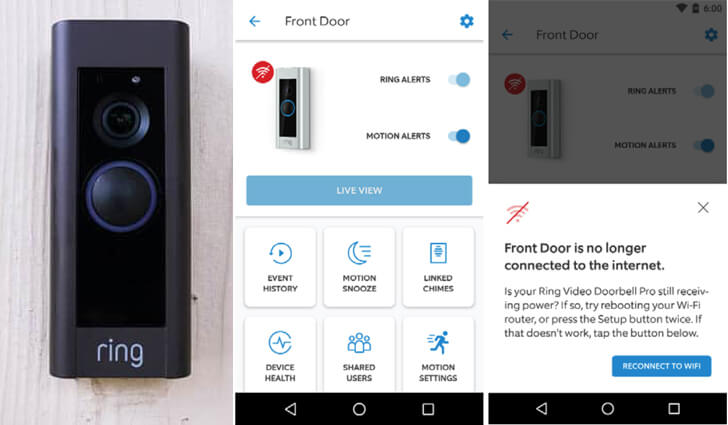 Advancement in smart technology home working devices as the Ring Doorbell only works when connected to a Wi-Fi network for getting the full performance of its functions. Make sure to connect the Doorbell to your router and complete the installation before using your device.
When you first install the app on your phone and Ring device, it will try to make a connection to the available network. When the network becomes available, for iOS users, the app will ask to Join. Android devices automatically get connected to the Wi-Fi network.
If your ring device is having an issue connecting to your network, follow the below-given steps:
In settings, select the Wi-Fi option.
From the following list of available networks in the Wi-Fi section, select the network of Ring. The name of the network will show by the name of 'Ring,' and then right after that, there will be the last four or six digits of the MAC Address.
Open the app, After the phone and device connects
Select your network.
Tap Continue after typing the password.
The Ring Doorbell device may perform an internal software update once you are connected to the Wi-Fi network. During the process, the device will flash white light, and when the process gets complete, the flashing of the light will stop. Then, you can start using your device as usual.
Even if your Ring device is having issues with a Wi-Fi Connection, consider the Ring Chime Pro (Amazon), it can boost the signal of your Wi-Fi up to 222 yards, and it is a Chime so from every corner of the house, it will be comfortably audible.
How to Reset a Ring Video Doorbell?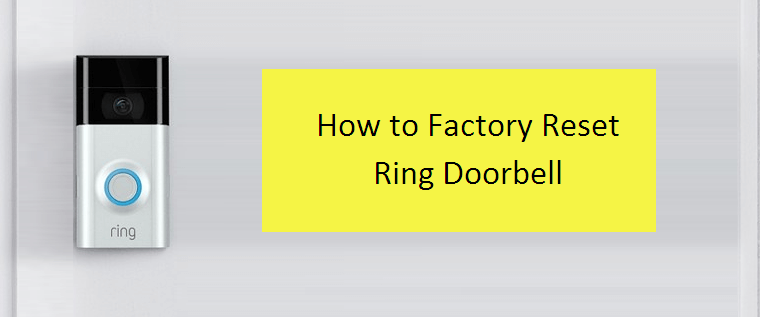 My times the issue is not with the battery, router, or Wi-Fi. Generally, what we do when our computer or smartphone gets hang? We do a hard reset to get our device back to its reasonable condition.
Thanks to makers of Ring doorbell that they have made available the reset option in Ring devices. Although, the way of resetting the device depends on the model of the device you are using as Doorbell.
If the device you are using is Ring doorbell or Ring Doorbell version 2, then you would find an orange button on it. You have to press that orange button for 15-20 seconds, your device will reboot, and you will see a flashing light on the front of the device.
For hard resetting a Ring Doorbell Pro device, you need to press and hold the setup button for 15-20 seconds. Just wait for 25-30 seconds, and the device will start setting up.
If your Ring Doorbell does not enter the setup mode, then it is better to turn it off for 10-15 minutes and start the setup process again.
No Sound for the Doorbell?
If you are experiencing this issue after doing everything that is explained above, I am sure that you are done with this post. Just do not worry.
There are two understandable clarifications for this matter.
Either the microphone isn't enabled, or your device has non-working speakers. This could be for not clearing hearing the notification or the Doorbell. You will not be able to hear anything if the microphone is not toggled on with the Doorbell. Therefore, we should make sure that it is on for no further problems.
When you enter the Ring App, make sure to turn the microphone off and on for a couple of times, if that does not solve the problem, you may need to buy a new mic. For iOS, you will make sure that the app is installed in your device and have proper settings so that the microphone access is enabled by the device.
If the problem is in the speakers, there is a page in which an article is given, telling the instructions to change the speakers, what problem it has, and about how much time it will take you to complete the replacement process.
Write for us
HeckHome does not necessarily share views expressed by opinion writers and advertisers. HeckHome regularly invites Bloggers across the World to home remodeling write for us in order to present their creative ideas.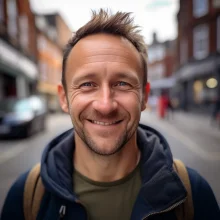 Martin Ellis
Martin Ellis, with over 15 years in the field of home security and technology, has become a trusted voice in making homes safer and more secure. He earned his Masters in Computer Science from Stanford University, which laid the foundation for his expertise in integrated security solutions. Before joining our team, he has been instrumental in providing insights into innovative security technologies. Beyond work, Martin is an avid runner and tech hobbyist, always keen on exploring the latest gadgets.
Related posts
The Energy-Efficiency Advantages of Vinyl Window Replacement

Windows are more than just portals to the outside world; they play a significant role in determining the comfort and energy efficiency of your home. If you're looking to improve your home's energy efficiency, consider the advantages of vinyl window replacement. In this article, we'll... The post The Energy-Efficiency Advantages of Vinyl Window Replacement appeared […]