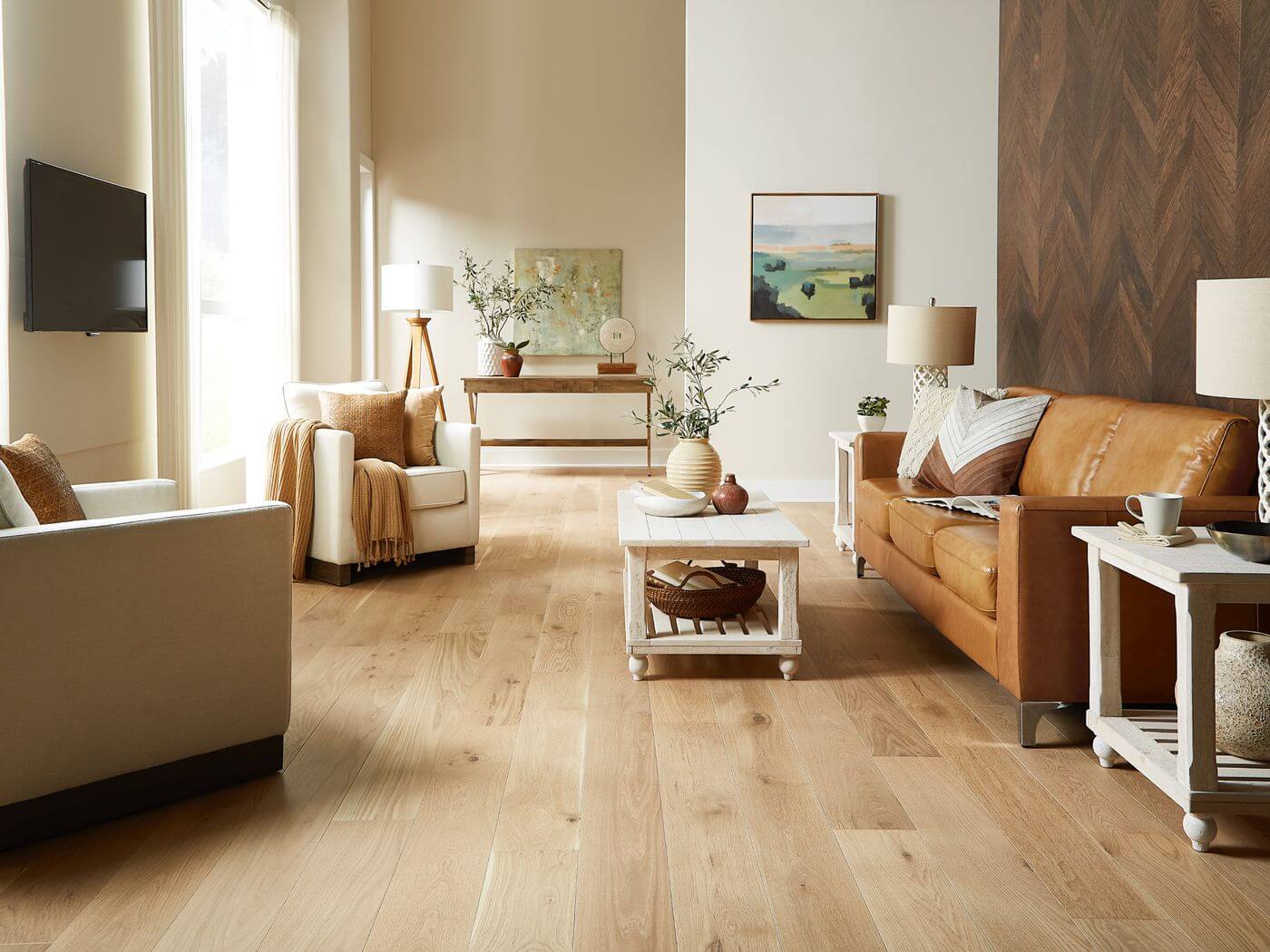 Again and again, people are rising up buildings or renovating already standing properties. However, people commonly find flooring challenging. See room flooring as the icing on a cake as a bare floor is an eyesore and defeats the purpose of any aesthetic to a building.
Flooring is not only an architectural must-do but also adds to the aesthetics of a room. Although there are various floorings, one flooring style we see constantly repeated is wood flooring.
In this article, we listed 3 easy hacks to follow when selecting the best hardwood flooring for your space. But before we get right into it, let's get you started on the types of hardwood floors for a sec!
Types of hardwood floors
There are basically two major types of hardwood flooring – solid wood flooring and engineered wood flooring. Under these two categories, the different types of hardwood species for flooring include walnut flooring, oak flooring, maple flooring, hickory flooring, mahogany flooring, teak, and bamboo pine, and cork floorings (the list here is inexhaustive).
1. Solid hardwood flooring
Solid wood flooring was initially the only type of hardwood flooring known to many. Just as the name implies, it means flooring done with only one solid piece of wood all through – no additions or mixtures.
Known for its durability and ability to last several years, solid hardwood can be sanded and refinished several times. It also allows for customization – talk about different cut patterns, finishes, and wood species.
2. Engineered hardwood flooring
Engineered hardwood flooring on the flipside is wood with a mixture of real natural wood as the top layer and plywood or composite wood as the base or bottom layer. It's sometimes preferred over solid flooring as it doesn't warp easily and can withstand varying weather conditions.
3 Tips for choosing the perfect hardwood flooring for your space
1. Durability
How long do you want your flooring to last? Do you have pets or kids who constantly scratch at your floors? Is there a possibility of your floors undergoing stress?
If yes, then go for harder and stronger like solid wood flooring. Solid hardwood can be refinished and sanded many times through its service years without losing its thick texture. On the other hand, engineered wood has a lighter top layer and can quickly wear dents and scratches.
2. Know your environment
The durability and stability of your hardwood flooring depend heavily on the environment. For instance, solid hardwood cannot thrive in extreme humidity or arid climate conditions. In addition, they are susceptible to change in temperature and can expand or warp under certain weather conditions, causing damage to the planks.
On the other hand, engineered wood is not sensitive to weather changes and does not warp over time. They are thus best for spaces like beach houses, baths, kitchens, basements, laundry rooms, underground spaces, and other damp areas.
3. Work within your budget
Engineered wood is often cheaper to purchase and install, including extra activities like subflooring and finishing, unlike solid wood. The wood species also determines how much you are likely to spend, with harder wood choices being cheaper than the softer ones. If you're working with a shoestring budget, then go for engineered wood flooring.
Takeaway
And there you have it, 3 tips to get you started on your hardwood flooring journey. Visit Floormod.com for the answers to all your modern flooring questions and quick guides and suggestions for your flooring woes.
Building a Conservatory: How To Build a Conservatory

Have you always dreamed of adding a conservatory to the back of your home? If so, you're not alone. In fact, residential conservatories are more popular than ever before. That's because they are both beautiful and functional. They provide tons of natural light while creating... The post Building a Conservatory: How To Build a Conservatory […]