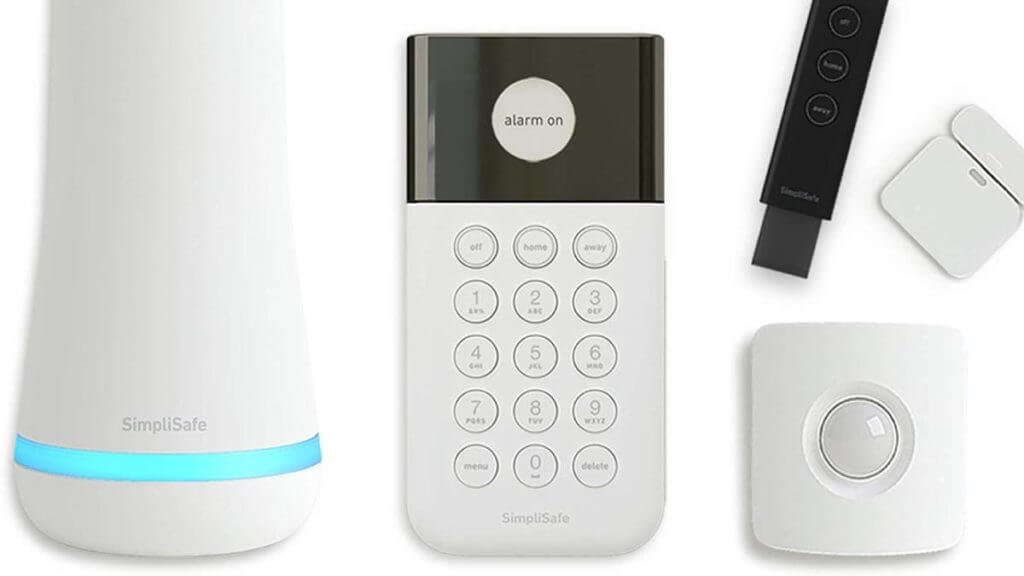 Does Simplisafe Work with Alexa? [8 Useful Alexa Commands]
Andres Walsh, 3 years ago
0
9 min

read
1397
Upon hearing the news about a house robbery, the first thought that comes to your mind is, "what if it happens to me?" and you wish for that thought to never come true.
You wish you were rich enough to be able to afford a security guard at your home, and while it is true that not all of us can afford to keep a security guard, we can, although, keep something that is almost like one and is also very much affordable. What I'm referring to is Simplisafe.
Simplisafe is a company that provides professionally monitored home security solutions at an affordable price point. What makes Simplisafe unique is the fact that it provides a total home monitoring security system.
Meaning, it will not only keep your home safe from intruders and unwanted visitors but also will monitor any hazard in the form of gas leaks, fires, or even pipe bursts.
If the Simplisafe monitoring systems detect any potential danger, the homeowners are immediately cautioned. Also, to keep the systems online at all times, the Simplisafe monitoring system works on secure connections like broadband, cellular network, or Wi-Fi. If the system goes offline, the owners are immediately warned by the monitoring professionals.
What Makes Simplisafe Secure?
If you are in the lookout for a secure and reliable home security solution, then you need to look no further. Simplisafe can cater to all your needs and more. What makes Simplisafe reliable is the fact that it provides professionally monitored home security.
This means that there will always be a pair of human eyes, who will oversee all the systems and alarms in your house. Well, to be precise, six pairs. Simplisafe claims to have not one but six monitoring centers that monitor your home 24*7, which means there is no single point of failure. Now that's impressive!
No products found.
What these monitoring centers do is to make sure that everything is running smoothly in your home, and as soon as an emergency is suspected, you are warned immediately by a call and text.
Having social monitoring your home for dangers is always better than a computer, as it significantly reduces the chances of error. This is why we think that Simplisafe is an extremely reliable solution for home security.
Advantages of Using Simplisafe
All Around Security
As mentioned before, Simplisafe not only keeps you safe from intruders and unwanted visitors but also dangers like fire, pipe burst, medical emergencies, etc. The Simplisafe home safety package comes equipped with sensors and devices like a smoke detector that sense dangerous situations and alert you immediately.
Also, the required authorities are contacted immediately as soon as the alarm is raised. So, if you have a fire in your house, the fire brigade will be called immediately by the monitoring professionals as soon as they sense the danger. In this way, Simplisafe offers all-around security.
Multiple Customization Options
Whether it is a house you need to secure or an office, Simplisafe has got security for every building. The amount of customizations Simplisafe offers with its sensors is extraordinary.
The way it's done is by offering the customers several different packages to suit homes of every size. There are five basic packages to choose from. You can choose any package and then add or remove equipment to suit your requirements.
This offers excellent flexibility for the users. Also, there are many different types of security equipment on offer, ranging from a night vision camera to smoke detectors and glass break detectors, and much more.
Advanced High-Tech Equipment
The devices and equipment on offer by Simplisafe not only have a wide variety but also they are incredibly high-tech with up-to-date technology. The equipment has features like dual network connectivity, which uses both Wi-Fi and cellular network for double the safety. Also, the systems are equipped to send out alarm signals in case any intruder breaks your security devices.
One fascinating technological feature is the ability to connect your Simplisafe to smart home services like Amazon Alexa and Google Assistant. However, you will need to pay extra cash for that privilege.
Pocket-Friendly Monthly Plans
Usually, professionally monitored home security comes with a contract, binding you to use their service for at least a year. This commitment becomes a deal-breaker for some people.
This is why Simplisafe offers monthly contract plans that allow you to pay the monitoring subscription fees every month, much like Netflix and Hulu. The monthly subscription plans are pocket friendly, starting from just $14.99 per month.
Simplisafe also offers a 60-day free trial period, inside which you can return your accessories if you are not satisfied with the performance, and you will be refunded all the equipment cost, but not the service cost. Let's take a look at the different types of plans that Simplisafe offers in detail.
Simplisafe Professional Monitoring Plans
You can buy the Simplisafe safety devices in different packages and easily install it on your own or have a professional to come and install it for you.
Although given the simple enough procedure for installation, it is advisable you do it on your own. The devices are designed as such that you would not require to drill or punch any holes or setup any wires to install the system.
Once you are done with the installation, the system will start the monitoring. Although to get a professional overlooking everything, you will need to subscribe to one of the monthly subscription plans offered by Simplisafe.
Simplisafe currently just offers three monthly subscription plans:
Standard Monitoring Plan
This is the entry-level plan with a subscription cost of $14.99 per month. Even at this affordable price point, there's nothing that's "standard" about this plan. For starters, the 24/7 professional monitoring from six different centers, is always there to dispatch help as soon as an emergency is detected.
The connections work with a cellular network. Therefore you are always connected to the professionals, no matter where you are. The cellular network connection required for the systems to work comes as standard in the pack. Also, you get an environmental protection plan for sensing fires, water leaks, etc.
Interactive Monitoring Plan
This is the intermediate plan with a subscription fee of $24.00 per month. This plan includes everything that the standard plan has to offer and more. The monitoring in this plan provides cross-checking of every alarm for a faster and more accurate emergency dispatch of the authorities.
Along with that, it also includes a mobile app through which you can control your alarms and devices from any location in the world as long as you have an active cellular connection. Using the app, one can arm and disarm your devices with just a push of a button.
Other benefits included in this plan are unlimited video recording, secret alerts, and video alerts. This is also the plan you will need if you want to connect your Simplisafe system to Amazon Alexa or Google Assistant. You cannot do it with the standard plan.
Pro superior plan
It is evident from the name and the pricing that this is the best plan available for Simplisafe users. Priced at $34 per month, this plan includes everything that the $24 plan includes plus a lot more to make you feel "Superior." You will get free installation upon buying the product and also an exclusive customer service number for hassle-free assist.
Also, your key fob will include a medical emergency button that will dispatch medical services in case of an emergency. You also get the feature that alerts you silently when a sensor is activated, without making the alarm go off. You will also get 10% off of all your future Simplisafe purchases. Pretty "Superior."
Simplisafe Equipment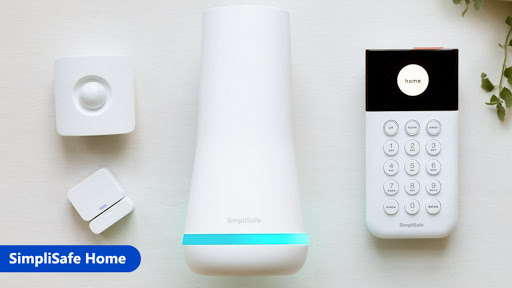 Simplisafe offers plenty of features to assure you that you will be safe under their care, but all those features are the outcome of the high-tech equipment that Simplisafe makes. There is a plethora of sensors and cameras for you to choose from.
Well, you can also choose not even to choose and instead buy every single one of them. But I'm sure you probably won't be needing all of them. The few important ones that can be useful to you are:
<>Simplisafe Base Station
This is the heart and brain of your Simplisafe system. Every sensor and camera is controlled through the base station. It is a small and sleek looking device that can be placed anywhere on your house without damaging the look of the room.
Although, you might not want to put it in your bedroom as it has a led strip that always remains on. One of the best features of the base station is the 24-hour emergency battery backup to keep your alarms working in case of a blackout.
Simplicam Indoor/Outdoor Camera
The Simplicam Indoor/Outdoor camera is the only camera you will ever need. It comes with features like a wide 120° field of vision, night vision, human detection, and more. It can also work under extreme temperature conditions, so it is perfect for outdoor use as well.
Simplisafe Motion Sensor
The Simplisafe Motion Sensor has a full, 90° field of view. It can detect motion up to 30 feet and can differentiate easily between a pet or an intruder to avoid raising false alarms.
Few other pieces of equipment on offer by Simplisafe are:
Temperature Sensor
Water Sensor
Key Fob (To arm or disarm Simplisafe system)
Simplisafe Siren
Simplisafe Doorbell Camera
There is much more equipment you can buy, but we can't list all of them.
Some Useful Alexa Commands to Use with Simplisafe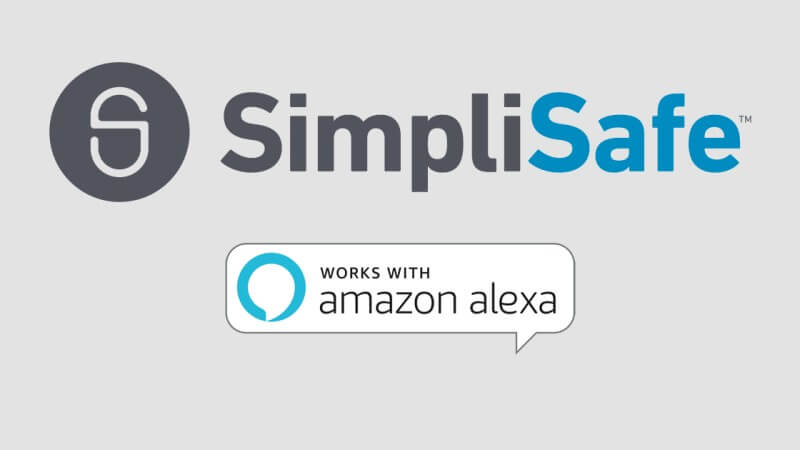 Simplisafe, as mentioned before, can be controlled using Amazon's Alexa. One can perform a lot of tasks using Alexa's voice commands, which gives Simplisafe an edge over other home security systems that do not have Alexa or Google Assistant integration. Some basic tasks that you can get done using Alexa's voice commands are:
No products found.
Set Simplisafe To Away Mode
Away mode is a built-in feature of the Simplisafe system that you can activate when there is no one present in the house. You can activate this mode by using the following commands:
"Alexa, arm Simplisafe in away mode."
"Alexa, tell Simplisafe I'm leaving."
"Alexa, tell Simplisafe I'm going out."
Set Simplisafe To Home Mode
Home mode is activated when you are present in the house. Commands for activating home mode are:
"Alexa, arm Simplisafe in home mode."
"Alexa, tell Simplisafe I'm home."
"Alexa, Tell Simplisafe goodnight."
Check Status Of The System
You can use the following commands to check if all your cameras and sensors are armed and working correctly:
"Alexa, ask Simplisafe if my home is protected."
"Alexa, ask Simplisafe if I'm secure."
"Alexa, ask Simplisafe what's shakin'."
Write for us
HeckHome does not necessarily share views expressed by opinion writers and advertisers. HeckHome regularly invites Bloggers across the World to home renovation "write for us" in order to present their creative ideas.
Andres Walsh
My name is Andres Walsh and as far as I can recall, I have had only one passion in my life – a love of fixing things! Growing up, my friends and even my family members called me "wrench." The nickname has somehow stuck even through to my adult life.
Related posts
Plumbing and Water Heater Repair in Spokane, WA – Find the Right Plumbers Near You

Dripping faucets, slow draining sinks and clogged toilets are common plumbing issues that homeowners encounter. It is crucial that homeowners can recognize these issues early and take the appropriate steps to address them before the issues worsen further. Some of these repairs may be simple... The post Plumbing and Water Heater Repair in Spokane, WA […]