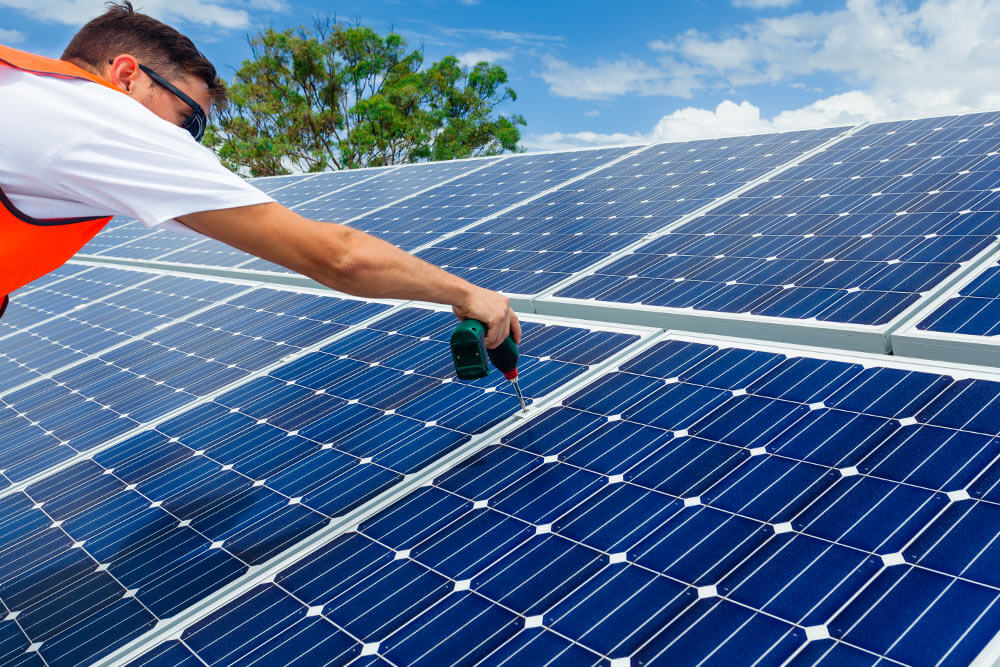 Renewable energy is undoubtedly the future, and one of the most popular and feasible renewable energies available today is solar energy, i.e., energy harnessed from the sun. As per a Solar Energy Industries Associations (SEIA) report, solar energy installations have witnessed a growth rate of 42 percent in the United States. The rise in demand includes both private and public sectors as awareness of the need for clean energy spreads across the country.
There are many long-term benefits associated with solar energy, but you should consult the best solar company to get the highest quality products and services. If you're still on the fence about taking the first step, here are some genuine reasons to invest in solar energy.
Environmental Impact
The first factor to consider is the environmental impact of not using a renewable energy source like solar energy. The use of hitherto energy sources derived from fossil fuels is wreaking havoc in the United States and the world. The most significant proof of that is visible in the triple-digit temperatures scorching several parts of the nation.
Going by the National Climate Assessment reports, climate change is already causing:
Heatwaves
Heavy downpours
Sea level rise
Increasing wildfire
Insect outbreaks
Tree diseases resulting in widespread tree die-off
These and many other environmental consequences of using fossil fuels will affect the individual healths of citizens and impact industries such as infrastructure, agriculture, fisheries, etc. Solar power has a major impact on decreasing both carbon emissions and pollution.
Social Impact
When you invest in solar energy, you're empowering American manufacturers, as most solar equipment is produced here in the U.S.A. There's an undeniable correlation between the use of solar energy and job creation.
The Solar Energy Industries Associations (SEIA) posited in its reports that in 2020, the solar industry employed more than 230,000 Americans at above 10,000 US companies across the country. In 2019, the American solar sector generated more than USD 25 billion of private investment.
Declining Costs
Of course, you might be wondering: What about the costs involved in installing solar energy? The exciting thing about the expenses is that with advancements in technology, costs related to installation have been cut by almost 70 percent!
Investment in transforming your house or company into a solar-run establishment will pay off huge dividends in the long run.
Save Money
Yes, you can actually save money by investing in solar energy just like it is unbelievable about saving through Swiggy money. But to make this possible, you should take the services of the best solar company, which has the requisite expertise and American-made products to ensure a superior quality installation.
For instance, the cost of heating water is likely to take up almost 30 percent of the total energy costs of an average American household. But using a solar water heating system will eliminate more than half of that cost. If you consider the cumulative savings over a year for just water heating, the money-saving aspect becomes evident.
Energy Storage
You may have this question of what to do when the solar energy accumulated during the day is insufficient to meet the energy requirements during the night or in emergencies. The answer to this question is battery storage. Battery storage systems consist of a device that stores reserve energy from a connected solar system.
There is an increasing demand among homeowners and businesses for this type of connected solar energy system. Some estimates predict that by 2025, more than half of the solar energy systems in the U.S. will have a storage device associated with it.
Tax Efficient
Several government schemes and tax policies support the installation of solar energy in business establishments and households. For example, the Energy Policy Act of 2005 provides homeowners with a tax credit of 30 percent, or up to USD 2,000, in the year the system is installed.
To know more about the specific schemes and incentives in your locality, check with the regional utility company or the Database of State Incentives for Renewables & Efficiency (DSIRE) website.
Property Value
It is predicted by the International Energy Agency (IEA) that installed solar power will surpass the use of other forms of energy – excluding gas – for household purposes by 2040. It also posits that the adoption of renewable sources of energy will grow at 50 percent per annum over the next five years, out of which 60 percent will be solar energy.
This tremendous growth results from the increasing demand for properties and systems that are environmentally friendly and have a low carbon footprint. The trend of living 'green' is projected to rise simultaneously with awareness about climate issues. Therefore, by investing in solar energy installations, your property value will jack up in the future should you decide to sell and you can protect the same by installing nest camera.
The Energy-Efficiency Advantages of Vinyl Window Replacement

Windows are more than just portals to the outside world; they play a significant role in determining the comfort and energy efficiency of your home. If you're looking to improve your home's energy efficiency, consider the advantages of vinyl window replacement. In this article, we'll... The post The Energy-Efficiency Advantages of Vinyl Window Replacement appeared […]