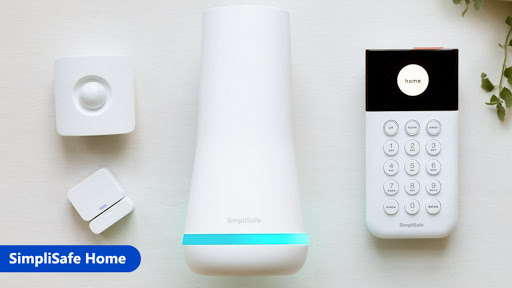 Does SimpliSafe have an Outdoor camera?
Andres Walsh, 3 years ago
0
5 min

read
1082
SimpliSafe is a security device that is widely known for its smart home security devices.
But the main question is: Do they offer an Outdoor Camera or not. In this article, we will discuss all the essential information related to the SimpliSafe security system and its working process and monthly plans.
We have also discussed if they offer an outdoor camera or not in detail.
No products found.
SimpliSafe is a home care alarm system with affordable monitoring plans where someone must keep an eye on your system. You can add equipment or customize by yourself too. SimpliSafe needs an internet connection for the working of the alarm system along with the Camera.
SimpliSafe is a professionally monitored system, so you need a person who continually monitors all your systems. SimpliSafe offers two monitoring plans:
The Standard Plan – It comes with the pricing of $14.99 per month
The Interactive Plan – it comes with the pricing of $24.99 per month
SimpliSafe comes with minimal equipment like the alarm kit consisting of the main control center and a compact wireless keypad used to arm or disarm your security system.
SimpliSafe can also be used as a self-monitored system without buying any plans, but you will not be able to control or receive any alerts on your smartphone. It would help if you depended on the Base station for security.
If you buy the professional monitoring at $14.99 per month, then the SimpliSafe company's monitoring team will monitor all the security and notify when the alarm goes off. They also dispatch the police if they find something unusual. But, to work efficiently, the standard plan needs a cellular or Wifi connection.
If you want to control the security system remotely, you will have to purchase the interactive plan for $24.99 per month. In this subscription, you will get all the standard plan features, plus you can arm or disarm the alarm system from the mobile app itself.
Pros:
Comes with affordable plans
Customized easily
You can Change/Cancel the plan at any time
Easy Installation
Network Connectivity
Good Battery Backup
Cons:
Not comes with an outdoor camera(yet)
Does not integrate with other smart home devices
Online Dashboard does not log out automatically after usage
Does SimpliSafe have an Outdoor Camera?
No, SimpliSafe does not provide an Outdoor Camera for Outdoor use, but it provides a solution to this problem. SimpliSafe has an outdoor kit that consists of SimpliCam, which can be installed and used outdoors.
Features of the Outdoor Kit:
Waterproof
Comes with a Protective Sleeve
25 ft. Power Cable
It can function from -4 degree to 114 degrees F.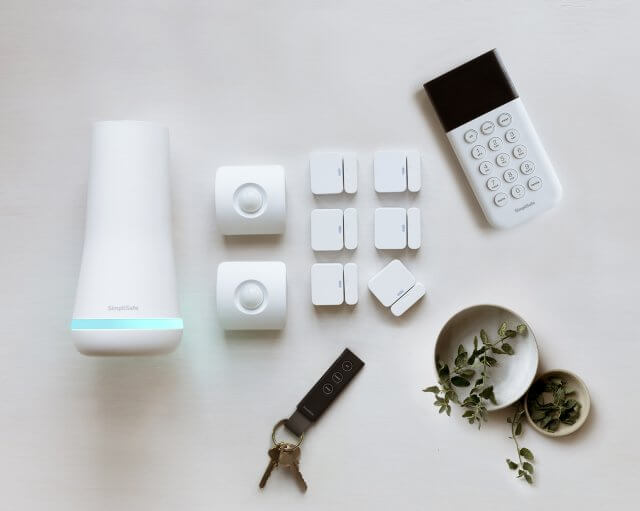 SimpliCam is a smart HD camera that comes with an affordable price and unique features. It comes with a video resolution of 720p HD with Night Vision enabled. It has two-way audio and can also be able to do live streaming. It can do a live stream with night vision.
It also has a metal privacy shutter, closing when the system is in Off mode or Home mode. You must plug the SimpliCam to the power source and then connect it to the network. It can easily be used outside and the Outdoor protection kit, which is responsible for the Camera's physical protection.
You can view live camera feed and receive notification alerts on your smartphone when any motion is detected nearby. You can also record the video and share it. It also stores all the recordings of the previous 30 days, but you will need to buy an interactive camera plan.
How is the System Monitored?
SimpliSafe systems are monitored through cellular service. SimpliSafe comes with three modes:
Away – This mode is responsible for activating entry and interior motion sensors.
Home – This mode is responsible for protecting the entryways when you leave home.
Off – In off mode, all the sensors and functions of the Security system remain inactive.
You can use the Keypad to arm or disarm your security system. Voice prompts have been used by the base stations to inform you about the system status. If there is an error in the system, there is a light that changes its color automatically.
Some sensors that come with the security system are battery-operated, and you must replace their batteries every 3-5 years. Well, the base station is connected with a battery, as well as a power supply. So, you do not need to worry about your home safety if battery power runs out.
How to Install SimpliSafe?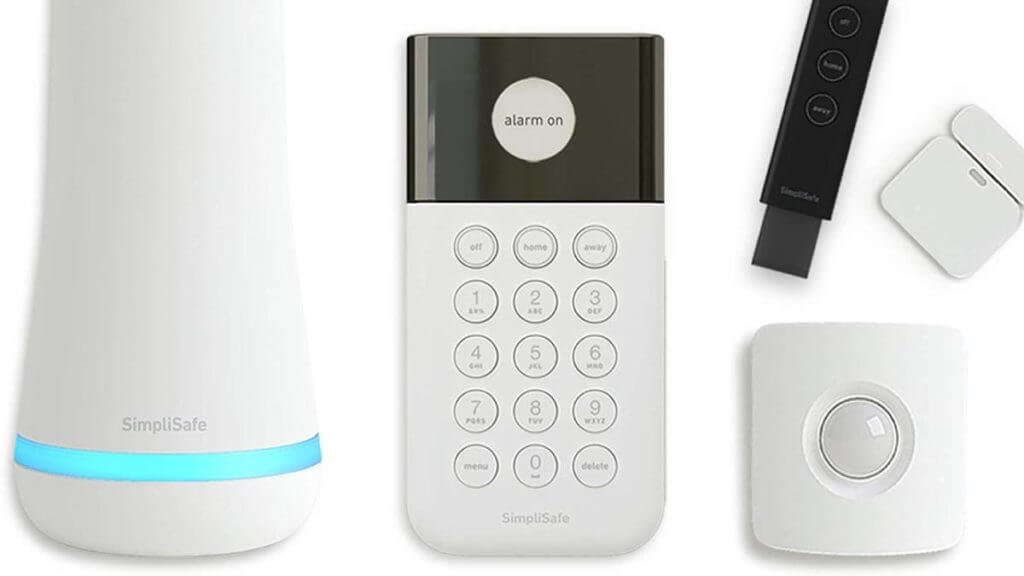 It is relatively easy to install SimpliSafe. First, you must set up the base station, and then you will have to pull out the battery activation strip and plug the base station into the outlet.
The base station can also be connected to a landline service as a backup. Now, you must install the Keypad and follow its on-screen instructions to complete the setup process. It would help if you synced all the sensors with the rest of the system.
You must attach all the components in your house using the adhesive strip, which comes with the box. Motion detectors can be attached to a wall or any corner. Wiring and drilling are not required during the installation process.
Now, the final steps can be completed via your Keypad, which allows you to specify the working of all sensors and buzzing of the alarm system.
You can also hire professionals for the Installation process at $79.
Conclusion
As we have discussed, all the necessary information related to the SimpliSafe security system. You can use them in your smart home as they are straightforward to install and set up.
If you want proper security, then you must purchase their plan, which fits your needs. We have also discussed how to use indoor SimpliCam as an Outdoor security device in detail.
If you find this article useful, do not forget to share it once, and if you have any doubts/questions regarding the topic, do not forget to paste it in the comment section below. We will try our best to solve all your queries.
Write for us
HeckHome does not necessarily share views expressed by opinion writers and advertisers. HeckHome regularly invites Bloggers across the World to write for us home decor in order to present their creative ideas.
Andres Walsh
My name is Andres Walsh and as far as I can recall, I have had only one passion in my life – a love of fixing things! Growing up, my friends and even my family members called me "wrench." The nickname has somehow stuck even through to my adult life.
Related posts
Are Marble Kitchen Countertops a Good Idea?

When it comes to kitchen countertops, nothing exudes elegance quite like marble. Its natural beauty and timeless appeal have made it a popular choice among homeowners. But is it a good idea to have marble countertops in your kitchen? Let's explore the advantages and disadvantages.... The post Are Marble Kitchen Countertops a Good Idea? appeared […]