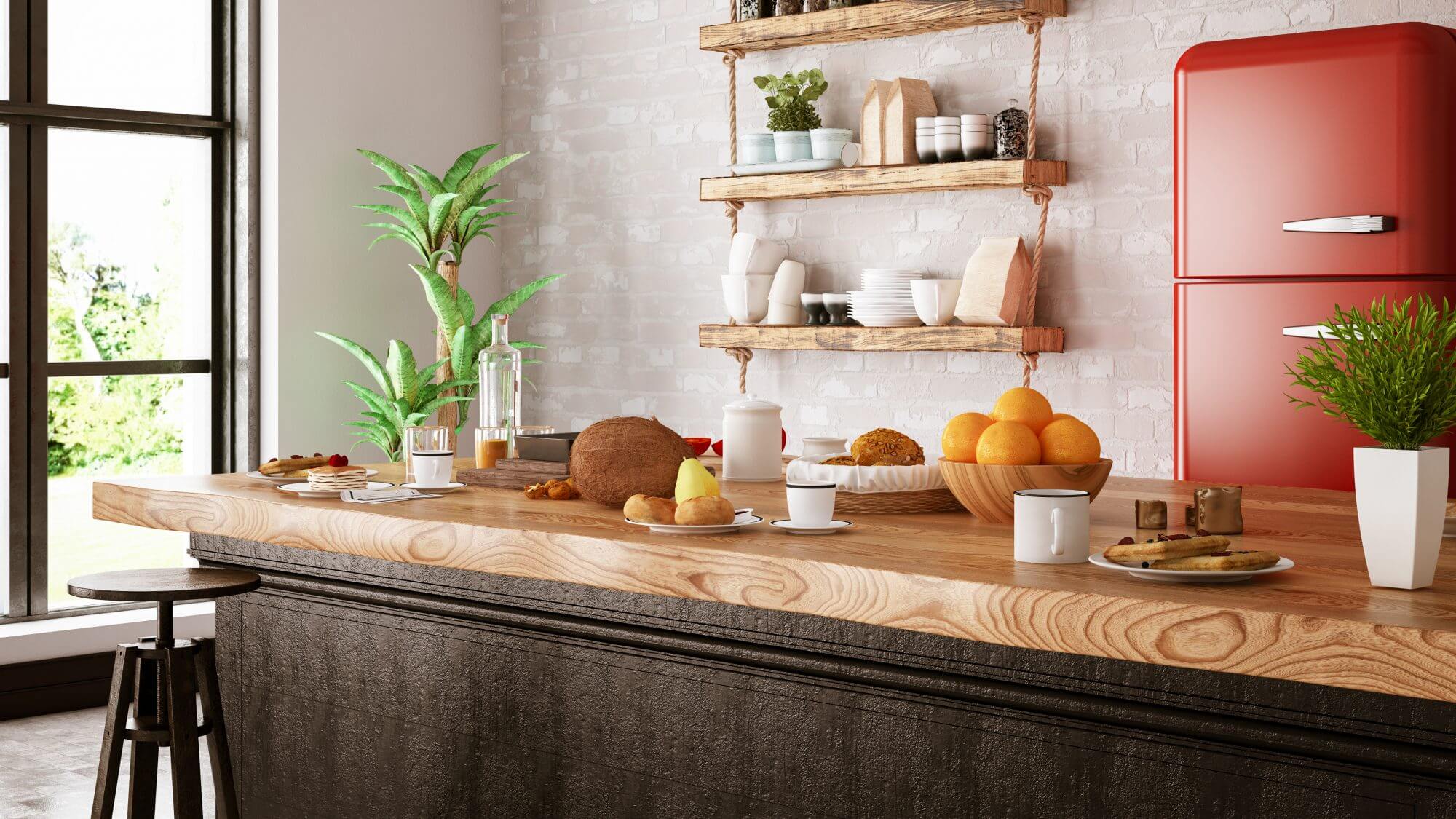 When we are remodeling our kitchen, we often pay attention to cancel the orders from the big basket and perfect countertops. Yes, countertops play a dominant role in making your kitchen look aesthetically pleasing and more functional. There are lots of factors to consider when choosing the perfect countertop for your home, but one of the most important elements is the finish. In this article, we will cover diverse countertop finishes so you can make the ultimate choice for yourself without any delay. If you are ready, so are we. But before we forge ahead, do not forget to take a look at the best kitchen countertop design ideas by tapping on the link here: https://www.caesarstone.ca/blog/types-of-kitchen-countertops-design-ideas/.
8 Popular Countertop Finishes
1. Concrete Finish
We often underestimate the power of concrete. But did you have any idea that it can work wonders when you use it properly as a kitchen countertop? Today, concrete countertop finishes are a popular option for all the right reasons. They provide immense functionality, uniqueness, and style to your kitchen area.
Also, they work best for kitchens that are industrial-style or follow a classic kitchen design. That is why more and more people are shifting to these countertops today. You could do the same. All you are needed to do is speak to your interior design expert, and they will help you create an eye-catching design.
2. Polished Finish
A polished finish is a popular option for a number of stone countertops such as granite countertop finishes and quartz countertop finishes. These smooth and shiny surfaces never go out of style. Especially for your kitchen countertops, polished finishes can be the endgame. Opting for a glossy finish for your kitchen allows you to dive into the richness of the color and the material's genuine character. It provides a sense of elegance and glass that radiates perfection to the different corners of your home.
3. Honed Finish
Honed finishes are not shiny like the polished ones. So, they are less likely to radiate luxury. But if used correctly, they could quickly become the center of attraction in your kitchen area. Honed finishes are soft and satiny to feel. They reflect natural light and offer rustic beauty to leave your kitchen captivating.
These finishes are not easily prone to scratches. They are more likely to embrace natural imperfections and subtler tones. You may also want to know that, unlike polished finishes, honed countertops are porous. As such, they may be more susceptible to stains than others and may require more regular cleaning.
4. Leathered Finish
If you are looking to highlight the natural features of your stone countertop, it is best to opt for the leathered finish. These are also called brushed finishes that do not reflect any light. As such, the stone is more likely to offer a natural or rustic look. That is why these finishes are most appropriate for industrial or rustic style kitchens.
If you heavily use your kitchen, leathered finishes are the ultimate go-to. But you need to ensure that you keep them clean at all times as they require some proper care and maintenance. A microfiber cloth can be used to wipe off the countertop so that the finish can remain intact. A sustainable cleaning agent can also work like magic for this purpose.
5. Flamed Finish
When the stone is put into the exposure of immense heat, flamed finishes are formed. The high temperature is what creates the change in color and grains in the rock. As such, they may end up looking quite stylish. The finish also features a rough texture that is best for outdoor kitchens. Since they are easy to clean, you need not worry about lots of maintenance.
6. Caressed Finish
When the leathered finish is given some shine, the caressed finish is formed. These have a more rugged look and feel but still manage to look sleek and shiny. If you have a granite kitchen countertop, these finishes are a perfect fit for them.
7. Sand Blasted Finish
If you plan to have an outdoor kitchen countertop, the sandblasted finish could be the perfect pick. It also can make all your stone slabs look uniform. That is why many people tend to opt for this type of finish. Limestone is also a perfect example of this type of finish.
8. Wood Finishes
If you are looking for wooden finishes that last for a long time, these are all you need. It also works like magic when you want to provide a rustic kitchen look to your visitors. Add some good lighting, and that is all you need to make a statement. We promise; there will be no room for disappointment.
The Bottom Line
Every countertop finish is likely to have its own set of pros and cons. That is why we suggest you make your choice wisely whether buying a countertop or a full-length mirror. Think about what your requirements are, what kind of finish you expect, and how you wish to maintain them. Asking these questions will help you come up with the exact finish that is most suitable for your kitchen. So, do not keep waiting. Scroll through these countertop finishes and make your choice.
Are Marble Kitchen Countertops a Good Idea?

When it comes to kitchen countertops, nothing exudes elegance quite like marble. Its natural beauty and timeless appeal have made it a popular choice among homeowners. But is it a good idea to have marble countertops in your kitchen? Let's explore the advantages and disadvantages.... The post Are Marble Kitchen Countertops a Good Idea? appeared […]