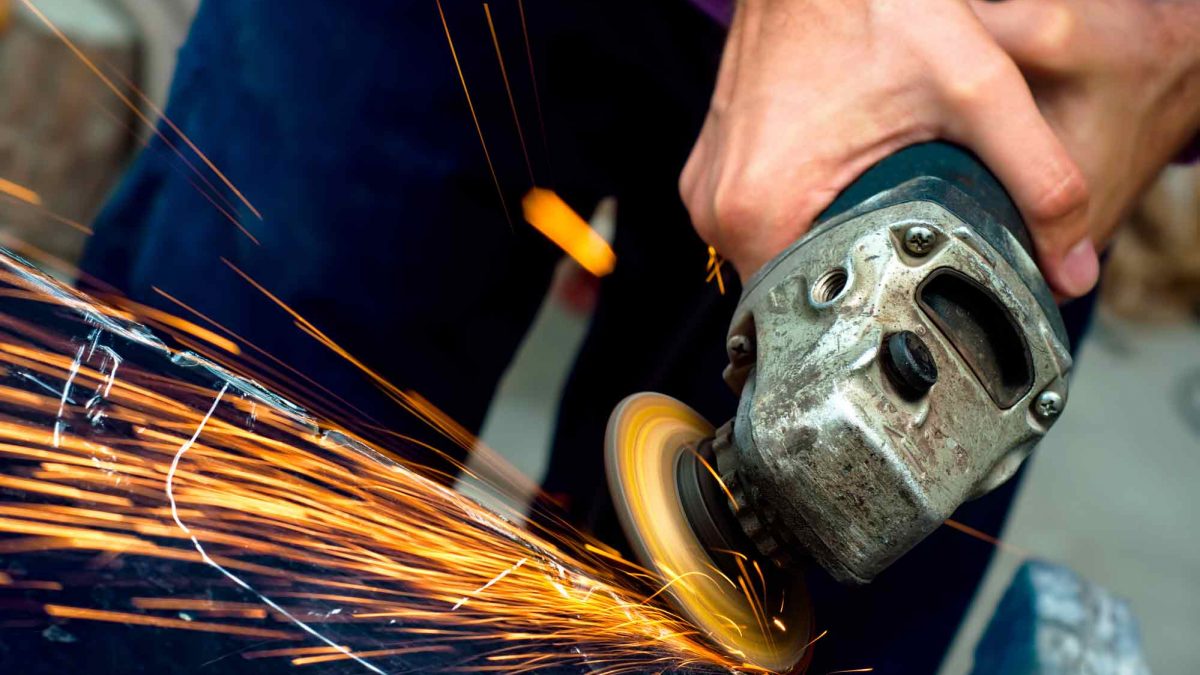 Best Angle Grinder – Reviews & Buyer's Guide
Andres Walsh, 3 years ago
5
33 min

read
1366
Are you looking around shopping for angle grinders because you know you need it, but don't have even the slightest knowledge about the thing? You feel a little unsure about what you need to look for in an angle grinder or — if you are a newcomer in the world of electric tools — precisely what is that these tools are used for… read on. By the time you would be done with this article, you will find out everything you ever wanted to know about angle grinders, and maybe even quite a lot more.
So, what exactly is an angle grinder, and what does it do? An angle grinder, also known as disc grinder or side grinder, is a versatile handheld power tool that is typically used for polishing, cutting, and grinding in auto repair, workshops, construction sites, etc., making it an essential tool to have in your arsenal. It is an extremely versatile tool, as you can get a range of tasks done using an angle grinder just by changing its disc. There are several discs available for use with an angle grinder depending upon the application (We will learn about the type of angle grinder discs in a separate section).
If you have already started with your angle grinder shopping, you must have realized that there is a plethora of options available out there in the market for you to choose from and are probably confused right now about which one should you buy. In this article, we have included every bit of knowledge you will require before purchasing an angle grinder, including what are the Top 10 best options available in the market, and some FAQs for your queries.
10 Best Angle Grinder Reviews
1) Makita 9557PBX1
The Makita 9557PBX1 Angle Grinder tops the list adhering to its economic and user-friendly character. This tool is durable and is designed to meet consumer needs. It comprises of an extra-large wheel that is just perfect for high-volume work. The design concept, which features a specialty seal that prevents dust from ever reaching the electrical components is worth praise. The controls are straightforward, and it even includes a lock-on switch that allows the user to maintain continuous operation without having to worry about working the buttons. The Makita features a 7.5-amp motor, which ensures efficiency and higher performance in a more compact model.
No products found.
The model has an alternative power source allowing one to change between AC and DC power with a switch that is located ergonomically on the side of the motor housing. It comes in a durable aluminum case that is made to withstand harsh treatment, and thereby, boosts the longevity to the tool.
It is a powerful, mid-grade generator and is easy to start and use, accounting for its top position. It is affordable, and its performance is excellent. It functions at a maximum speed of 11,000 RPM. The grinder is 4-1/2 inches in size.
A striking feature of the Makita is it includes extra grinding wheels and brush improving its workability. It has a thick, high-quality cord, which is responsible for protection against wearing. It has a small diameter grip that makes it easier to handle but gives it better control.
The only drawback of the Makita grinder is that it is quite heavy. This makes it difficult for the user to use the grinder for extended periods comfortably. It remains the best choice for powerful performance under a really pocket – friendly rate.
PROs
Moderate Price.
Extra-large wheel.
Specialty Seal
2) Metabo WEV15-125
Second, on the list is the Metabo WEV15-125 Angle Grinder. This sturdy angle grinder is the premium option for grinding and finishing applications. The grinder contains a 1550-watt motor thus, well suited for its purpose.
No products found.
One of the striking features of the Metabo angle grinder is how it prioritizes speed when it comes to maintenance accounting for its top position. The swift, tool-free wheel change allows a user to adjust the grinder with total ease using just a button. The grinder has a 13.5-amp motor, which is debated to last for a long time, which functions at a maximum speed of 2800 – 11000 rpm. It includes an advanced design that optimizes airflow for a cooler run. This progressive design provides longevity to the motor in harsher environments and offers up to 50 percent more torque. The motor design is apt for more demanding projects. The Metabo is a prime choice due to its powerful performance and less vibration, resulting in a user-friendly experience.
The safety features are worth lauding amongst other features like quick-change wheels, which again contribute to the overall working experience. The grinder has a spindle size of 5 inches. The Metabo is an admittedly durable grinder and is said to take harsher treatment and abuse as compared to other angle grinders and thereby is the best for heavy-duty work. The tool-less disc and tool-less guard adjustments are a great addition to the grinder along with the trunkload of power, and one can never go wrong with this one.
PROs
Fast
Tool-free maintenance
Compact
CONs
Can be difficult or even painful to use
3) Black & Decker BDEG400
BLACK+DECKER is an established name when it comes to Angle grinders. It is easy on the pocket and always good for a solid deal. The Black+Decker BDEG400 Angle Grinder is ideal for sharpening, cutting, grinding, removing rust, and surface preparation. It is relatively less powerful than the other options, but its durability and value make up for the lack of force.
No products found.
The grinder features a metal gear case for durability and longer life. It also has a 3-position side handle that enhances the comfort factor and control for use with different materials and angles. It includes a spindle lock for easy accessory changes accounting for the usability. The grinder has a 6.0-amp motor. It operates at 10,000 rpm, with a spindle size range of 5/8″ – 11″. It comes with a handy metal case; thus, safety and longevity are ensured along with the ease of transportation. The handguard can be locked into three different positions for optimal protection. This tool has a handy spindle lock which promotes easy accessory switching, and a convenient on-off switch that doesn't interfere with performance.
The power levels are modest; the motor might break down and stop working if the grinder is put to overuse or abusive use. It is excellent for small jobs, but buyers who need a heavy-duty tool should keep looking as the motor won't hold up to high – volume jobs.
One of its prominent features is the light-weight of the tool that adds to ease of working and a better overall experience. It is built for better durability and has convenient features.
These Black & Decker grinders have smooth functioning and deliver a good deal of torque, keeping up the legacy. These are the best choices for small scale projects like DIY projects or so.
PROs
Affordable
Durable
Metal case
CONs
Not very powerful.
Motor won't hold up to high-volume jobs
4) Porter-Cable PCE810
Fourth on the list is the Porter-Cable PCE810 Angle Grinder. It is quite affordable and very functional for polishing and grinding. The Porter-Cable angle grinder is most acknowledged for its housing. It comes with a steel-cased that adheres to its durability and its ability to withstand job site wear and tear.
No products found.
This grinder has an ergonomic handle. It is a powerful tool with a very helpful adjustable handguard. It has a tool-free wheel change that makes it easy to maintain and fast work. These features enhance the workability of the tool. It is an excellent choice for the budget buyers die to the appreciably affordable prices. It includes a non-locking paddle switch providing additional control and safety.
The spindle lock feature allows for single wrench bit changes. The grinder features a durable, 6-amp motor that operates at an impressive 12,000 rpm and can thus easily power through any job site task. This tool is responsible for performing for fast material removal. The ergonomic design for comfort makes the Porter Cable grinder an excellent tool for longer projects. There is the only drawback; the device somewhat lacks when it comes to power as compared to the other powerful models. The steel housing also adds to the weight of the tool, making it bulky and thus uncomfortable or weary for long term use.
The grinder contains a solid construction, including numerous features, and an excellent, comfortable grip. This tool makes a unique device for doing all sorts of grinding and polishing work. The power switch is quite commendable; it works as a trigger, simply aim and shoot. The tool-free change guard removes all the hassles of changing out blades, making this an all-around great tool.
PROs
Affordable
Durable
Adjustable handle guard
5) Dewalt DWE402
DEWALT is another pioneering name when it comes to professional power tools.
The DWE402 Paddle switch angle grinder is a great tool featuring the next generation 11 Amp AC/DC that functions at a maximum speed of 11,000 rpm motor that allows the user to navigate both high-volume and precision work with ease. The grinder consists of a handy dust ejection system which provides durability by ejecting damaging dust and debris particles that enter the tool. It also includes a one-touch guard that allows for 360-degree rotation of the guard with a single action.
No products found.
The quick-change wheel release allows the tool-free wheel removal without requiring a wrench. The top-mounted and protected spindle lock button maximizes the depth of cut without compromising durability. It has a uniquely small gripping surface in this power class, which allows for the best comfort available in the category.
Its auto-off brushes feature shuts down the tool when the brushes are in need of replacement to help prevent tool damage, and a paddle switch with safety lock-off helps prevent accidental start-ups. It is developed to be compact enough to fit into tight spots. The safety considerations are also worked upon. The handguard rotates entirely around the tool and gives complete protection from any sparks or debris that shoot up while working. It comes with a hard case that will make it safe and easy to transport. Like standard DEWALT tools, the DWE402 grinder is also invariantly expensive. The high power levels are also considered by beginners before buying, as they might be a little too much for a beginner. Some name this as one of the best 4.5″ angle grinders of 2020. It has a high power-to-weight ratio and is sturdy.
It matches up to all the expectations of a DeWalt product and can give a good performance in a variety of situations, whether operated by a beginner or a professional. This powerful grinder is made to last for long hours of cutting and grinding, without overheating, allowing prolonged tasks to be performed flawlessly, keeping the momentum going.
PROs
Dust ejection system
Ease of transportation
Very powerful
6) Hitachi G12SQ
The Hitachi 4-1/2-in corded angle grinder is a compact model ideal for tough grinding jobs. It is believed to pack an impressive punch with ample durability and quality performance. It features a 7.4 -amp motor and delivers at a maximum speed of 10,000-RPM. It also provides more overload durability for increased life and reliability. The wheel guard increases safety while one works. It includes a sliding switch that is responsible for smooth operation.
No products found.
There is a removable, forward-canted side handle for improved control and comfort for both right- and left-handed users. The smaller grip is designed to help and reduce fatigue. It features an easy-to-use, sizeable 4.5-inch grinder for improved safety, and also comprises of a dual position handle and an adjustable wheel guard that is responsible for attaining any desired angle. An added advantage is the light-weight of the tool, being only 3.5 pounds, it is easy to be carried around and used efficiently for any given project.
This Hitachi grinder lives up to the expectations of heavy-duty performance. It can grind down and remove concrete and then cut through rusty metal bolts with utter ease. The overload auto shut-off feature provides such relief while working that this grinder operates safely, with several other features that offer a great value at an even better price.
PROs
Affordable
Durable
Light-weight
7) Bosch 1375A
The Bosch 1375A 4-1/2 In. Angle Grinder is yet another powerful tool. It features a mighty 6.0-amp motor that produces 11,000 no-load rpm, making this compact grinder a powerhouse tool. It is a tool made for the people who need to get a lot of use out of their device. It is often referred to as an "all-day" grinder because its electrical components are specifically designed for long-term or extended use.
They also have warranty protection, ensuring they last for the maximum time.
No products found.
The comfort factor is also given consideration. The handle is optimized to reduce vibration, and it is also very light-weight, making it easy to use for long periods. Due to its high-end nature, it is quite hard on the pocket. There are also complaints regarding the handguard being challenging to adjust. It is primarily designed for concrete contractors, vehicle fabricators, and other professionals who need a compact grinder. It contains a well-designed ergonomic grip for comfortable and easy use, a lock-on slide switch for convenience. The grinder also has a two-position side handle.
It features a 6.0-amp motor that functions at a maximum speed of 11,000 no-load rpm. It has a spindle size of 4 – ½ inch. It is best suited for metal fabrication, concrete restoration, pipe fitting, and more such applications. The grinder has service Minder brushes that stop it when preventative maintenance is required and epoxy-coated field windings, to ensure long-lasting tool life.
The grinder is attractively light and weighs merely 3.75 Lbs adding to the user comfort and control. It is comfortable for use and is made to last. The Bosch 1375A angle grinder is a high-quality, robust, and durable tool that cuts through rebar like sticks of butter and grinds down concrete in just minutes. It is straightforward to handle and control with the comfortable grip and light-weight that makes this tool the best choice for anyone.
PROs
Compact and light-weight
Made for long use
Comfortable
CONs
Expensive
Handguard hard to adjust, as reported by the users
8) SKIL 9269-01 Paddle Switch Angle Grinder
So far, we have seen several angle grinders, and there is not much that separates them, apart from a distinctive feature. The same is the case with this grinder as well. It sports a 7.5-amp motor and is electrically powered with the use of an 8-foot rubber cord made for easier maneuvering and more extended durability. This 4.5-inch angle grinder is exceptionally light-weight, weighing just 5 pounds. Despite being light-weight, it is nowhere short of power or performance, with a disc speed of 11,000 rpm.
No products found.
It also has three position vibration-reducing handles, which decreases the vibration significantly that allows you to hold on to the tool comfortably during operation. It also has convenient on-tool wrench storage that keeps the blade wrench tucked into the handle for easy access and also makes sure the wrench is not misplaced. It also has a tool-less guard adjustment feature that lets you quickly and easily replace your grinder wheel. But the feature that stands out from the rest is the non-locking paddle power switch, which automatically turns off when released or dropped, making it extremely safe for the user.
Unlike traditional grinders where there is a locking slide power switch on top or side of the tool, the non-locking paddle power switch on the SKIL 9296-01 can be found on the bottom of the device, right where you hold on to it. This way, the tool is powered when you are holding it and are ready to use and turn off when released.
The overall quality of this solid-built angle grinder's motor is what makes it stand out. The 7.5-amp motor delivers ample power, and quality ensures the consistency of the tool in the long run. The device can cut through stainless steel for hours and can still deliver the same amount of power without overheating. Thus, this tool can be useful for long term use.
PROs
Various safety features like a non-locking paddle power switch, which stops the tool when released or dropped.
Light-weight.
On-tool wrench storage.
CONs
Corded, thus limited range.
Complaints about defective pieces.
9) Metabo W9-115 Angle Grinder
Coming from a well-known brand in the field of power tools, this is a corded electric angle grinder that is affordably priced and is full of power. The angle grinder comes with an 8.5-amp motor, and the 10,500 no-load rpm may seem a little less compared to others that we have seen in this list, but this tool will surely not disappoint you.
No products found.
This 4.5-inch angle grinder has a power rating of 120v AC. The spindle thread size of this angle grinder is 5/8 inches, which, according to some, is a little large, but it is just a matter of personal preference and requirements. It has a slide-type power switch, which, although might not be that safe compared to the one above, but offers a lock-on feature ideal for more extended projects where holding a power switch for a long time can be tiresome.
The build quality of this German-made angle grinder is excellent, and it also features an adjustable guard with a tool-free operation for added convenience. The tool is designed ergonomically with side handle designed for reducing vibrations and thus making it comfortable to use in the long run, which is also complemented by light 4.6-pound weight. The handle is a barrel-style handle with a front grip and has an innovative vent design that helps keep away dust and debris for better performance. It also has a 90-degree gear rotation and AC/DC operation.
This angle grinder is designed for dependability, comfort, performance, and durability. It has proven to be ideal for contractors who use it frequently. You can easily depend on this tool as it can cut and grind through a variety of materials, smoothly and consistently, with innovative and smart safety features to ensure the best quality work.
PROs
Extremely durable, German-built frame.
Light-weight.
CONs
Corded.
Complaints regarding faulty on/off switch.
10) Dewalt DW840 Angle Grinder
Coming from a market leader in power tools, this 7-inch medium-sized angle grinder offers a decent amount of power and performance compared to others of its size. This corded-electric angle grinder weighs 11.6 pounds, which is not too much given its size and has a powerful 13amp motor, which offers an 8000 rpm no-load speed, a decent figure for its size.
No products found.
This tool, with a 120v power rating, is ideal for heavy-duty work. It features a rear handle grip for better control and comfort, an adjustable key-less guard which can be easily adjusted to a preferred position. It also has a spindle lock, which makes changing wheels quick, convenient, and comfortable. Other convenience feature includes sealed ball and roller bearings to prevent debris from entering, thus increasing the life of the tool. It also has external brush doors for easy access during servicing, and a two-position side handles for optimal control while in operation.
The tool comes with a 3-year warranty, which shows the confidence of the brand in its product, and you can always expect it to live up to your expectations, given it comes from a trustworthy brand. It is ideal for both professional work and DIY projects. Although, there are some complaints about the product showing problems in a few months of use, given the 3-year warranty you can always get it repaired or replaces easily, given the after-sale services of Dewalt.
There are also complaints of overheating after prolonged use but works perfectly fine for short applications. It can also be a little tiresome to use given its weight, but Dewalt has done its best to make it as comfortable and convenient to use as possible.
PROs
Powerful 13-amp motor.
3-year warranty.
CONs
A bit heavy.

Complaints about overheating.
Things To Consider Before Buying Angle Grinder…
We have placed the Makita angle grinder at the number 1 position, but that doesn't mean it is the most suitable grinder for everyone. Each individual has their own needs when choosing an angle grinder. Some want their grinders to be as powerful as possible for doing heavy-duty work, while others want it to be comfortable and ergonomic so that they can work for longer durations. You will also need to look into these factors and decide which grinder best suits you. So we will here discuss some traits of an angle grinder and how do they affect the performance:
1) Size of The Disc
The first and most important thing to look for is the size of the disc, also known as the head or the wheel. Generally, a larger disc implies, a more powerful motor, but that does not mean you always will require a large disc grinder. You will have to decide which size of the disc is optimum for your job. For example, when you need precision in your task,a small pneumatic grinder is what will best suit you. A massive disc grinder will not be ideal for such jobs. Grinder discs come in various sizes, as we have discussed above, ranging from 4.5 inches up to 9 inches.
2) power
An angle grinder can be powered in various ways, as we have discussed at the starting of this article. Each type of grinder has its pros and cons. While the cordless ones (battery and petrol) give you unlimited range, there is always the risk of fuel running out in between your task. The pneumatic and electric ones have a limited range, but since the power source on these is not present inside the tool, they are lighter and thus more comfortable to use, which makes them a consideration when buying an angle grinder if you are always going to have a power source nearby while you work. So, you should ever think of what kind of environment you will be working in and then decide which type will suit you the best.
3) Speed
An angle grinder can rotate anywhere between 5000 to 10,000 rpm. This is what makes them such a versatile tool and also an essential factor while choosing the size of your grinder. Bigger discs operate at a lower speed range (5000 to 6500 rpm), and smaller ones rotate at higher intervals (6500 to 10,000rpm). These are usually the load speeds of the grinders. The no-load speed of an angle grinder can go up to 12,000 rpm. Speeds play an essential role in any task. You cannot use a high-speed grinder for polishing delicate materials else the material can get damaged. Therefore, you should take into consideration the type of material in your task and choose your grinder accordingly.
4) Wattage
The wattage rating of the angle grinder determines its power. The higher the wattage rating of the grinder, the more power it will output, and the easier it will cut and grind the object it comes into contact with. Bigger discs will require more wattage, compared to their smaller counterparts. Also, ensure that the machine has higher amps if you want to do heavy-duty work with it.
5) Safety Features
Safety is of the utmost importance when it comes to using any electric tool. The angle grinder technology has seen a fair amount of advancement to introduce some handy safety features.
• Most of the angle grinders come with a soft start feature that allows you to easily handle the machine while starting it up by avoiding the angle grinder from twisting or wrenching. Also, make sure your angle grinder hasan adjustable side handle and an adjustable guard so you can suitably use your grinder according to the job in hand.
Make sure the grinder you are buying has these safety features before buying.
Types of Angle Grinders
There are several tasks that angle grinders are suitable for, so being aware of the varieties available can be beneficial. Making sure that you have the right kind of angle grinder available for the job in hand will help you to carry out the task in an efficient manner.
The most crucial factor when choosing a suitable angle grinder to work with is the depth or size of the material to be cut or grind and the type of material you will be working with, which, inturn, decides what size and kind of disc you will need.
Most manufacturers make angle grinders and their discs in the following sizes:
4.5 inches (115mm)
5 inches (125mm)
6 inches (150mm)
7 inches (180mm)
9 inches (230mm)
The most common size of disc used in general, across most areas of use are the 115mm discs. The 115mm is the most common disc size, and you can quickly get one regardless of the type you want it in, be it cutting, smoothing, grinding discs, etc. Due to this fact that 115mm discs are the most common and readily available, they also tend to be the cheapest ones.
In terms of size of the tool, you can get angle grinders in small(4.5 inches), general and light purpose (from 5inches to 7 inches) and large (9 inches) size, with the small sizes being suitable for works such as sharpening blades, cutting reinforcing bars or cleaning rust. When it comes to more substantial or industrial jobs such as cutting large-diameter steel pipes, steel beams, or large paving slabs, the larger 230mm tools are more suited. Mostly, the large ones are the same as the smaller ones; only they are implemented on a larger scale. They also have the same features as their smaller counterparts. Due to their larger size, they are heavier and thus are a little trickier to handle and manage compared to the smaller ones, and although they generally operate at slower speeds, the torque they produce can be substantial.
Smaller angle grinders operate at faster speeds, at above 10,000 rpm, while the larger ones typically operate at 6000 to 6500 rpm. Generally, the faster speeds mean more rapid wearing of the discs. However, due to relatively cheap prices of 115mm discs, it's still a better option to go for smaller discs rather than a large one if you do not need your angle grinder for daily professional work.
Now that we know a little more about the angle grinders and the sizes they come in, it would now be a good time to look at the various types of grinders you can get based on the way they are powered, and on that basis, it can be divided into four categories, which are as follows:
1) Electric
Electric angle grinders make use of mains power to run the motor. These are very popular in the market and therefore are the most common ones. You can find an electric variant of angle grinder from almost every manufacturer. Since it powered through the mains power supply, it has a cord that is plugged into a socket, therefore giving it a limited range to work. Although, you can extend its range using an extension cord. These type of angle grinders come in a variety of voltages, depending on how powerful it needs to be, and are commonly used for industrial purposes, due to its suitability for heavy-duty jobs. The large size angle grinders are generally electric and more powerful, and thus might require the addition of a second handle to help support the tool while it is in operation. Since they do not carry a power source, they are usually lighter than other options.
2) Battery
An in-built battery powers Battery/Cordless angle grinders. They do not require any kind of cords for operation. Thus they will be easier to move about while in use and when it is to be transported. This advantage, along with the ease with which the power source, i.e., the battery can be replaced and recharged, is what makes it popular among some users. You can always carry an extra battery with you and can work without worrying about running out of power. These mostly come with a rechargeable lithium-ion battery and a charger.
3) Pneumatic
Angle grinders that make use of compressed air form the part of the range of pneumatic tools. These types of angle grinders are powered by compressed air, which is pumped into the devicefrom a compressor. These again have a limited range, like the corded ones. These are only suitable for professionals who make use of other pneumatic tools as well, as you also need to buy an air compressor to power it, and purchasing an air compressor just to power an angle grinder is not a feasible choice. These,too, are less powerful than electric angle grinders but tend to have a longer lifespan.
4) Petrol
As the name suggests, this type of angle grinders is powered by gasoline. These angle grinders often come in the larger sizes, are more massive than the others, and are more suitable for industrial uses as working with them can be a little difficult and require experience. Also, the petrol engine can provide a considerable amount of power for heavy-duty industrial applications. These are also cordless and thus have unlimited range, although you need to make sure you do not run out of fuel supply in the middle of your task.
TYPES OF ANGLE GRINDER DISCS
Angle grinder discs are custom made for the job they were created for. Each disc is labeled either "Stone" or "Metal" and should only be used for working on the labeled material. You can cut stone with metal labeled disc and vice-versa, but that will reduce the lifespan of the disc. Now that we have established that each disc should only be used for what it's made for, we shall look at the different type of discs available:
Cut off Discs (metal and stone):
These discs are used for cutting. Metal cut off discs for metal and stone cut off discs for stone.
Diamond Cutting Discs:
This type of disc is also used for cutting, but it is diamond tipped on its edges so that it can cut through hard materials like tiles, marble, granite, etc. These also have two types, wet cut, and dry cut. Wet cut discs need to be wet while being used, while dry cut can be used dry.
Abrasive Disc/Pads and Sanding Disc/Pads:
These come as an attachment for a disc. It is a sheet of sandpaper that is attached to a disc through Velcro or some other method, and then the disc is attached to the grinder. These are available in different "grit" counts (grit is the measure of the coarseness of the sheet), from 40 grits to up to 400 grits.
Grinding Discs (metal and stone):
These, as the name suggests, are used for grinding. They also come in metal and stone types and are used for grinding down metal or stone to either shape it or take off lumps or peaks.
Wire Brush and Twist Knot Cups:
Wire brush discs are discs in which groups of wires are twisted up and placed around the perimeter of the cup. The wires in these kinds of discs are quite hard, and the rotating motion of the disc enables you to remove paint and rust easily.
Flap Sanding Discs:
These types of discs can be convenient if what you want to do is some fine grinding. They are primarily used for sanding and cleaning up, but can also be used for some detailed grinding as they are not as hard as the proper grinding disc. They are also available in different grit counts.
Polishing Pads:
These again are an attachment that is attached to a disc, which is, in turn, connected to the angle grinder. They are mainly used for polishing and finishing harder surfaces. Polishers, or mops as they are sometimes referred to, are also available for polishing paintwork and other delicate surfaces. When working on delicate surfaces, it is often advised to use the 230mm disc as it operates at a slower speed.
Frequently Asked Questions About Angle Grinder
I am sure by now you must have learned a fair amount of things about angle grinders and now would be a good time to answer some of your queries through some Frequently Asked Questions:
What are the most popular angle grinder manufacturers in the market?
Currently, in the market, there is a wide variety of angle grinders available, with models suitable for amateur and professional purposes, thanks to so many brands that make electronic tools. But it can also put people into doubt about which are the best and most trustworthy brands from whom I can buy an angle grinder. Well, according to our experts, they would be:
Dewalt
Makita
Bosch
Hitachi
Black+Decker
Can you get battery-operated angle grinders?
Yes, there are several battery-operated angle grinders available in the market, as mentioned earlier in the article. Battery operated angle grinders are a great choice as they provide you unlimited range.
What is the right way to fit a new angle grinder disc?
You must remove the angle grinder cord from the power supply before changing the disc. You will then have to press the spindle lock button and adjust the disc until it securely fits in its place. The spindle lock button should be held while you remove the clamping flange, which is then attached, so the flat surface comes into direct contact with the disc.
What is the difference between an angle grinder and a disc cutter?
A disc cutter is a small handheld tool used only for cutting purposes, while an angle grinder is a two-handled versatile tool that can be used not only for cutting but also sharpening, polishing, and grinding.
What will break the angle grinder?
No matter how high quality the angle grinder you are using, if not handled properly, there will always be a risk breaking the abrasive wheel. However, the risk can be minimized by periodically checking the wheel, making sure the disc is well-mounted, and following the safety procedures while using the tool.
Can you cut through metal with an angle grinder?
You can easily cut through the different types of metals with an appropriately powered angle grinder and a suitable disc. However, there will be a risk pf flying sparks while cutting through metals. Therefore, proper safety measures should be taken.
What materials cannot be cut by an angle grinder?
A high-powered angle grinder would be able to cut through a vast majority of materials. However, substances like a diamond and other multi-layered materials can be hard to cut due to their high level of cutting-resistance. You should always use an angle grinder only for the material advised by the manufacturer and only perform tasks in which you are completely confident and assured of safety.
Are angle grinders dangerous?
An angle grinder is often considered as a dangerous tool, and they can be so. Kickbacks can result in severe cuts. The disc can shatter or disintegrate while working, and fragments can enter the operator's eyes or other parts of the body and prove to be harmful. Although taking proper safety measures before operating the tool can decrease the risk by a considerable amount.
What safety precautions should I take while using an angle grinder?
The first thing you should do is consider if the grinder you are using is appropriate for the task, or it can instead be done by a small grinder as well because small angle grinders pose less risk to the operator. Also, make sure to use angle grinders with the maximum amount of safety features like an adjustable handle, adjustable guard, automatic cut-off switch, etc. Make sure to use the right kind of disc for the task, and while cutting with the grinder, make sure not to cut too deep with the disc. Also, wear proper protective clothing like gloves and a protective mask to keep yourself safe.
What is the difference between load and a no-load speed of the grinder?
The loading speed of an angle grinder is the speed the disc will rotate with while the tool is being used. The no-load speed is the speed with which the disc will turn while the device is not being used. No-load speeds are usually higher than load speeds.
Should I buy a second-hand angle grinder?
It is usually not advised to buy an electric tool second-hand. It can be dangerous to use a second-hand tool as you don't know if the condition is as good as the seller told you, which can pose a danger to the operator. However, if you want to buy a second-hand angle grinder, it is better to buy it from a trusted reseller, which refurbishes the tool before selling.
Conclusion
I am sure that by now, you must be feeling more than confident about your angle grinder knowledge. But, this amount of information can be hard to retain. So, to sum it all up, the best grinder in our list was the Makita 9557PBX1 owing to user-friendly designs and features. The most powerful one was the Metabo WEV15-125, and the best overall was the Porter Cable PCE810.
With this, I think now, unlike the starting of this article, you are more than equipped to go out and buy an angle grinder for yourself. Also, now you can advise your family and friends when they require an angle grinder and leave an impression with your knowledge.
Write for us
HeckHome does not necessarily share views expressed by opinion writers and advertisers. HeckHome regularly invites Bloggers across the World to home improvement "write for us" in order to present their creative ideas.
Andres Walsh
My name is Andres Walsh and as far as I can recall, I have had only one passion in my life – a love of fixing things! Growing up, my friends and even my family members called me "wrench." The nickname has somehow stuck even through to my adult life.
Related posts
Benefits of a Moving Company

Moving can be an exciting yet daunting task, and if you've ever relocated to a new home or office, you know that it involves more than just packing your belongings into boxes. It's a process that requires careful planning, organization, and physical effort. This is... The post Benefits of a Moving Company appeared first on […]