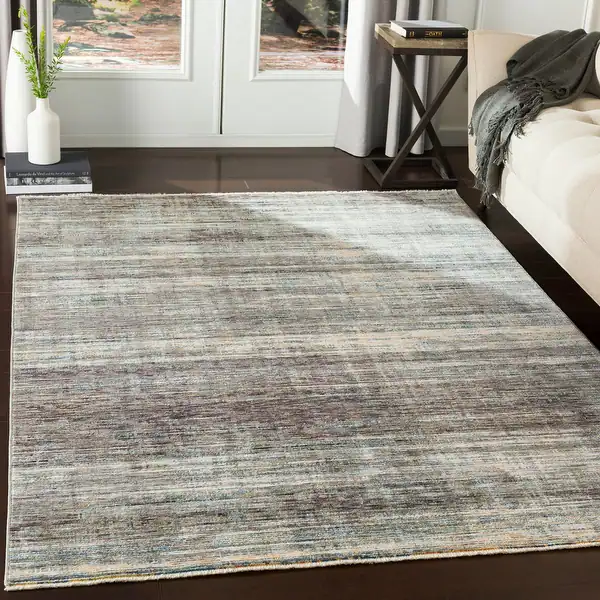 Get ready for the ultimate rug shopping upgrade! DressMyCrib brings you the hottest blend of cutting-edge tech and effortless style. Say "buh-bye" to boring choices and exhausting store visits. We're about to take you on a trendy ride through our user-friendly magic that makes rug shopping a breeze!
Embrace the Tech
DressMyCrib's AI+AR solution is here to slay! Say hello to your personal interior designer, available 24/7! Explore a dazzling array of rugs from the comfort of your fab pad. This is next-level decision-making, honey! Get ready to be wowed as tech meets chic in the best way possible.
Dive Into The Rug Visualizer
Ready to be obsessed? Say yes to our free AR rug visualization feature! Immerse yourself in the coolest virtual rug try-on session ever. Rugs come to life in your space, like magic! Get a sneak peek of how each one vibes with your killer home decor. And guess what? You're in total control! Move it, resize it – create your perfect look with just a few taps!
Strut into the future of rug shopping with DressMyCrib's Augmented Reality revolution. Your dream rug is just a click away, darling. It's time to unleash the fashionable magic of DressMyCrib and embark on a rug shopping adventure like never before!
AI+AR Advantages: Embracing Technological Benefits
Embrace the time-saving benefits of AI+AR! No more spending hours in stores – with DressMyCrib, you can browse countless rug options from the comfort of your own home. This smart technology also saves you money by eliminating the need for travel. With AR visualization, you can see how a chosen rug fits into your actual living space by simply scanning a room image. The AI tool generates a virtual representation of the rug, ensuring a perfect match with your decor.
How to Use DressMyCrib
Using DressMyCrib is a breeze. Just upload a room photo to https://dressmycrib.com/ (no app needed), and the AI will accurately identify room dimensions. The magic happens when the AI places an extensive selection of rugs into your virtual gallery, creating a treasure trove of options.
Once you find the rug you love, the "View in AR" feature brings it to life in your home environment. Interact with the rug, explore it from different angles, and see how it enhances your living space. With DressMyCrib's AR technology, you can make an informed decision and ensure your rug choice is a perfect fit. Go to https://www.youtube.com/embed/7xIEVwlHegw to see how it works.
A Rug Visualizer for Any Rug in the World
DressMyCrib's Rug Visualizer feature is a portal of endless possibilities. Say goodbye to limitations as you bring rug images from various sources, like Amazon or Pinterest, into the world of DressMyCrib. As long as the image captures the whole rug from the top, it's a perfect fit for the Visualizer tool.
Using the Visualizer is a breeze:
1. Download the rug image from your chosen source.
2. Visit https://dressmycrib.com/rug-visualizer.
3. Upload the photo and choose your desired rug size.
4. Select "convert to AR" and let the magic unfold as you "view the rug in your space."
The Visualizer unleashes its power, presenting the rug image in your home's live view. Resizing and repositioning the rug is simple – just move it on the screen or use a finger pinch gesture to achieve the perfect fit.
DressMyCrib: A Technology Revolution
In the realm of AR solutions, DressMyCrib shines brightly. Its unique advantages include:
1. All-Rug Accessibility: With DressMyCrib, you can view all rugs within your living space. The user-friendly interface ensures seamless rug selection and visualization.
2. Specialized Focus: DressMyCrib is designed exclusively for rug shopping, offering a comprehensive experience tailored to your needs.
3. Extensive Rug Collection: Boasting thousands of rugs from various retailers, DressMyCrib ensures ample choices to match your preferences and style.
The Technological Core: AI+AR at DressMyCrib's Heart
DressMyCrib's AI+AR tool draws its power from the fusion of computer vision and machine learning. AI-driven computer vision meticulously analyzes room images to detect dimensions and shape, ensuring precise rug placement.
The AI's understanding of your room's dimensions ensures that each rug is perfectly suited to your living space. This three-dimensional representation forms the foundation for an extensive array of rug options, each one tailored enchantingly to your unique home.
Embracing the Path of Sustainability
At DressMyCrib, sustainability is a core value. The founder, Giedrius Morkunas, envisions a future with reduced return rates of up to 50%, all without the need for app downloads or registrations. By reducing returns, DressMyCrib contributes to environmental conservation, reducing carbon emissions, and preserving nature's balance.
Start Shopping!
Ready for a technical quest to find your dream rug? Let DressMyCrib's AI+AR enchantment guide you. Embrace the fusion of technology and design, explore the immersive AR visualization, and unlock the mysteries of the Visualizer portal. With DressMyCrib's innovative powers, rug shopping becomes delightful and gratifying. Your perfect rug awaits thanks to DressMyCrib's AI+AR solution!
Benefits of a Moving Company

Moving can be an exciting yet daunting task, and if you've ever relocated to a new home or office, you know that it involves more than just packing your belongings into boxes. It's a process that requires careful planning, organization, and physical effort. This is... The post Benefits of a Moving Company appeared first on […]