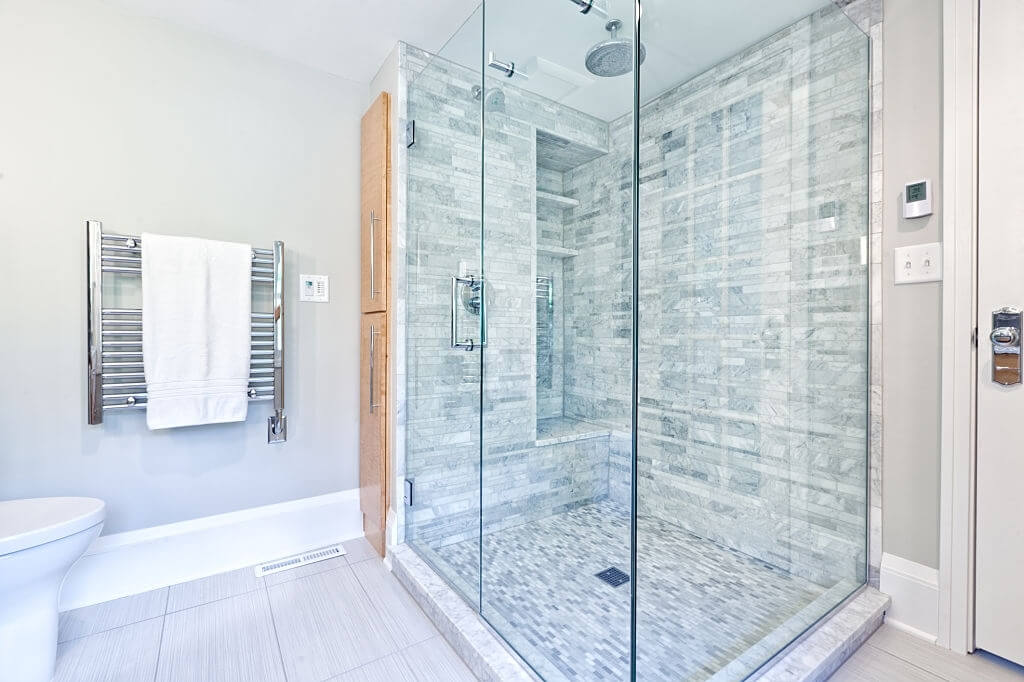 If you've been into the latest bathroom interior designs then you must be aware of the prevalence of frameless shower doors. It doesn't matter how much space you have for a shower, glass shower doors are easy to adjust in each type of bathroom layout. This minimalist design is something super elegant and sleek, so most homeowners prefer it over shower curtains.
If you are a newbie and want to decorate your house on your own, you must grab an unframed shower door first. The reason is, renovation of a bathroom or an entire house is something that can't be done frequently. So, make sure you are investing in the right and quality items. A frameless shower door is one of them. Never leave your bathrooms undecorated or dull. Are your bathrooms dark? Well, these doors increase the brightness as well. After these sneak peeks, let's get straight into it!
What is a frameless shower door?
Frameless shower doors are pretty much comfortable with smaller bathrooms because there we need an illusion of greater space. These are the doors that do not have thick boundaries or any other such borderlines which will specify the door size. These unframed shower doors are made to serve better space and lighting inside the bathrooms. Now, you might be thinking about how a shower door can reflect light, right?
Well, you all know that glass allows light to pass through, both natural and even artificial light when comes in contact with custom cut glass (reflective and shiny surface), enhances the overall brightness of the space. Also, these shower enclosures do not need any metal support to smoothly play their function. These are just all!
How do frameless shower enclosures differ from framed shower doors?
The major difference between unframed and framed shower doors is the boundary, as it is clear from the names themselves. So, framed shower doors have a metallic heavy and thick boundary, which allows the glass to stay within and increases its sturdiness. However, in smaller bathrooms, they are not recommended because they block to define the exact size of the bathroom. And, in smaller bathrooms, we don't want to block the illusion of greater space.
Frameless shower doors are made tempered or prepared with laminated glass, so that they would stand longer. Meaning that having fear of easy shattering of the unframed shower door is just a former thing. They also have the same sturdiness as framed glass shower door.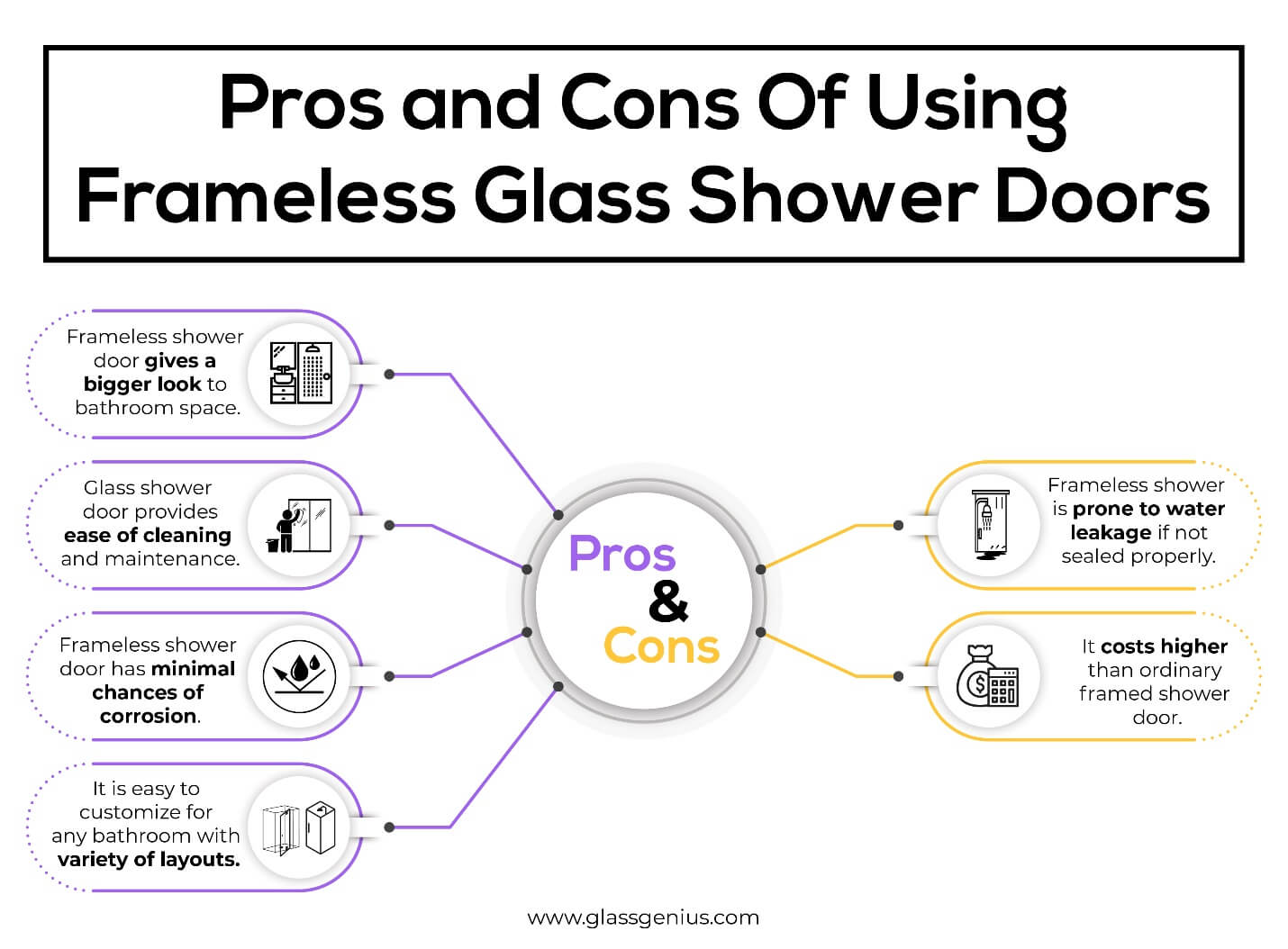 Pros of using frameless shower door
Variety of styles available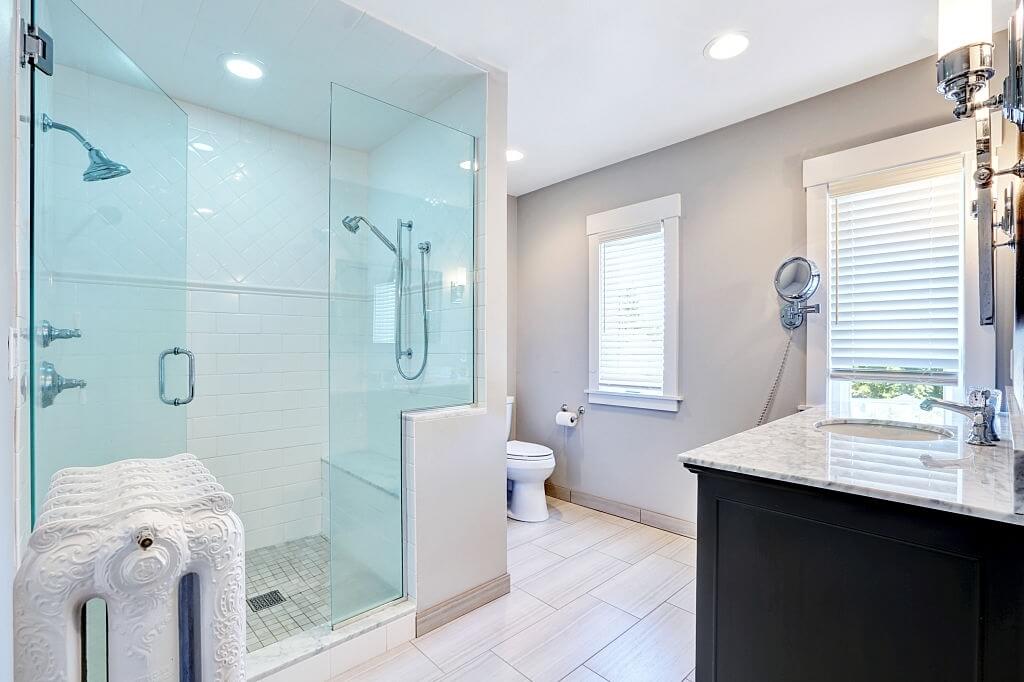 By using a frameless glass shower door, you have more style and design options to choose from. It comes in a bundle of styles and the best thing is that you can also customize the style and shape whichever you want. Some of the common styles are metro fixed glass shower panel, sliding or swinging shower doors, or shower doors with single panels.
You can even increase the privacy level in shower areas by using frosted glass shower doors or simply grabbing a sandblasted glass shower door. That's your choice.
Give extensive appearance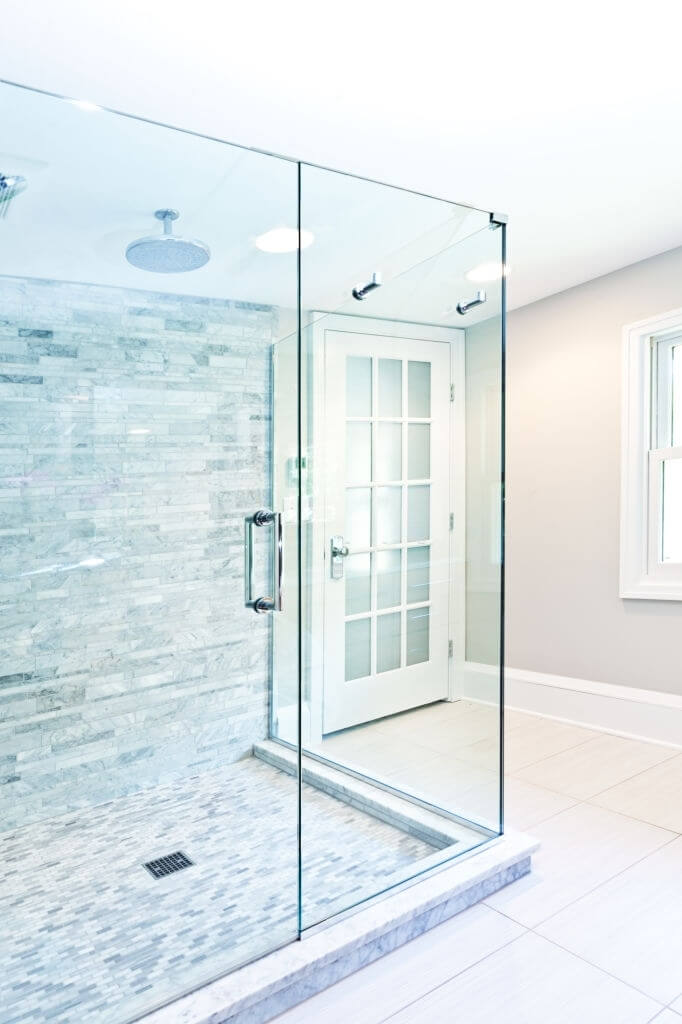 Frameless shower doors are usually recommended for smaller bathrooms or medium-sized bathrooms by professionals because they give a bigger look to bathroom spaces. As these doors do not have boundaries so they create an illusion of endless space in the bathroom, even if it isn't actually, obviously.
Easy to maintain and clean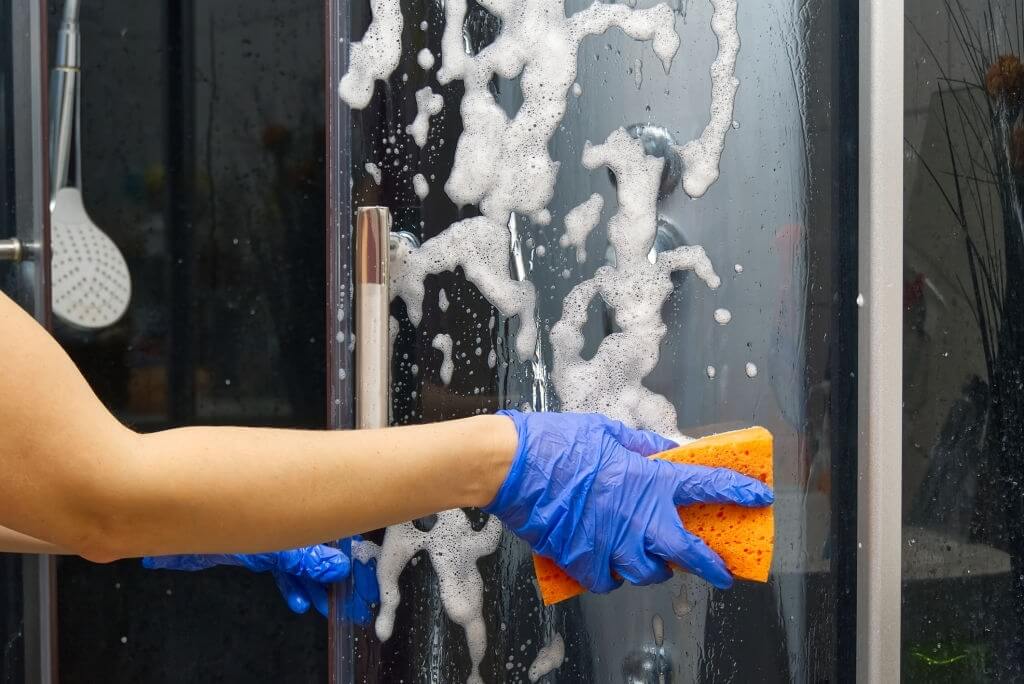 Shower doors with no barriers and frames are way much easier to clean and maintain. Due to daily exposure to water, soap, and shampoos, mildew or soap scum begin to grow on these doors. For this, you can also opt for a protective layer before you purchase a shower door. Or, simply by daily cleaning the door thoroughly, you can avoid such a mess.
Less metal-less corrosion
Most doors crack or look older because of the rust appearing on shower doors. With frameless doors, you can avoid this issue, too, because these doors have less metal to corrode. And, even if you have such an issue, you can easily take action rather than replacing a whole damn door, just like in the case of framed shower doors.
Customizing option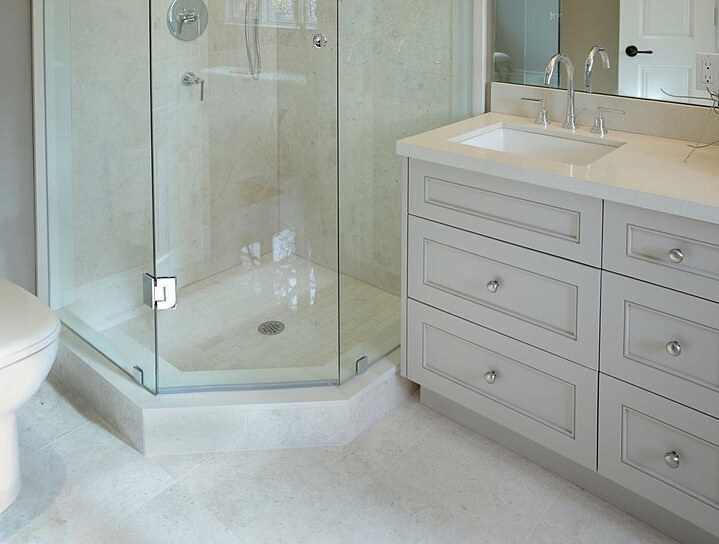 The more customization options you have, the more pretty and adaptable your shower area will look. Sometimes, there are complex bathroom layouts, and showers are located on corners. For such bathroom layouts, you can just opt for the customization option, they will take measurements and prepare a shower door or enclosure just according to the space. Isn't it brilliant?
Quite brighter space
With these sorts of glass shower doors, you have brighter bathrooms. Glass shower doors allow maximum light to enter and reflect, as a result, it will let your bathroom glow all the time.
Cons of using frameless shower doors
Chances for leaks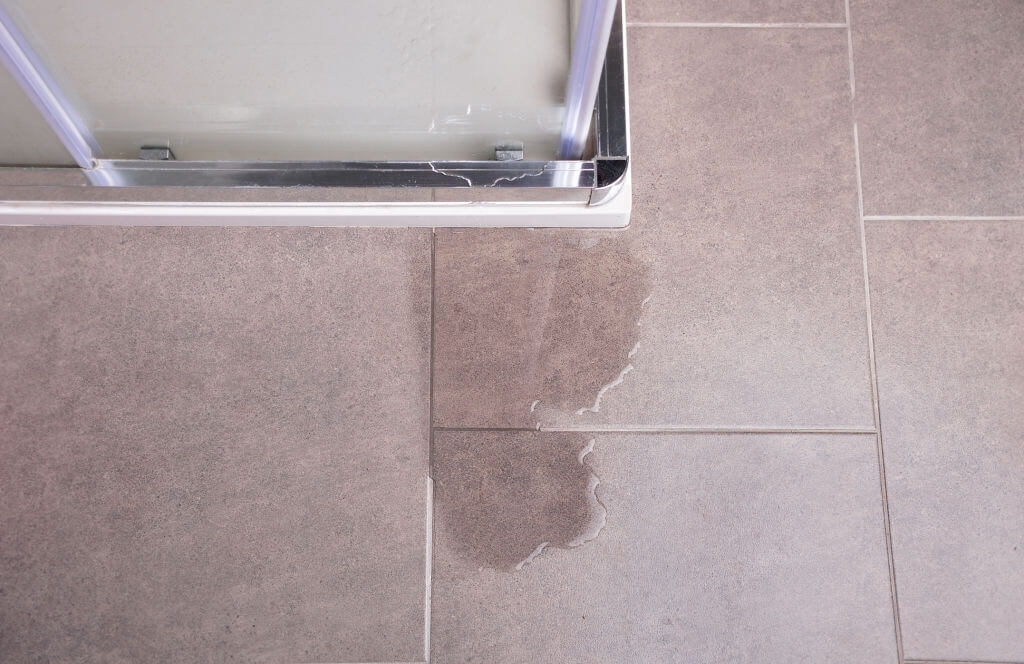 As frameless shower doors do not have stronger boundaries, there may be chances of water leakage. This issue is seen in frameless shower doors, but you can avoid it by using rubber seals. So, there would not be water spillage while taking shower.
Costly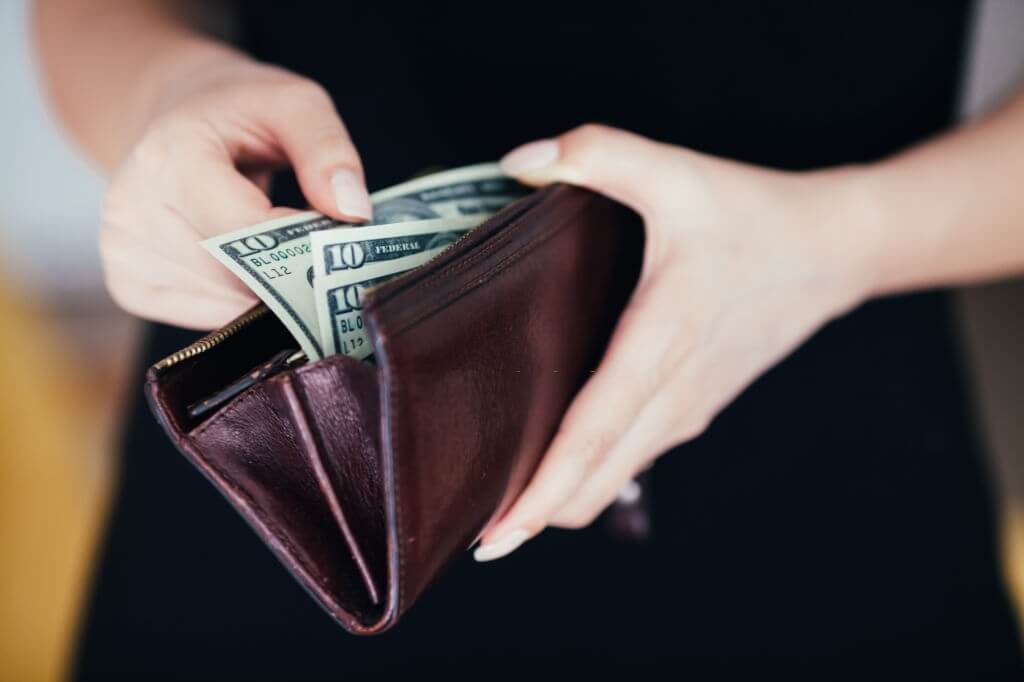 Frameless shower doors are more costly than framed shower doors. That's the only drawback of purchasing a frameless shower door.
 Is a frameless glass shower door more beneficial?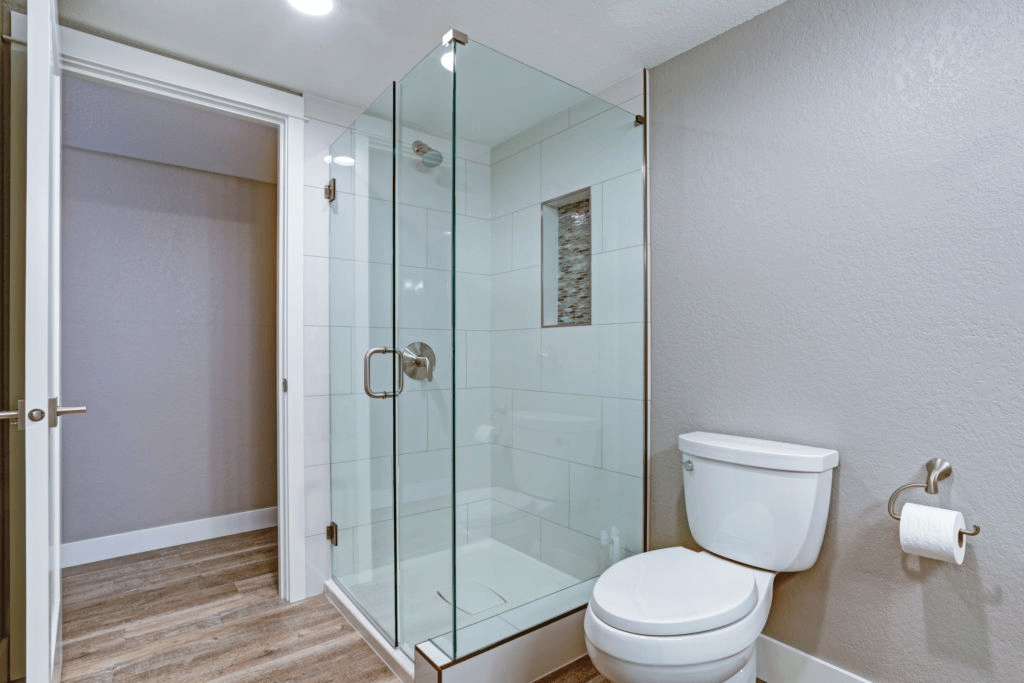 Well, that's true somehow! Frameless glass doors are way easier to handle and have more benefits than framed shower doors. Here, below are some of the benefits that people really enjoy.
You can add or increase the flow of light with the help of frameless glass doors.
They help to create an illusion of a bigger and greater bathroom.
Frameless shower doors come in a variety of styles and designs. Also, they allow designers the flexibility to design whatever shape you need for your shower.
These doors are way easier to clean than framed shower doors. Framed doors have a metallic boundary line, which becomes a hurdle while cleaning a door thoroughly. So, it begins to rust over time.
As these doors are easy to clean, and you can literally clean every inch of the door thoroughly, so there are fewer chances of mold or mildew build-up.
Closing Lines!
Although frameless shower doors have lots of benefits but a little more costly than other doors. The reason is, they usually have thicker glass to make it sturdier and stronger enough. That's the reason these doors are a little expensive but serve the most.
Building a Conservatory: How To Build a Conservatory

Have you always dreamed of adding a conservatory to the back of your home? If so, you're not alone. In fact, residential conservatories are more popular than ever before. That's because they are both beautiful and functional. They provide tons of natural light while creating... The post Building a Conservatory: How To Build a Conservatory […]