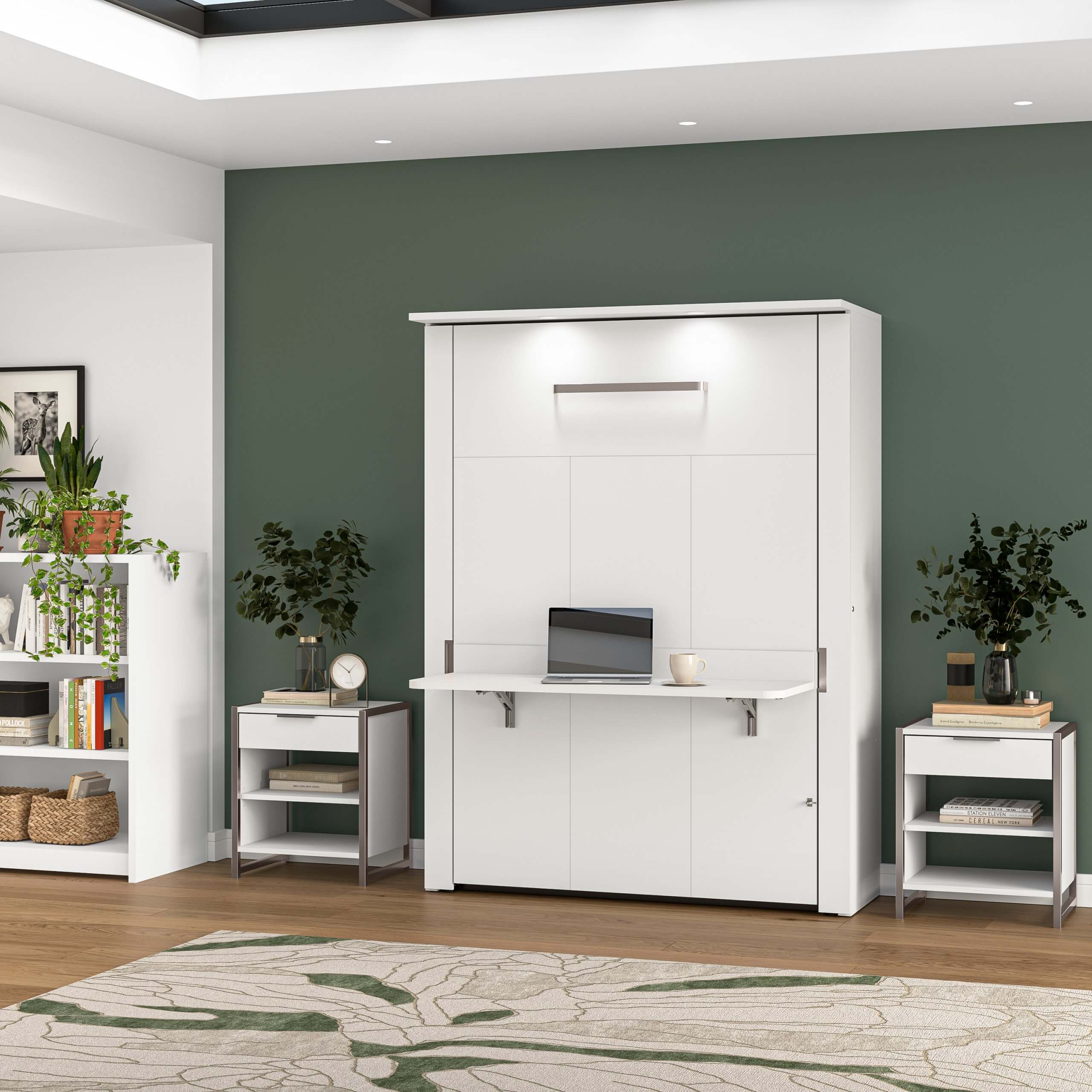 When you're short on space, it can feel like you're severely limited on decor choices. When you have a studio apartment, it's imperative that you get the most out of your space by choosing furniture that is both stylish and maximizes your space. A Murphy bed is one of the most transformative pieces you can have in your studio apartment, which is why these pieces are so popular with people looking to make the most of their space.
Murphy beds, also known as wall beds, come down when you need to sleep, but they can be easily stored away when you don't need them, and with a range of configurations, these beds can serve as both stylish and practical furniture pieces. With the following tips, you can make a Murphy bed a part of your studio apartment living.
Choose Multifunctional Furniture
There are lots of Murphy beds to choose from, but choosing a quality Murphy bed guarantees comfort, style, and maximal function. Bestar Murphy beds have a range of features that can transform your studio space. Why have a piece of furniture that can do just one thing when you can choose a piece of furniture that can do several things? Being short on space doesn't mean that you can't have just as much function in your apartment.
Some key features you can expect in a highly functional Bestar Murphy bed include:
The ability to accommodate most standard full or queen mattresses
A durable steel wall bed frame
Dual piston system so that the bed can open and close quickly and smoothly
Flexible slats that offer support and curve with the body for ultimate comfort
Murphy beds make it feel like you have more square footage because they save you precious space when you don't have a lot, to begin with. A normal bed can make your space feel cramped and disorganized. Plus, wall beds allow any room to become a multi-purpose room.
Choose the Right Murphy Bed Style
Because Murphy beds come in so many styles, it's vital that you choose the style that fits your lifestyle and space best. Bestar Murphy beds come in full and queen sizes so that you have more options. With so many options, it can be overwhelming at first to decide what you want, but if you're able to narrow down what needs you have for your space, you can guarantee you'll make the right choice.
Murphy beds are multifunctional and come in different furniture styles, making them one of the most exciting pieces of furniture on the market. The classic Murphy bed folds down from a cabinet and can be placed back inside the cabinet to save room; however, Murphy beds can also become other furniture, such as desks or couches, which increases the functionality of your bed when you are not sleeping. These options mean that you get to choose the type of function you need most and design your space around your custom needs.
When deciding the right style for your Murphy bed, think about how you plan to use your apartment. Will you have to work from your apartment? Are you planning on having a lot of guests? You may want several things at once out of your space, but be sure to determine what is the most important to you. Focus on the most important use of your apartment and then arrange the rest around that use. You can choose a Murphy bed you'll get the most use out of by pinpointing what functions you need.
Optimize Space with Storage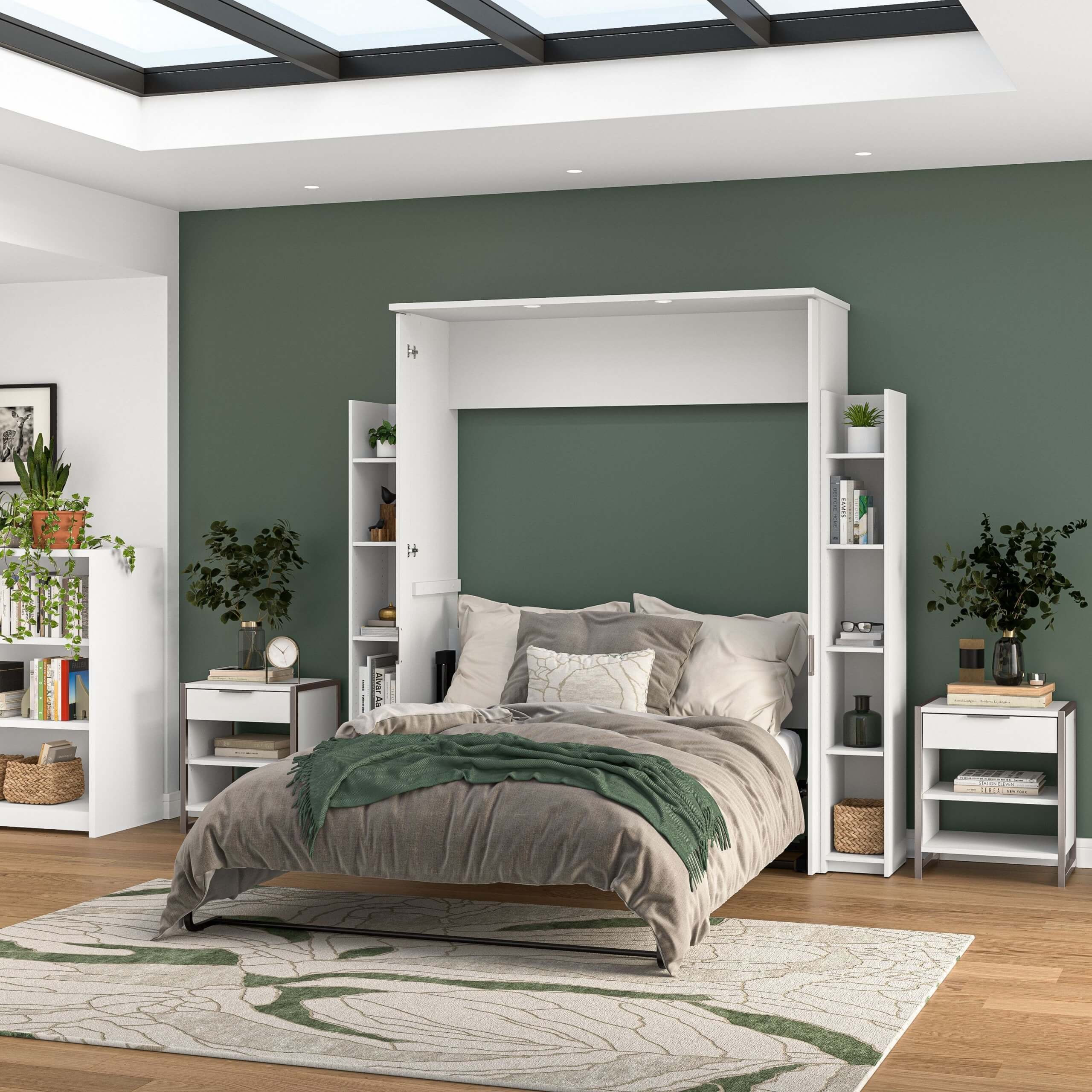 If you're looking for more storage, Murphy beds are a great option for you. These additional spaces can impact how spacious your apartment feels. Additionally, you can buy matching storage pieces that make your room feel cohesive.
They also provide you with the storage you need to neatly put away all your items and feel comfortable in your small space. Murphy bed bundles are a great way to choose what pieces speak to you and design a space that gives the most amount of function. This customizable approach to decor gives you so many ways to accomplish your space and design goals more effectively.
Pay Attention to Color and Lighting and Add Personal Touches with Decor
When you're decorating with a Murphy bed, you'll want to think about what color scheme you will have and what kind of lighting you will use. These options can take an ordinary piece of furniture and make it stand out as an important part of any room. A Murphy bed should be a cherished piece that feels right at home with the other personal touches you have included in your room.
A Murphy bed comes in different styles and finishes, so consider the overall mood you want to have for your studio apartment. If you already have other pieces picked out, imagine how a Murphy bed may look with those pieces. With all those considerations in mind, you'll be able to decide what Murphy bed you want with more ease.
Murphy Beds Help You Do More
Beds are one of the most important parts of any apartment, but when you only have a studio, a bed can be a major burden because it takes up so much space. Fortunately, Murphy beds are a great solution to any space problem. They can transform your space for different purposes and can help you make the most out of your square footage. What could be better than that? Check out Bestar Murphy beds today, and you'll be glad you did.
Benefits of a Moving Company

Moving can be an exciting yet daunting task, and if you've ever relocated to a new home or office, you know that it involves more than just packing your belongings into boxes. It's a process that requires careful planning, organization, and physical effort. This is... The post Benefits of a Moving Company appeared first on […]