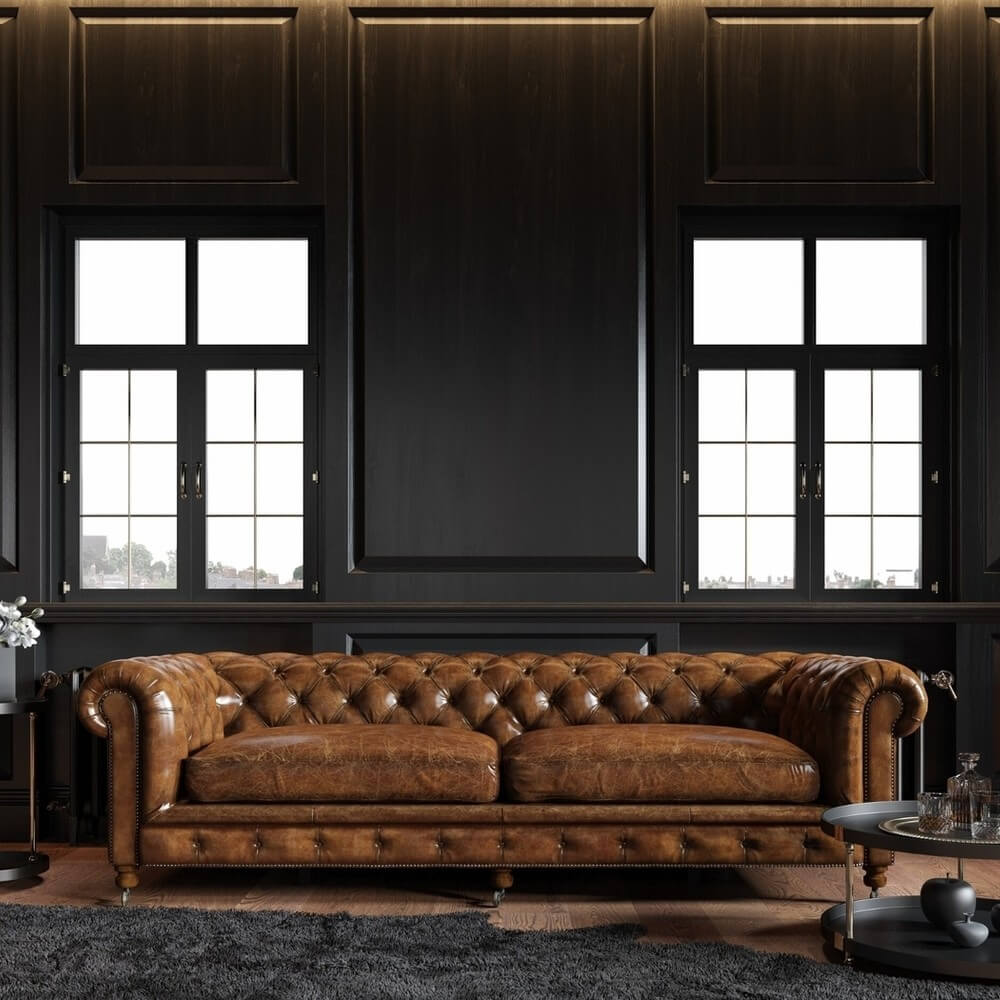 Creating a stylish and inviting living space is easier than ever by adding a now-timeless piece: the Leather Chesterfield sofa. Not only do these classic seating options offer luxurious comfort, but they also boast an unmistakable charm that can tie any room together.
With its unique combination of eye-catching beauty and decades of tradition, this sophisticated furniture style deserves to be the centerpiece of your home styling deliberations.
In this blog post, we'll look at how you can use a Leather Chesterfield sofa to enhance your space, giving you all the information you need to make the perfect purchasing decision for your personal needs.
Leather Chesterfield – An Essential Piece of Furniture For Your Home
The leather Chesterfield is an iconic piece of furniture that has been gracing homes worldwide since the 18th century. Its distinguished features, such as the tufted leather design, rolled arms and back, and railhead trim, add a touch of elegance and sophistication to any space.
Upholstered in high-quality leather, the leather Chesterfield is durable and comfortable, making it an essential piece of furniture for any home. Whether you want to add a touch of luxury to your living room or create a cozy reading nook in your home library, the leather Chesterfield is the perfect choice for those who appreciate timeless design and exceptional craftsmanship.
The Benefits Of A Leather Chesterfield Sofa
This classic piece of furniture is not only visually stunning, but it also offers a range of benefits.
For one, the high-quality leather is durable and easy to maintain, ensuring your investment will last for years.
The iconic button-tufted design adds a touch of sophistication to any room, while the deep seat and high back offer plenty of comfort and support for lounging or entertaining.
The timeless style of the Chesterfield can go along with various decor themes, making it a versatile choice for any home.
Styling Tips To Make The Most Out Of Your Leather Chesterfield
If you have a Leather Chesterfield in your home, it makes a statement in the room. However, It's not just about owning one but also about styling and enhancing your space. Take a look at the following styling tips that will elevate your living space:
Choose The Right Color
Having a perfect color that goes with your house theme is essential. It will give spongy vibes without color coordination and ultimately dull the overall impact. So, it's best to use neutral colors such as brown, black, or white, as they will easily blend in with other furniture pieces.
These colors will also give your room a timeless, aesthetic, sophisticated look. You can opt for bold and bright colors to add a pop of color to your space. However, I will suggest you go for distressed leather Chesterfield. This color can easily blend in and stand out at the same time.
Emphasize On The Material
One of the most striking elements of a leather Chesterfield is the material itself. Its rich texture, soft sheen, and supple feel can elevate any room with timeless elegance. To make the most out of this luxurious material, it is important to emphasize it throughout your space.
Choose complementary textures and colors that highlight the leather's unique characteristics. Adding an accent rug that sports a similar consistency as your Chesterfield can give a cohesive look. Moreover, consider using natural elements such as wood or stone to add a warm, earthy feel that complements the leather's organic and tactile nature.
By emphasizing the material of a leather Chesterfield, you can create a cohesive and visually stunning space that showcases its beauty for years to come.
Add Contrast
Adding contrast is vital to enhancing your space ambiance through a leather Chesterfield. While a Chesterfield sofa's elegant and sophist elegant appeal is unmatched, adding contrast in terms of texture, color, or style can elevate the overall aesthetic.
One way to achieve this is by pairing the Chesterfield with accent chairs with different textures such as velvet, linen, or wood. This creates a balanced yet intriguing juxtaposition between materials.
A contrast in color also holds immense potential in transforming the space, especially with a Chesterfield in a neutral hue like brown or black.
Moreover, a contrast in style through statement decor pieces like metallic floor lamps, quirky wall art, or even a minimalist coffee table can add depth and character to the space, making it a true reflection of your style.
Accessorize With Decorative Pillows
A Leather Chesterfield can be made more comfortable by accessorizing it with decorative throw pillows. Adding bright accent pillows in bold colors can inject an element of playfulness into your space while maintaining its refined essence.
You can go for different shapes and sizes of pillows to add depth to the chair and overlook plain leather seats. For example, pairing a leather Chesterfield with velvet or suede pillows can create a tactile contrast that enhances the overall appeal.
Focus On Lighting
Lighting is that one element that can make or break a room's aesthetic. Choose the proper lighting to bring out the beauty of your Leather Chesterfield. If you're short on space, you can use a floor lamp rather than a table lamp to keep things compact and tidy.
In essence, focusing the light on the grandeur of a comfortable Chesterfield sofa can help accentuate its beauty and make it a focal point of your space.
Conclusion
Adding a leather Chesterfield to your home is an easy way to add a touch of class and style while being extremely comfortable. It brings a timeless and majestic look that perfectly blends in any interior design style. The unique thing about a leather Chesterfield sofa is its ability to transcend different design styles, from classic to modern chic – making it one essential piece of furniture for every homeowner. With the right mix of accessories, you can achieve just the vibe you want and feel the comfort it will bring to your personal space.
Benefits of a Moving Company

Moving can be an exciting yet daunting task, and if you've ever relocated to a new home or office, you know that it involves more than just packing your belongings into boxes. It's a process that requires careful planning, organization, and physical effort. This is... The post Benefits of a Moving Company appeared first on […]