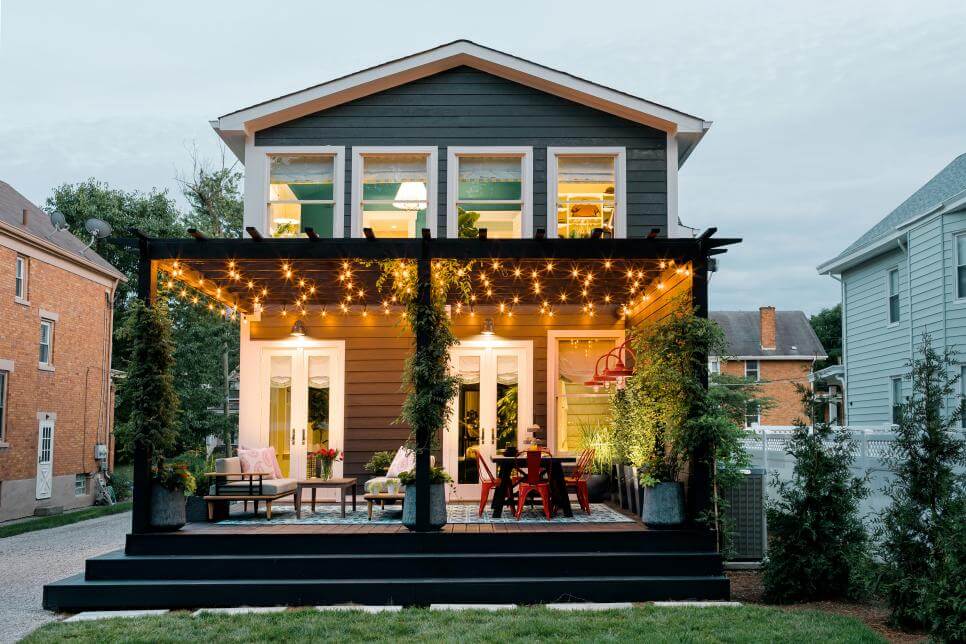 There's tons of benefits to doing home improvement projects. You can give your home a completely new look, plus home improvement projects are so much fun to do! On top of all of that, the right projects can increase your property value— but what are the "right" home improvements? Here are some examples of home remodeling and renovation projects that are almost always guaranteed to increase property value, plus some ways to spruce up the outside of your home.
Home Remodeling Projects
Home remodels are home improvement projects that require you to change the structure of your home, the function of a room, or if you're adding on a new addition to your home like aesthetic lights and a patio. These types of projects usually require the help of a professional because it involves tearing into walls, and maybe even tinkering with electrical wiring and plumbing. A good rule of thumb to follow is if you aren't sure of what you're doing, call a professional.
Room Additions
Room additions add value to your home because you're adding more square footage to your property. So what type of room should you add on to your home? Typically, adding on another kitchen, bathroom, or bedroom will increase your value the most since these are considered to be the most important rooms in a home.
Finishing an Attic, Basement, or Garage
Another way to increase square footage is to finish a room that is already present in your home. Most often, this is a basement or attic, but some homeowners choose to finish their garage. Depending on how big these rooms are, they can be turned into a separate, mini living space that includes a kitchen and bathroom.
Home Renovation Projects
Home renovations are cosmetic changes that you make to your home. The majority of home renovations can be done by skilled individuals who aren't necessarily professionals. This is because you're not changing the structure of your home, just the appearance of it. Renovations can range in complexity from painting the walls to redoing your entire kitchen (without any structural changes).
Bathroom and Kitchen Renovation
Simple bathroom renovations include changing the flooring and updating the vanity and hardware. You can even attempt more complex bathroom renovations, such as upgrading your shower/bathtub.
Simple kitchen renovations are similar to simple bathroom renovations. Flooring and hardware upgrades are fairly simple for any home improvement skill level. Changing your kitchen countertops can require a little more skill, but this doesn't always require a professional.
Other Interior Home Improvements
Updating the flooring in all of the rooms of your home will also increase property value. Opt for hardwood, laminate, or vinyl flooring in your living room over carpet flooring. Harder flooring over carpet usually increases property value, especially when this flooring is installed in high-traffic areas.
A simple paint job can also make your home look brand new, as well as increase property value. A new coat of paint doesn't have to be anything fancy, although you can get creative with two-toned walls and accent walls.
Don't Forget Curb Appeal!
The exterior of your home is just as important as the interior— it's the first thing people see! Some of the easiest tasks to do when it comes to improving your curb appeal are the usual things you'd do as far as yard work: mowing the lawn, trimming the hedges, raking leaves, etc. Basic yard maintenance can do a lot for your curb appeal, and you can even hire a lawn service to help take your lawn to the next level.
Another way to improve your curb appeal is to paint your front door, window shutters, or even your entire home. A simple power wash of your entire house can also make it look new. Also, make sure that things like your roof, siding, and even your garage door are intact. Depending on how old your home is, these things may need to be replaced according to how long they last:
Roofs last 20-30 years, depending on the type
Vinyl siding lasts 30-40 years
Garage doors can last anywhere from 15-30 years
As far as property value goes, a guaranteed increase in property value depends on where you live. In older neighborhoods, one home being renovated or remodeled doesn't usually increase property value much (or at all) if it's the only house in the neighborhood being worked on. Some home additions, such as a pool, may cost you more money than what it will add to your property value, so make sure that you do your research for your area if your goal is to increase property value.
The Energy-Efficiency Advantages of Vinyl Window Replacement

Windows are more than just portals to the outside world; they play a significant role in determining the comfort and energy efficiency of your home. If you're looking to improve your home's energy efficiency, consider the advantages of vinyl window replacement. In this article, we'll... The post The Energy-Efficiency Advantages of Vinyl Window Replacement appeared […]