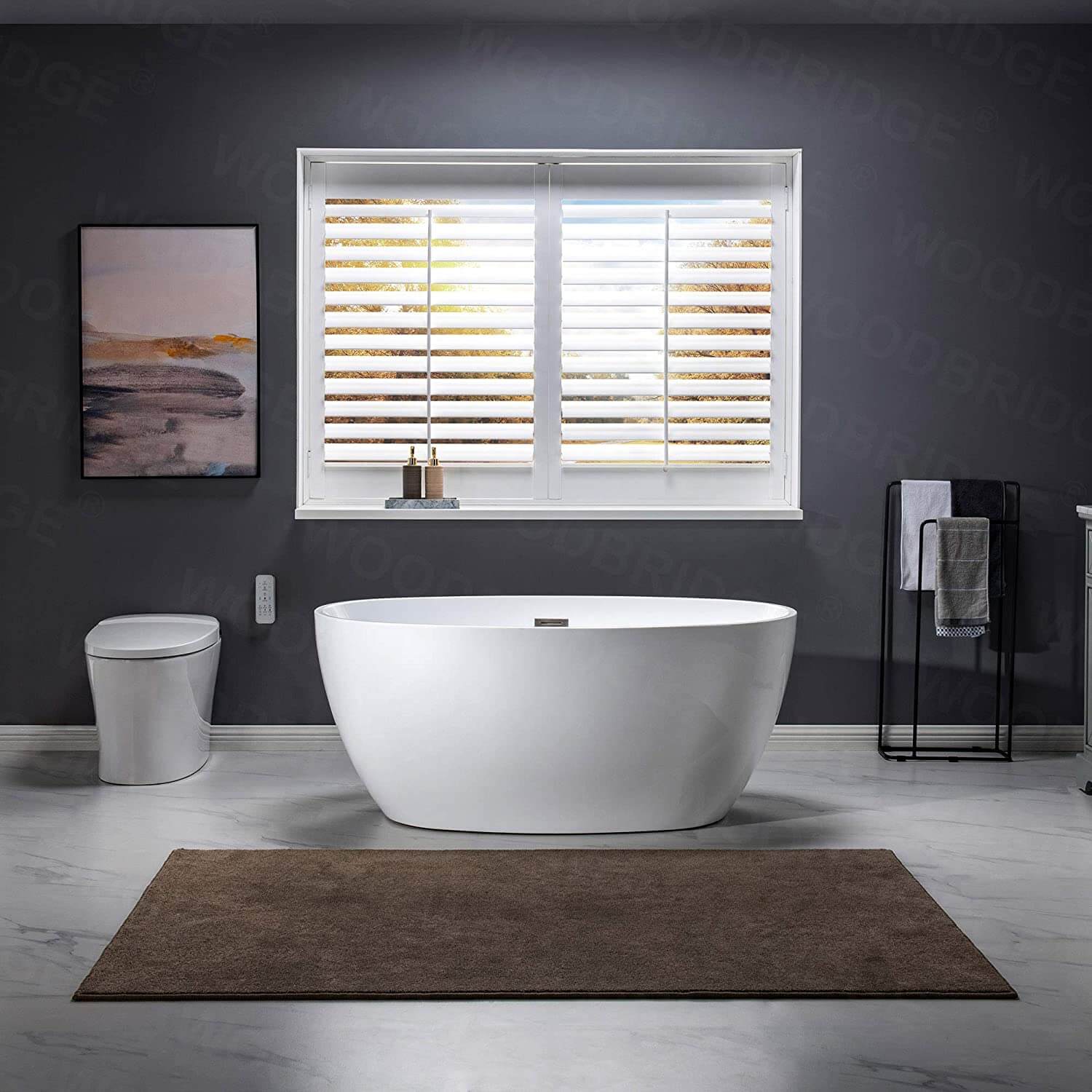 If you're looking for a bathtub that symbolizes both sophistication as well as luxury, then freestanding bathtubs could be for you. They can be seen as investment pieces, which means that you'll need to put thought into picking the right tub. But what should you look for, when buying the ultimate freestanding bathtubs? Here is what you should know about choosing a freestanding tub.
1. Size Dimensions
The first thing you should stop to consider is what size you're looking for. This can enable you to narrow down the options available to you. Note that a freestanding tub can take up more space than a traditional kind. This is why knowing what measurements you want become even more important to maintain the balance of your home. Consider opting for at least one foot of space between the basin and the wall, on every side. This will enable you to enjoy the best functionality and design.
2. Style
Originally, freestanding bathtubs used to be linked to homes that were grand, and luxurious lifestyles. Due to the popularity they enjoyed, freestanding tubs started to become available at various sizes, styles, as well as price points. It's the freestanding tubs that are medium sized that have gained in popularity in contemporary times. This is attributed to the fact that they take less space, making them more practical for everyday use.
You should know that a freestanding tub is built to be taller than a tub that is traditional. This enables you to really immerse yourself in the bath. As a result, it's also more difficult to get into and get out of. This is especially true for children, the elderly, as well as pets. That is why consider the height of the freestanding tub you're buying, if various people will end up using it.
3. Aesthetics
Freestanding tubs can be found in modern as well as traditional designs. The aesthetics and the function of your tub are important things to consider as well. How often do you want to use your tub? Will the design enable you to use the tub the way you want to. These factors should also influence your decision to make a purchase.
There are a wide array of choices when it comes to style and aesthetics, that you can go for. In contrast, tubs that are built-in, tend to have a more limited number of designs available. Due to the large number of designs available for freestanding tubs, you're likely to find a design that fits your bathroom aesthetics perfectly.
Some of the popular styles that you can opt for are the pedestal tubs, or slipper tubs. Clawfoot tubs and roll top tubs are very popular as well. Another design that is popular is the Japanese soaking tub.
4. Jetted Tub
You can go for a freestanding tub that is an air tub, a soaker tub, or a whirlpool tub. With a tub that's jetted, you can better enhance your experience in the freestanding tub. So what are these?
A soaker tub is one that's designed to be deep enough for you to properly bathe in. In a whirlpool tub, there are water jets as well as air that's high pressure, in order to provide the experience of a massage. An air tub on the other hand makes use of air bubbles that are heated, in order to provide a massage experience that is more gentle.
You can also go for a combination of these as well. There are jetted tubs that provide both water and air pressure, allowing you to enjoy both kinds of massages, anytime you like.
5. Material
The material that makes the freestanding bathtub should be carefully considered as well. This is as freestanding bathtubs are often heavy. This depends on what material the tub is made of. There are floors that may not be able to take the full weight of a freestanding tub that is heavy. Such floors will first need to be properly reinforced.
There are various materials that a freestanding tub could come in. These include fibreglass, acrylic, stainless steel, cast iron, stone and even copper. Different materials come with different advantages and disadvantages. The most common kind of freestanding tubs are those made of cast iron, acrylic, or stone resin.
There are also materials that are less common, such as wood and stainless steel. Consider what the cost of maintaining your freestanding tub will be as well, when choosing the material.
6. The Faucet
There are three kinds of faucets that you can opt for. The first of these are freestanding faucets. You could also choose faucets that are either wall mounted or deck mounted. Your tub will either have holes drilled into them for the faucets. Note also that the material of the freestanding tub should also be compatible with the faucets you choose.
7. Final Touches
After you've had your freestanding tub installer, it's time to personalize it to meet your needs. There are many ways you could style your tub such that it becomes the bathroom's focal point. Consider getting a bathtub caddy, as this can enable you to personalize the look of your tub. If you want a shower with your tub as well, then you'll need to plan for this ahead of time.
Conclusion
A freestanding tub can be a great addition to your bathroom. Luxurious and stylish, there are plenty of options you could choose, and you're likely to find something that complements your bathroom perfectly. When you're choosing your bathtub, you'll need to consider everything from its size to the materials used to make it. This guide can help you with buying a freestanding tub that's perfect for your home.
The Energy-Efficiency Advantages of Vinyl Window Replacement

Windows are more than just portals to the outside world; they play a significant role in determining the comfort and energy efficiency of your home. If you're looking to improve your home's energy efficiency, consider the advantages of vinyl window replacement. In this article, we'll... The post The Energy-Efficiency Advantages of Vinyl Window Replacement appeared […]