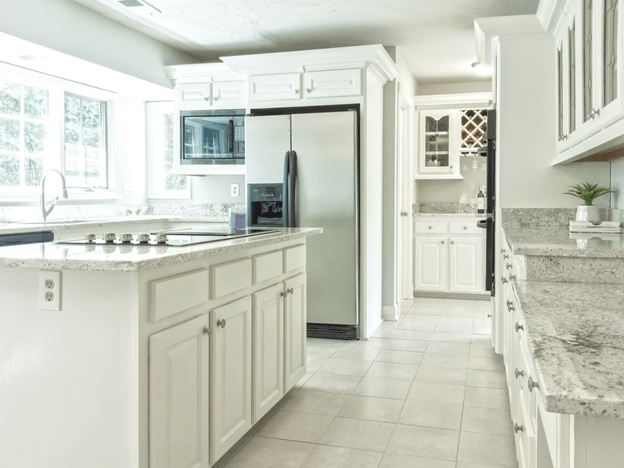 If you spend even a small chunk of your time in the kitchen, you know the importance of having a good refrigerator unless you have a lot of swiggy money to spend on. You'd agree that a fridge is more than just an icebox and the latest features in today's market have really levelled up cooking, food storage, and power consumption.
So, what do you look for when you're shopping for a new fridge? Let's look at a few things to consider before you hit 'add to cart' on the fridge of your choice!
Types of Fridges You Get in the Market
There are several styles and types of fridges and freezers available in the market today. With some research, you can find something that can fit your and your family's refrigerator needs.
Let's take a look:
Top Mount
A top mount fridge is the classic single door design with a freezer section on the top. This style comes with a single door that opens from one side only. This particular design gives you easy access to the freezer section along with a lot of space in the fridge and door side storage area. If you are looking for something traditional, then top mount fridges are the way to go.
Bottom Mount
Bottom mount fridges are reverse-style fridges with the freezer section at the bottom. This style makes you easily access the daily fresh items while keeping the frozen items neatly tucked in the freezer drawer below.
French Door
French door fridges can give you a pantry-style look with two door openings, much like a cabinet. These particular fridges are aesthetically pleasing and have freezer drawers at the bottom. Not only do these give you a lot of space, but they also give you several storage options to store your edibles and drinks.
Side by Side
Side by side fridges come with two doors that open from the middle of the fridge and give you ample vertical storage. This is perfect if you have a food business to run. They have a larger storage capacity compared to French-door fridges and have adjustable shelves or baskets to meet your personalized needs. Moreover, they also house water and ice dispensers for ease of access.
Bar Fridges & Wine Coolers
Bar fridges and wine coolers are more stylish luxury replacements for traditional fridges solely used for drinks. They can add a nice decorative touch and impress your guests at the same time. This way you can neatly store all your beverages or alcoholic drinks away from the main fridge.
Features You Should Consider
Now that we've discussed the type of fridges you can buy, let's shed some light on some factors you should consider before purchasing your fridge.
Budget
How much are you willing to spend on a fridge? You must remember that a fridge is one of the most essential items that a kitchen can have. Without a fridge, you lose the ability to store food and keep it fresh.
Investing in a poor-quality fridge will give run just fine for a short while but can be heavy on the pocket in the long run. You may have to pay for several compressor repairs, leaks, whatnot. A top-quality fridge can be more beneficial for you in the long run as it is going to give you value for your money as time passes by.
The cost of a fridge will depend on the size and features it offers. Naturally, a small fridge with fewer features will cost less compared to one that offers ample space, storage options, and the latest features.
While purchasing essential appliances, it's best not to compromise on quality.
Usage
The second thing you should consider is your overall use. Of course, you'll be using your fridge every day, but how much do you depend on your fridge? Do you just want a fridge for day-to-day food and grocery? Or are you a full-time food influencer who likes to experiment with new recipes every day?
You may be a home catering service, or someone with a huge family, all of these factors are crucial to keeping in mind while choosing a fridge for your kitchen.
If you just want a small fridge for your shared bachelor flat, then a fancy French door unit may not be the most practical choice for you!
Space & Location
Other than budget and usage, it is essential to make a choice based on the amount of space you can designate for your fridge. If you are building a new kitchen then it may be easier for you to pre-plan a spot for your new fridge or freezer but if you are replacing an old fridge, then it is important to measure out the exact space so your new fridge can fit in easily.
Other than sizing, keep in mind the height, colour scheme (for aesthetic purposes), and electrical units to successfully install a new fridge in your kitchen.
Brand Quality & Warranty
Choosing the right manufacturer is incredibly important because it determines if the appliance will be valuable for you in the long run. Choose a brand that offers superior quality fridges with a warranty so that you can protect your payment if the fridge starts to falter in a few weeks or months.
Payment Plans & Interest
If you are thinking of purchasing a fridge on an instalment plan, make sure that you only trust services or retail stores that provide authentic payment methods. For example, choosing from the range of fridges with Gimmie can help you save yourself from hidden interest and fees, complicated terms, and irresponsible lending!
Wrapping Up
To put it simply, there are only a few things you should consider while purchasing a new fridge and those are budget, usage, space, and manufacturer. As long as you do your research and go with well-known superior quality product ranges, you'll be making a great investment for your kitchen space!
The Energy-Efficiency Advantages of Vinyl Window Replacement

Windows are more than just portals to the outside world; they play a significant role in determining the comfort and energy efficiency of your home. If you're looking to improve your home's energy efficiency, consider the advantages of vinyl window replacement. In this article, we'll... The post The Energy-Efficiency Advantages of Vinyl Window Replacement appeared […]