Trending yet timeless, Moroccan tiles provide the perfect solution to creating an inspiration design scheme that is filled with colour, character and texture. These elegant tiles continue to be handmade using traditional tile making techniques that have been passed on from generation to generation, offering a wonderfully earthy and warm touch in any design scheme. Exploring our range of traditional and modern Moroccan tiles, you will find a world of creative possibilities!
What are Moroccan Tiles?
The term 'Moroccan tile' broadly describes specific collections of tiles that are commonly handmade in Morocco and feature spectacularly vivid colours, sleek glazes, solid coloured options as well as intricate, ornate patterned options. More specifically, Moroccan tiles draw inspiration from the traditional art of Moroccan tile making referred to as Zellige. Zellige tiles are a type of mosaic tile art that uses hand chiselled colourful pieces of tile that are often set into a base of plaster and matches the sliding chosen by you. Each individual piece would vary in colour and be designed to fit together with the next tile to create a stunning geometric pattern in bright, deeply saturated colours.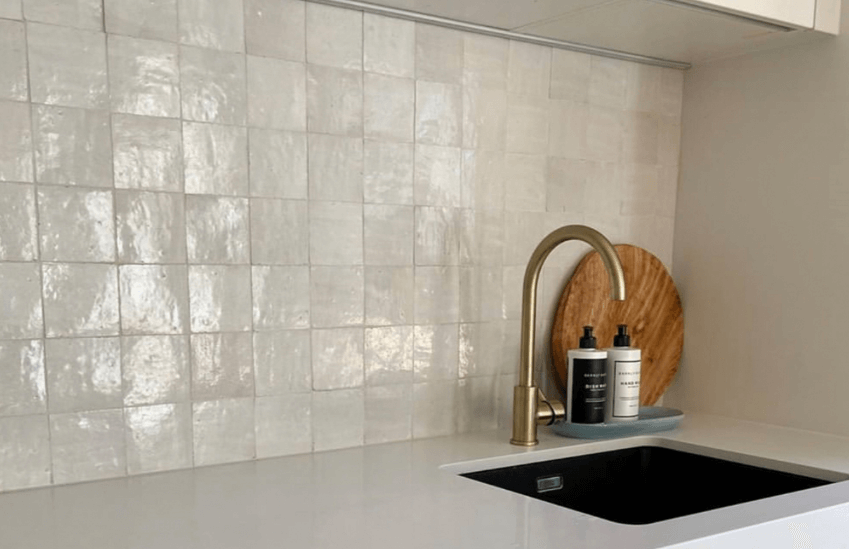 Caption: As a result of the handmade process, each individual Moroccan tile will vary from the next with slight variations in colour, texture and shape. You will find many exciting different styles available that include bright and bold colours or soft, pearlescent neutral tones, allowing you the creative freedom of selecting from an endless range of possibilities for your next project.
One of the most popular forms of Moroccan tiles are the glazed ceramics. These tiles are made using a combination of natural clay without lime or iron (as these can cause damage to the finished product) and water. Each tile is individually shaped, painted and glazed by hand and baked in a kiln to ensure a hard and durable finish.
You will find that some collections of handmade tiles will not include this glass-like baked on glaze; this raw finish is becoming increasingly popular thanks to the tactile matte surface that is especially attractive in nature inspired interior design schemes. It should be noted that glazed tiles will not require sealing as the body of the tile is protected as a result of the glazing process. Unglazed tiles however can be more sensitive and will require sealing to ensure their longevity. These tiles will also require special treatment prior to laying in order to avoid staining or marking as a result of tile adhesives and grouts.
Caption: Bursting with character and earthy charm, traditional terracotta tiles can be sourced in an endless range of shapes and styles. Unlike glazed ceramic handmade tiles, most terracotta tiles can be used as a floor finish, providing a wonderfully hard wearing and durable surface finish for the home.
This traditional tile craft continues to be practiced, with authentic Moroccan or Zellige tiles being a well sought after design solution for the home thanks to their bright colours, energetic patterns and of course, the warmth and elegance that can only be created in a space with a lovingly handmade finish! Moroccan tiles are available in a range of earthy materials, textures, colours and shapes and offer the ultimate in creativity to add a personal touch to your design scheme.
Moroccan Tiles in the Home & Outdoors
Moroccan tile wall or floor options for the home can provide your interior design scheme with a wonderfully earthy touch that captivates the senses and makes for a tranquil atmosphere. Traditionally handmade Moroccan tiles will feature an organic, undulating surface finish where the tile has been shaped and modelled by hand. This luscious finish makes for a wonderfully rippled look, similar to that of rippling water making it the perfect choice for a nature inspired design scheme that is truly timeless.
Whether you choose to include Moroccan tiles in the bathroom to create a stunning feature wall or as a kitchen splashback tile, Moroccan tiles provide a luxurious and classic look that can be paired with just about any style of interior. Ultra-modern design schemes for example, will benefit from the burst of colour and texture that these stylish tiles will provide while more traditionally styled homes will benefit from a classic and cosy touch that will complement a range of materials. Outdoor spaces such as pool or alfresco areas can include Moroccan tiles as a decorative touch. Your Designer will recommend options that are suitable for outdoor environments to ensure the best result in your new outdoor design scheme however, many options of Moroccan tiles can be used as outdoor feature wall options to help bring life to your outdoor spaces. Outdoor patios and other covered areas can also include Moroccan tiles; there are many porcelain floor tile options that perfectly replicate the classic, rich ornate patterns most often seen in traditional Moroccan styles, allowing you to include an exciting and colourful feature in your outdoor walkways.
Celebrating Imperfections
As with any handmade product, authentic Moroccan tiles will show some variations in colour, shape and texture that when combined and laid will create a luscious patchwork effect. These variations are not faults in the tiles but rather a celebration of the unique qualities of a traditionally hand crafted product. Variations will also occur in the glaze and depth of colour of each individual tile, once again enhancing the finished product's character.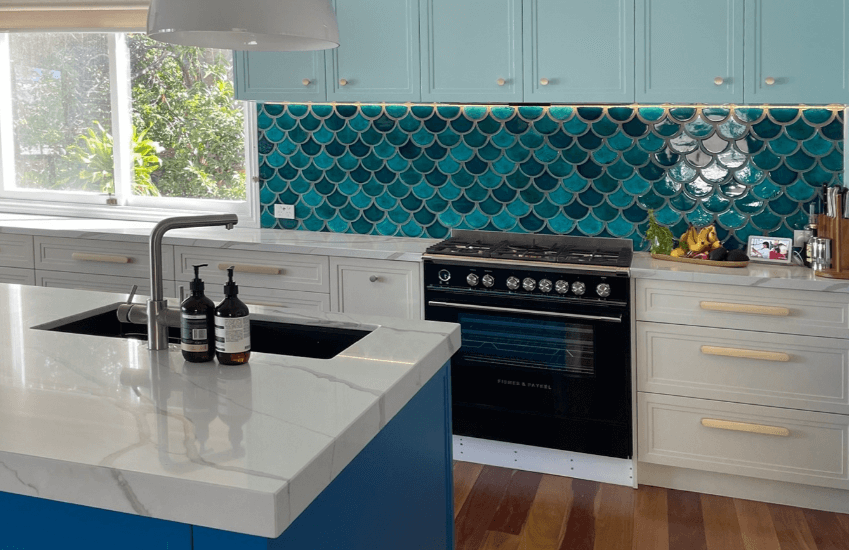 As demonstrated in this coastal inspired kitchen, handmade tiles will show a luxurious variation in colour that when combined, will create a stunning effect in the home. Another benefit of ordering from handmade tile collections is that many specialised tile stores will also offer customised experiences where you are able to choose the exact colour and unique shape of your new tiles, creating a piece that is truly unique to your project.
Moroccan tiles (or Zellige tiles) provide a warm and elegant touch to any space, whether they are used to add a touch of colour and pattern to the kitchen or bathroom or even in outdoor settings. These exciting tiles have long been made using traditional techniques to achieve a timeless touch that will truly stand the test of time!
The Energy-Efficiency Advantages of Vinyl Window Replacement

Windows are more than just portals to the outside world; they play a significant role in determining the comfort and energy efficiency of your home. If you're looking to improve your home's energy efficiency, consider the advantages of vinyl window replacement. In this article, we'll... The post The Energy-Efficiency Advantages of Vinyl Window Replacement appeared […]