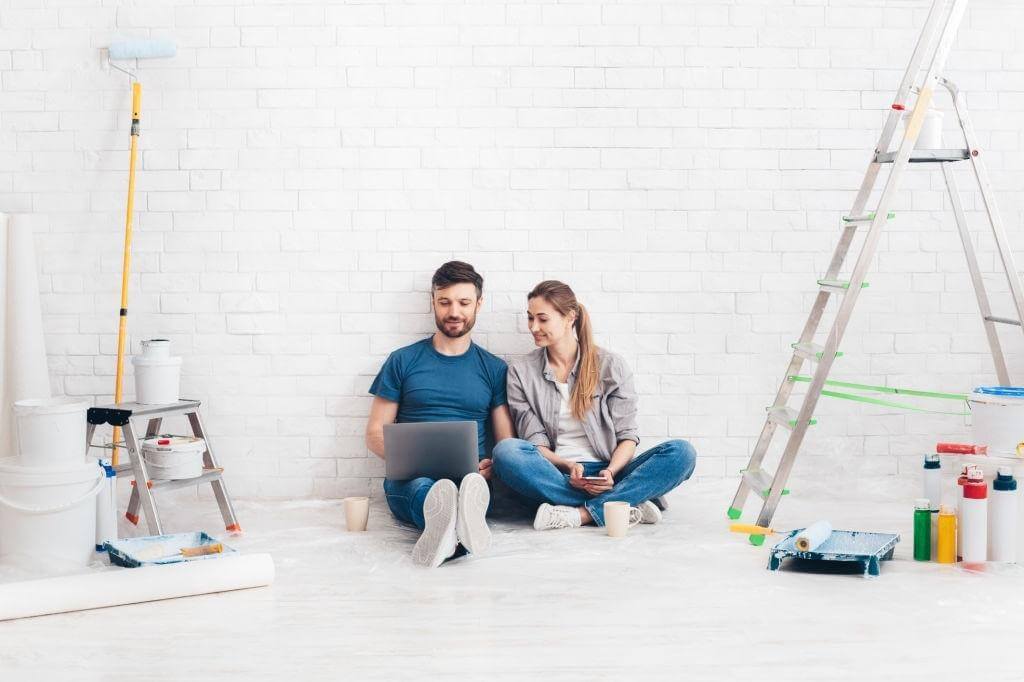 A house is a cocoon of comfort. Your house is a place where you raise a family, build memories and feel safe in. So, it is important that your house reflects your personality, your style and how you perceive material. Keeping that in mind while remodeling it, will save your time and help you to plan ahead. It is crucial that you choose every color, every curtain, and every window of your house according to your preference, because at the end of the day, it is you who is going to inhabit the place.
Are you planning to remodel your house, but couldn't find a proper guide? Only you know your house and choice well, so DIY remodel your house. Here you will get different ideas on how you can remodel your house and its entire interior. DIY projects usually don't cost much and in order to remodel your house, don't buy the cheapest stuff, you can go for quality second hand things. As far as windows are concerned, you must use plexiglass for a clear and protective view and it's affordable too.
Make sure that before remodeling your house, you plan everything properly. Measure all the spaces, curtains and areas for accuracy and check the areas properly where you need alterations. This way you can easily purchase furniture and it will help a lot to plan where to adjust everything, right according to the space available.

Do not approach fancy online trends!
Remodeling is something you want to do after every few months. So, spending on expensive things like adding extra elements in your bathroom or kitchen is not common sense, you should prefer to stay on a fixed budget and then rearrange furniture and other articles of your house. You can DIY paint your house, you know it's quite fun and saves money.
Try to keep yourself at bay from such online trends that create temporary urges. Because, there is a possibility that you fall in love with such trends and invest in expensive, chic trendy pieces, and end up getting bored of them in a few months. It's not recommended at all. The safe way to deal with such trends is, to wait and check whether it's in your budget or not. If it doesn't come in your budget then forget it and create your own idea and theme to remodel your house.
How to occupy every space with zest while remodeling?
Every space, every little corner is worth it, if you decorate it properly. It is important that you seek every space and every corner of the house, whether it needs remodeling or not! It will help you to plan properly and renovate every single corner by sticking to the fixed budget.
If you are planning to decorate your foyer, make sure that it is attractive and matches the entire theme of your house. Because a foyer is the main entryway, so it will leave a huge impact on every guest. You can replace your hall doorway or its windows with plexiglass windows. It gives an image of great space and lightens up the hallway with natural light!
7 simple, easy and unique remodeling hacks- stick to the budget!
Make sure to add molding over the windows!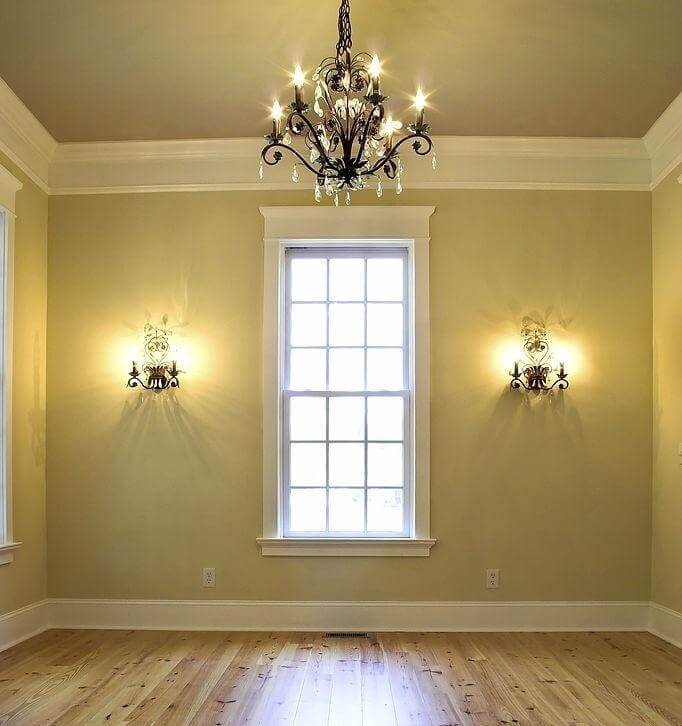 Adding molding over the windows gives them a lot of character. Your house starts appearing spacious and stylish with more magnitude! It's the most recommended hack for people who have small spaces. The more wider molding will create more spacious rooms. Go for cement or ply wood molding in order to save extra expense. You can paint them according to your favorite color scheme!
Always choose a soft color scheme for walls!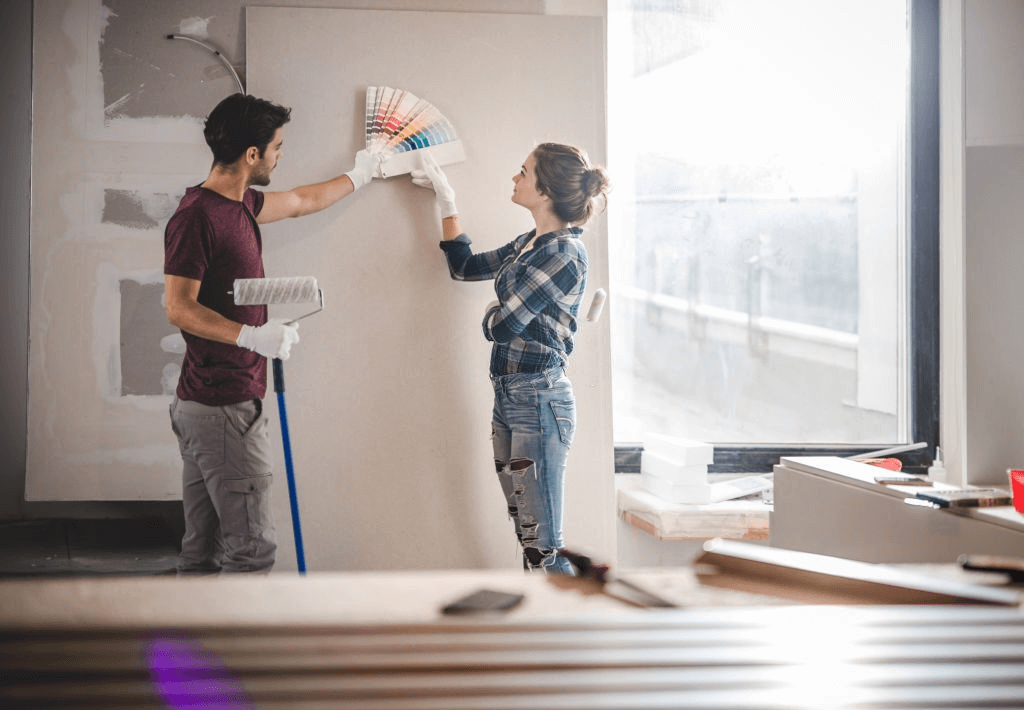 Choosing paint color for a house is very difficult sometimes, but once you have selected a specific theme then painting the entire house becomes more convenient. That's totally your choice, which color you prefer for your house, but for small areas, always go for soft or neutral colors. The reason is, these colors reflect natural light more than any other color. Also, soft colors will give your house a warm and cozy look.
For coloring your entire house on a budget, we recommend going DIY for this project. As it will save you from spending additional money and painting your own house gives satisfaction.
Create a tone of colors in curtains- for classy outlook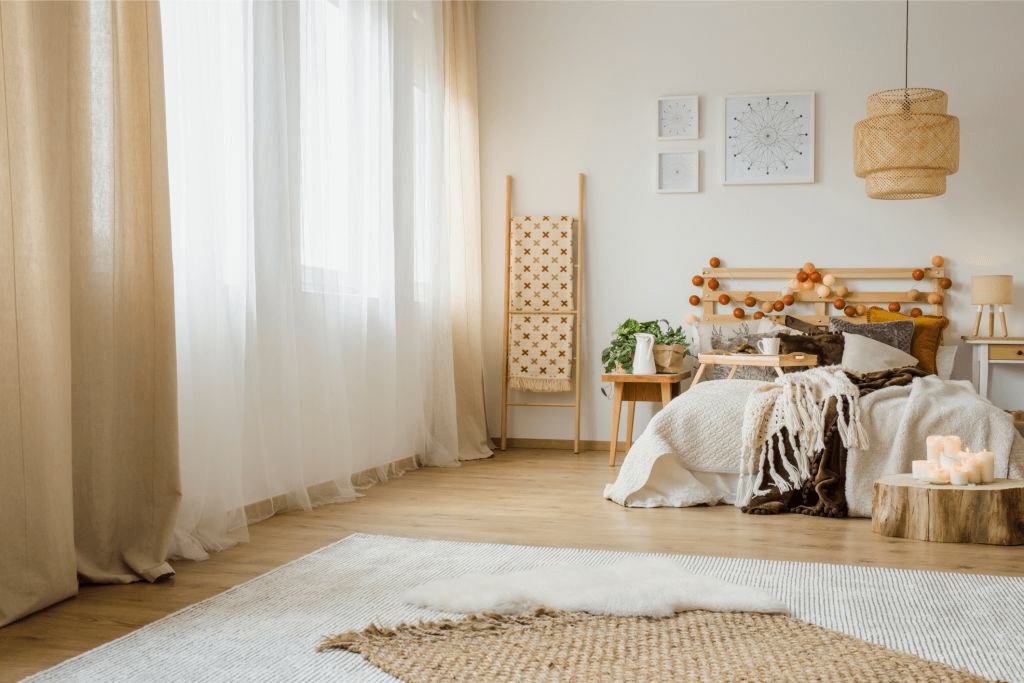 Do not buy luxurious or expensive curtains, you can make your curtains worth it by this simple trick. Expensive curtains are not attractive, always, you can select 2 to 3 colors for your curtains according to your theme and DIY arrange them. Having a brighter to a lighter tone in curtains makes them more luxurious and classier rather than buying expensive curtains.
Additional tip: Another thing is, if you own a small house or apartment, always hang your curtains a little higher than usual. This is the best hack to make your house look more aligned and spacious. It creates an illusion of huge walls with great space.
Replace old furniture- invest in second-hand sofas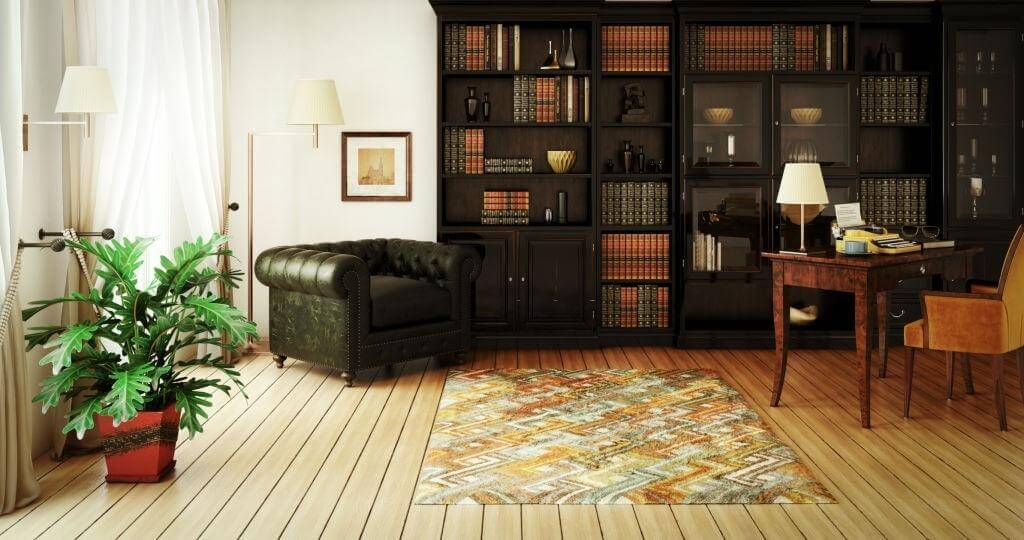 We do so much to save, we have started looking for alternatives to Netflix and Prime Video. Why don't we apply same to the Furniture? Do not buy new furniture, prefer to buy second-hand, quality and good material furniture. Search trusted markets near your area from where you can replace your old articles of furniture with second hand items. It will not only save money but give quality and more items at an affordable cost.
Use Plexiglas- it's affordable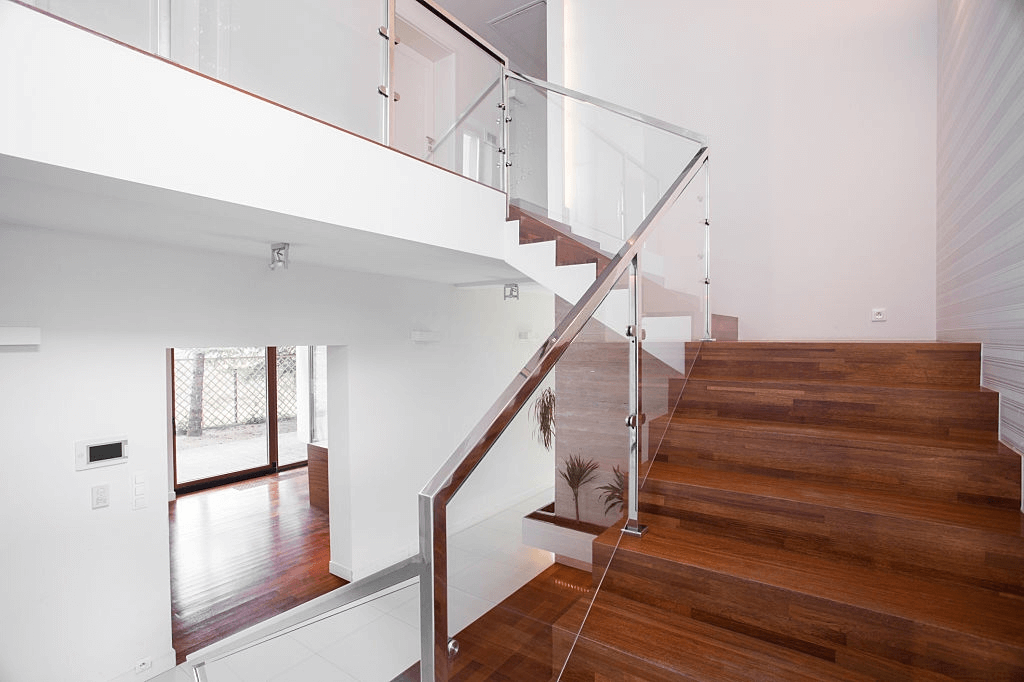 Plexiglas is an acrylic glass sheet which gives the same look as glass. It is similar to polycarbonate glass however its more clean and stronger. As we have discussed that you should go for plexiglass or acrylic glass sheets because they add more beauty and classy touch. If you compare, plexiglass is far more affordable and clear than tempered glass. Although tempered glass is stronger because of advanced manufacturing process and makes it a little bit more costly than plexiglass. Also, plexiglass doesn't collect much dirt, and cannot be broken easily. It can be used as glass railing, glass shelves, painting frames and much more! They are an excellent substitute for regular glass. Check out quality and affordable plexiglass here.
Add more mirrors, create more space!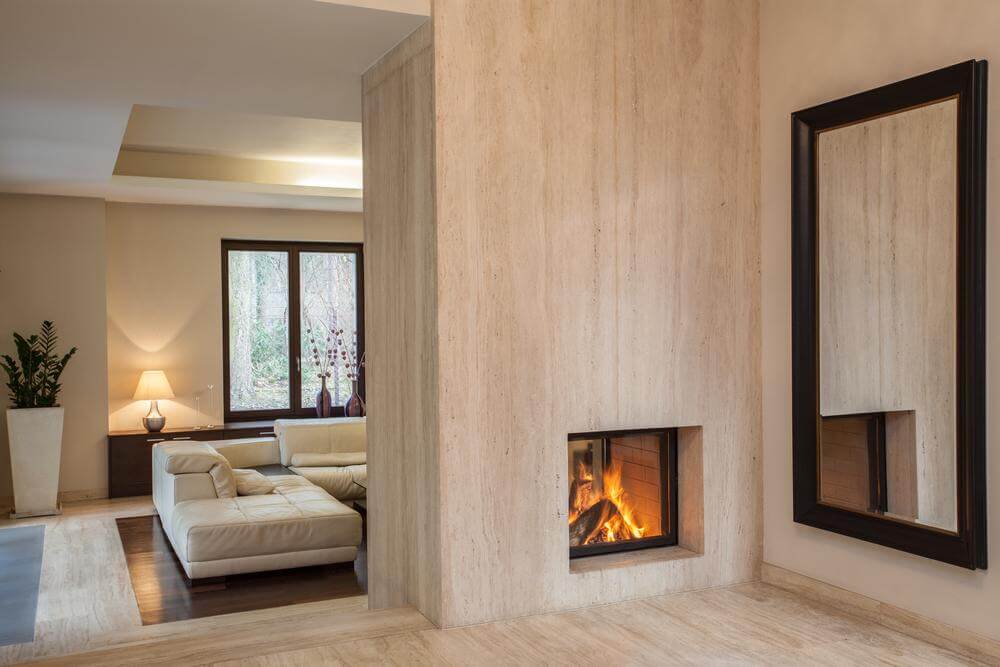 You don't need to rush for making more stores, if you run out of budget, you can create a sense of spacious house by adding mirrors. By adding mirrors, you can trick anyone. The excellent property of mirrors to reflect will make your house look great, illuminated and spacious.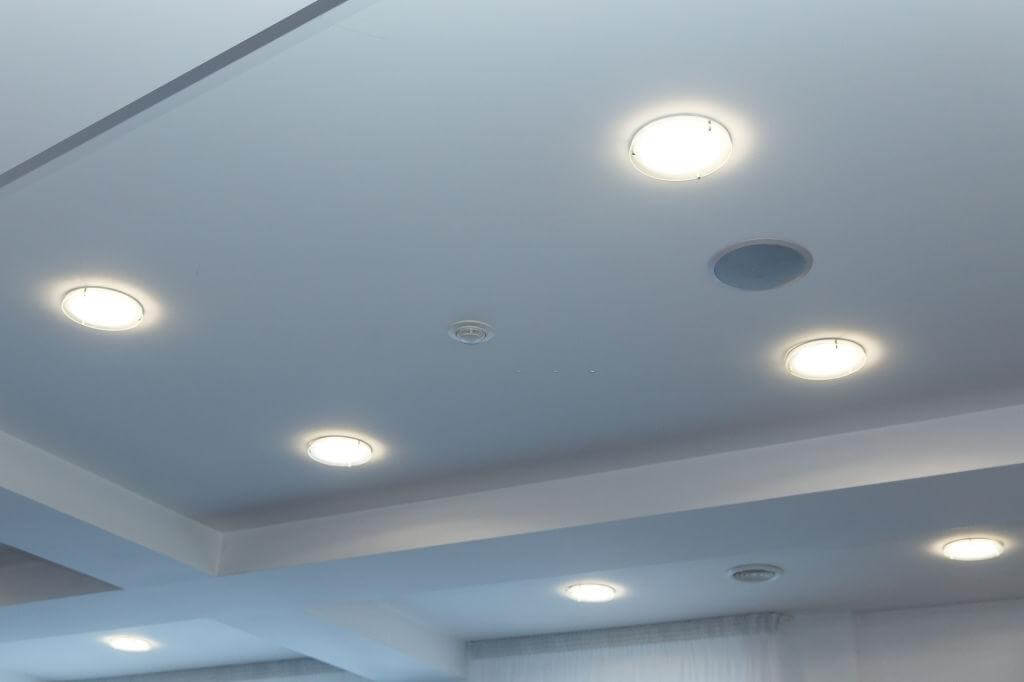 Either you have loaded your house with a lot of stuff or decorated it with just basic and necessary items, if it's dark nothing will be attractive. By adding more lights, the space would look well decorated and chic. Lights always add beauty to anything!
Wrapping up!
Keep your personal preference on top of the list while remodeling your house. Never rush for expensive things as they can't satisfy you every time. DIY remodel your house on a budget with this easy-to-follow guide. You can renovate your house by replacing old items, renewing your paint, installing plexiglass windows and much more. All you have to do is to stick to the budget. Renew your house and give it a new, chic and sleek look by following the simple seven hacks.
The Energy-Efficiency Advantages of Vinyl Window Replacement

Windows are more than just portals to the outside world; they play a significant role in determining the comfort and energy efficiency of your home. If you're looking to improve your home's energy efficiency, consider the advantages of vinyl window replacement. In this article, we'll... The post The Energy-Efficiency Advantages of Vinyl Window Replacement appeared […]