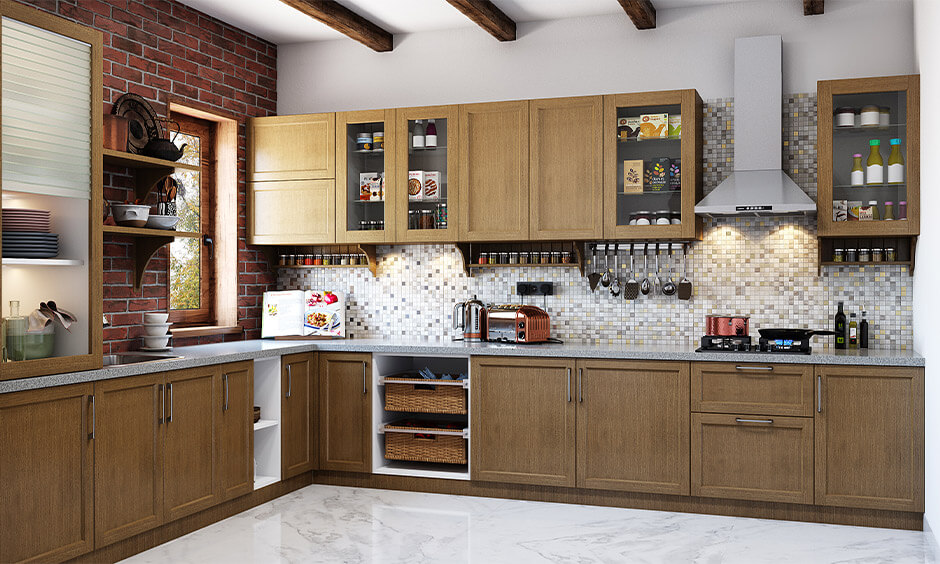 Whenever it's time for a house refresh, the cabinets get a lot of attention. If your current cabinets are old or the paint doesn't look as good anymore, you are surely considering getting something new. Most homeowners play it safe with less intense colors, while others settle for bolder colors.
It's easy to change the atmosphere in your bathroom or kitchen with new cabinet colors, but what shades should you go for? We're here to help, so here are the latest cabinet color trends you should look into.
1. Black
Black seems a bit extreme, particularly if you've only had white or light-colored cabinets in the past. But black is becoming more popular for cabinet colors, and, likely, this trend is here to stay.
"Black cabinets are still very popular, and I believe the popularity will continue to rise as more millennials begin to purchase and/or renovate their homes," says Bianca Betancourt, FORM design team lead.
Black cabinets are great because they can be paired with different colors, and they especially look good with light-colored walls.
2. Earthy Green
You cannot overlook green when it comes to cabinet colors, especially if you are looking for something that fits perfectly in your bathroom. While light green shades seemed to be at the top of people's lists, heavy earthy dark shades of green have gained more traction in recent years, both for bathrooms and kitchens.
For the most part, this color suits large kitchens, but it also works well in smaller rooms, so you shouldn't hesitate to try it out.
3. Buttery Yellow
Yellow is not everyone's cup of tea, but if you choose just the right shade, it can make the kitchen feel more welcoming. Yellow cabinets have the power to warm up the space and improve lighting. On top of that, it is great when you want to sprinkle some color in the room without going too crazy with it.
4. Dark Blue
Lots of people love blue and think of creative ways to incorporate it into their homes. Well, you can do this easily by choosing blue cabinets. The good news is that you don't have to limit yourself to lighter shades of blue. Dark blue can make a huge impact, whether you choose it for your kitchen cabinets.
"Blue is still a hot color, a strong navy base color with major impact," says Kathryn Lott, lead creative and owner of Kathryn Lott Design.
With dark blue, you will be able to make other elements in your kitchen stand out. Not only can it be great when you want different fixtures and finishes to pop, but it will also be a timeless color that works well with various other hues.
5. White
White will undoubtedly remain the classic choice for cabinets, as it simply works too well with other shades and just looks great in any room. White is also extremely versatile. For instance, you can make the cabinets look more traditional or more modern, depending on what look you are going for when it comes to your kitchen or bathroom.
On top of that, white remains a popular choice for small rooms in particular, because it creates the illusion of more space and makes the areas look brighter.
6. Dual-Tone
Isn't it better to be able to take advantage of two colors instead of one? Dual-tone cabinets can do just that. Lately, these cabinets have been on the rise. Many people choose to have black and white cabinets, while others mix other colors as well.
But you have to be careful with these, especially in your kitchen. For instance, some people choose different colors for their upper and base cabinets, and if the shades don't match, they can look out of place, making the room look too busy.
The Bottom Line
There are many trends you should try out when it comes to cabinet colors. It depends on you and your preferences whether you settle for the classic white or go with a more drastic change like black cabinets. Spend some time researching these trending colors and see which one matches your current design and the overall theme in the room.
Homeowners Guide to Black Mold Removal in Toronto

Learning that you may need black mold removal can be outright scary for many homeowners. Black mold is also known as toxic mold, which has been portrayed in the media as a threat to people, animals, and children. The truth about black mold is a... The post Homeowners Guide to Black Mold Removal in Toronto […]