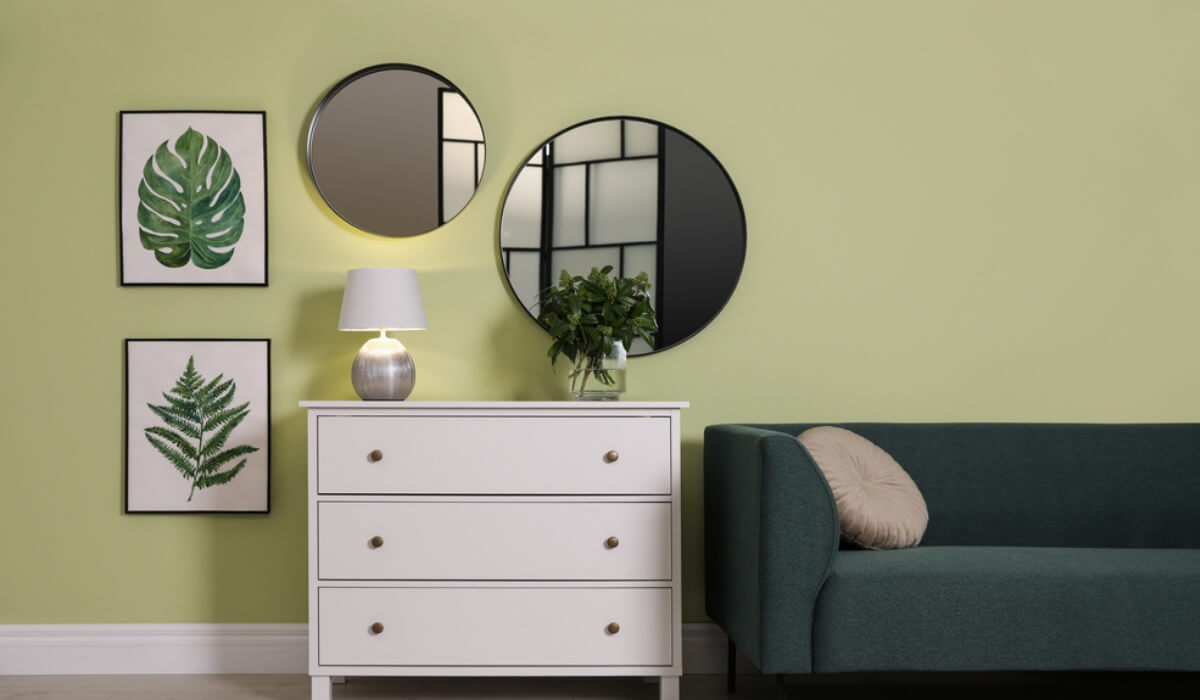 Sometimes it's challenging to find the right place to hang a mirror in your home, but there are many options! You can mark a wall or door with a well-placed mirror, put one on your fireplace mantel, or choose to use two or three mirrors to create an elaborate effect. This article will show you some of our favorite ways to decorate your home with mirrors.
Why Put Mirrors in Your Home
There are many reasons to put mirrors in your home. Mirrors can make a room look brighter and more spacious. They can also be used to add a decorative touch to your home. Here are some tips on how to use mirrors to decorate your home:
1. Hang a mirror in a bright room to reflect light and make the space look bigger.
2. Use mirrors to create an optical illusion in a small room. For example, hang a mirror opposite a window to make the room appear more open.
3. Decorate with mirrors of different shapes and sizes to add interest to a room.
4. Place a mirror behind a piece of furniture to give the illusion of more space.
5. Hang several mirrors in a row to create a dramatic effect.
Putting mirrors in your home is easy to add style and functionality. With these tips, you can create beautiful, reflective spaces that are both practical and visually appealing.
Different Types of Mirrors
Many different types of mirrors can be used to decorate your home. Here are a few ideas to get you started:
1. Wall mirrors – These can be hung in any room to provide the appearance of additional space. You can choose one that matches your style because they are available in a variety of sizes and forms.
2. Floor mirrors – These free-standing mirrors can be placed in any room to add depth and light. Some floor mirrors even have storage features to keep things like jewelry or other small items neatly out of sight.
3. Vanity mirrors – These are perfect for bedrooms or bathrooms. They can be hung on the wall or placed on a vanity table. Vanity mirrors usually have lights around them, so you can get a better view when you're getting ready for your day.
4. Accent mirrors – These are smaller mirrors that can add visual interest to any room. They come in fun shapes and designs, so you can let your personality shine through when choosing one for your home.
5. Personalized mirrors – Custom LED Mirrors are available from InYouths. They include mirrors with LED front lights, mirrors with backlights, bluetooth smart mirrors, framed or frameless mirrors, mirrors with makeup accessories, and mirrors in a variety of forms and colors.
How to Choose a Spot For a Mirror
When it comes to mirrors, one of the most important things to keep in mind is placement. A mirror can brighten up a space and make it feel bigger, but only if placed in the right spot. Here are a few tips on how to choose a spot for your mirror:
-Consider the height of the mirror. You don't want it to be too low or too high. A good rule of thumb is to place the mirror at eye level.
-Think about the purpose of the mirror. If you want it to reflect light, place it near a window. If you want it to be more of a decorative piece, then consider hanging it above a fireplace or console table.
– Take into account the size of the room and the size of the mirror. A good rule of thumb is to choose a mirror about two-thirds the width of the furniture piece it will be hung above.
Tips for Hanging a Mirror
If you're looking for a way to add a little extra light and style to your home, consider hanging a mirror. Mirrors are not only great for reflecting light but they can also be used to create the illusion of more space. Here are a few tips for hanging mirrors in your home:
1. Choose the right size mirror for the space.
2. Consider the placement of the mirror.
3. Make sure the mirror is securely hung.
4. Use mirrors to enhance your decor.
Conclusion
With creativity, you can use mirrors to create an illusion of space, make a small room look larger, or add interest to an otherwise bland wall.
Write for us
HeckHome does not necessarily share views expressed by opinion writers and advertisers. HeckHome regularly invites Bloggers across the World to write for us in order to present their creative ideas.
The Energy-Efficiency Advantages of Vinyl Window Replacement

Windows are more than just portals to the outside world; they play a significant role in determining the comfort and energy efficiency of your home. If you're looking to improve your home's energy efficiency, consider the advantages of vinyl window replacement. In this article, we'll... The post The Energy-Efficiency Advantages of Vinyl Window Replacement appeared […]