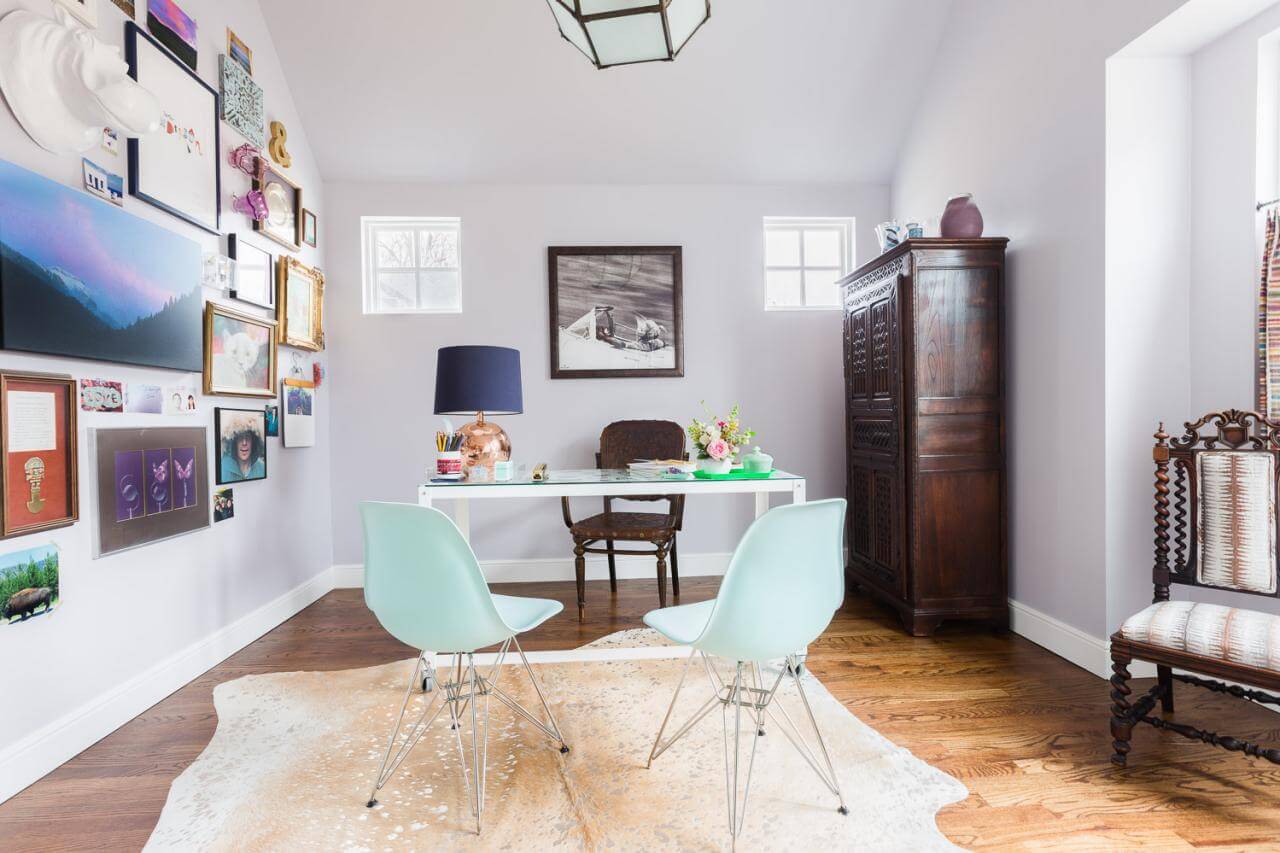 Because so many people work from home these days, designers may be at a loss for how to design a modern home office.
The home office may come in a variety of styles and sizes. Homeowners want to create a productive, comfortable, and beautiful work environment in their little space. A well-organized workstation, whether in a spare room, the living room, or the bedroom, is essential for optimal efficiency. Designing an efficient, modern home office requires careful planning to strike the ideal balance of trendy and practical. The finished result should have the aesthetic and comfort of a home as well as the functioning of a professional workplace.
Here are some pointers to help you design the best home office for your client with the help of floor plan apps.
It's all about placement.
The most obvious option for a home office is a spare room. Your customer will desire privacy for their workplace, whether it's upstairs or below. A spare room in a shared or family house gives a closed-door, which may be quite helpful. An vacant room may be filled with more office equipment, including desks and chairs made specifically for comfort and productivity.
On the kitchen countertop to keep your order from the big basket or at the breakfast bar, an impromptu home office is common. If a client's kitchen is large enough, a more permanent solution may be possible. Workstations can be built from empty storage space. Keep the kitchen workspace close to the wall and out of the way of typical kitchen activities.
The living room might be an excellent choice for customers who thrive in a more chaotic work environment. Keeping the workplace as near to the wall as possible, like in the kitchen, allows the area to accomplish both functions. There are some wonderful stable desks and other furniture available for this purpose.
The bedroom may be a nice match for some consumers, but it's preferable to keep this section distinct for personal leisure. If you want to use your bedroom as an office, make it small and unobtrusive.
The Simplest Is the Best
We appreciate simplicity in a modern home office. Because there will be a lot to remember, keep the furniture basic to reduce clutter. Printers, fax machines, copy paper, folders, books, and other objects that take up valuable desk space should be kept on shelves.
A home office desk should ideally include only a few permanent inhabitants, such as a computer and a working light. This will make room for a clutter-free, productive work surface.
Airy and light
Lighting is critical when it comes to productivity. Aside from proper overhead and desk lighting, positioning a home office near a window will give enough of natural light throughout the day. A lovely view will also add to your client's satisfaction and peace of mind. When it comes to getting through the workday, being able to open the window for some fresh air may make or break it. Plants are also an excellent addition to any workstation. Green plants add a splash of color while lowering stress and creating oxygen.
Let's get this celebration going!
Connectivity is essential for an effective remote workstation. In order for the client to work efficiently and successfully, a strong signal should always be accessible in a contemporary home office. To do this, keep the Wi-Fi router's position in mind at all times. If the office is on the opposite side of the house or on a different level, talk to your customer about utilizing a Wi-Fi extension or an additional router.
Having a Great Time
Last but not least, although by no means least. A comfy chair that complements the style and tone of the rest of the house will make all the difference in the home office. Ergonomic home office chairs come in a variety of shapes and sizes.
When it comes to office chairs, the user's comfort and health come first, but there's no reason it can't also add a little flair and substance to the room. Standing alternatives or kneeling seats can also be used to create a back-friendly workstation.
Ergonomics is an essential consideration in the design stage, as it is in the kitchen, another residential work space. When it comes to home office furniture, keep your well-being in mind at all times.
The Energy-Efficiency Advantages of Vinyl Window Replacement

Windows are more than just portals to the outside world; they play a significant role in determining the comfort and energy efficiency of your home. If you're looking to improve your home's energy efficiency, consider the advantages of vinyl window replacement. In this article, we'll... The post The Energy-Efficiency Advantages of Vinyl Window Replacement appeared […]