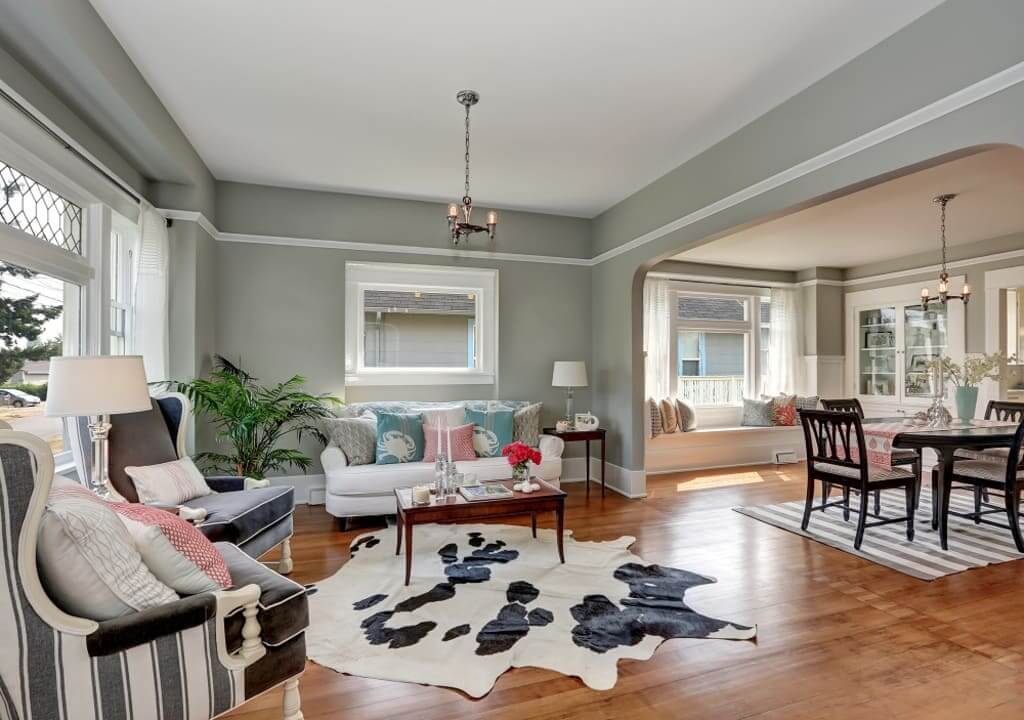 One of the best things you can do for your home decor is to add a cowhide rug if you haven't already done so. The popularity of these carpets has steadily increased over the last several years, and we don't think they will fall in their popularity any time soon.
In addition to being a gorgeous and one-of-a-kind addition to any home, cowhide rugs have some added benefits you maybe didn't think about. So, if you still need some convincing, here are some reasons to integrate a cowhide rug into your accessory artillery.
You don't have to vacuum them
If you're a busy person who never has time to vacuum their carpets but loves the look of nicely covered floors, adding a beautiful cowhide rug to any of your rooms is perfect for you. Cowhide rug designers actually advise you not to vacuum them since the vacuum pull may damage the natural hairs.
This of course doesn't mean that these rugs don't require any care, just that the upkeep is much easier. You can just take them outside and shake them well so that all the tiny dust particles fall out and you're done!
They're great for allergies
Allergy sufferers among you will adore these carpets since they are quite special due to the special hair follicles. In a typical rug, the fibers are firmly woven together so that dust mites easily get ensnared and wreak chaos for those who have troubles with allergies.
Dust mite allergies are more common than you think – over 400 million people can't handle them. Even if you don't suffer from dusty carpets, your guests may. Cowhide rugs are a simple answer to this problem. You don't have to worry that your carpets will be an issue to any of your friends or family, even if you haven't done any vacuuming recently.
They're very versatile
Cowhide rugs are underestimated in terms of their versatility. They are sure to make your toes feel comfy throughout the winter months thanks to their plush, cozy feel. They're not only great for extra warmth like a regular rug, though. They may also be utilized as a thick throw blanket in many circumstances.
As an alternative, they may be draped over a chair or sofa or even a bed, just to add to the decor. So, if you're creative enough, you may get some fresh ideas for incorporating a cowhide rug into your interior design!
They are long-lasting
These rugs may survive for decades if cared for properly. Due to the quality of the hide and hair, these rugs will last much longer than ordinary rugs. You don't have to worry about them wearing off or the hair falling out of them.
Of course, you will have to make sure you get a genuine quality piece! Also, cowhide rugs generally have a great grip on the floor so you don't have to worry about it sliding all over the place, unlike the regular rugs.
They're unique
One of the advantages of getting a cowhide rug is that it has a unique beauty to it. They come in a wide variety of colors and patterns since they are manufactured from genuine cowhide, and each one is special. Some have a deep, chocolaty black tint that ranges from brilliant white to rich browns. As a result, they may be used as an accent piece or as part of a room's overall design.
What is also great is that since their neutral colors, they fit amazingly with a wide variety of decor. You don't have to worry about it looking out of place in your rooms decorated in a rustic style. On the other hand, if your friend is thinking about going more industrial with their interior, a cowhide rug will fit into that style wonderfully as well.
The Energy-Efficiency Advantages of Vinyl Window Replacement

Windows are more than just portals to the outside world; they play a significant role in determining the comfort and energy efficiency of your home. If you're looking to improve your home's energy efficiency, consider the advantages of vinyl window replacement. In this article, we'll... The post The Energy-Efficiency Advantages of Vinyl Window Replacement appeared […]