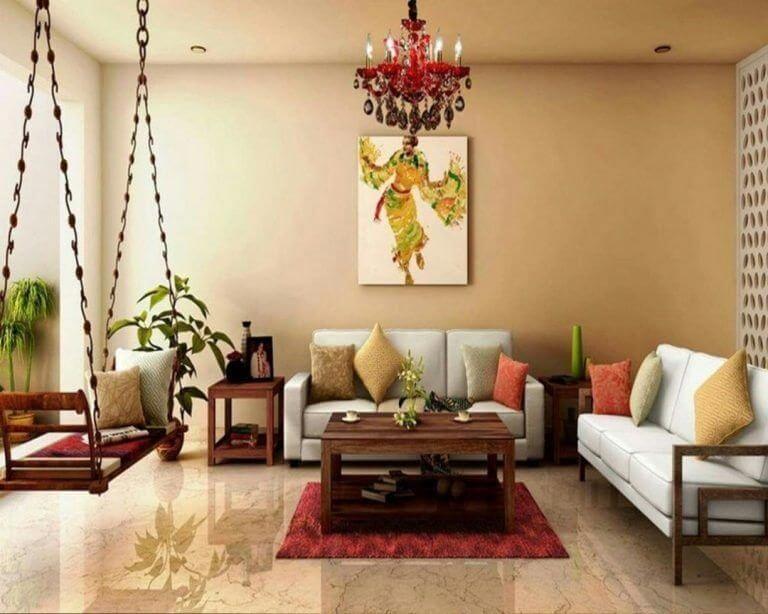 For most of us, the living room is our go-to place. It is where we relax, entertain, drink coffee every morning and red wine every night. It's one place in a home where we love to eat dinner off a tray and stay up all night cuddled in a love-seat bingeing on boxsets. The living room is also one of the most frequently used spaces in a home, so it needs to look stylish, welcoming, and stand up well to daily activities. When you plan to create such a liveable place, it may seem like a big project, but it doesn't have to cost you a fortune.  If you are working around a tight budget, the ploy is to find cheap room décor and inexpensive living room furniture that ultimately delivers style. Once you invest in a few affordable room décor pieces, bringing together your living room at a substantial cost will be pretty straightforward.
To get started, try out a few tweaks in color scheme – if not for the entire living room, an accent wall is a must. Invest in cool and cheap room décor accessories or try moving around furniture to create a new seating layout – this will make a massive difference without giving a big hit to your budget.
So, looking for living room ideas on a budget? Take a look at these cheap room décor ideas to give your space an affordable makeover.
Employ natural elements into your space: Plants are an easy win to add to your design collection. Start by adding a sculptural element to the living room – it can either be a potted plant placed at the center of your coffee table to serve as a centerpiece, or you can fill that empty nook with a boho hanging plant. To spruce up the natural freshness in your living room, opt for interesting leaf shapes and colorful foliage that tend to bring a little extra color to space.  You can also infuse natural grasses or dried stems into a vase and add them to your living space – a simple, cool cheap room décor.
Get your living room personalized: We all love the idea of a personal touch in the living room. Start by incorporating items that reflect your travels, hobbies, and cherished memories that make your space feel special. Wake up the walls in your living room by adding a gallery of ancestral portraits, world map wall art representing your must-visit places, and photo collages of family and friends. If you love the idea of art – abstract prints in varied hues should steal the deal and if your mind is looking for something unique – turn to family heirlooms, hand-me-downs, or thrifted items to keep your room décor ideas on a budget.
Opt for fun vintage décor: Adding vintage elements to your living room space is a brilliant inexpensive room décor idea. Search flea markets, antique shops, and thrift stores to find what you're looking for. You can also save on budget if you consider repurposing items distinctively to create functional furnishings in vintage style. For example: cut down a farm table's legs to craft a coffee table, employ an antique ladder to store and display throw blankets, use a vintage trunk to hold toys, games or provide an extra seating option, and move in wicker laundry baskets to hold magazines and favorite reads.
Heard of DIY: If you have an artistic hand, paint a DIY canvas art for an affordable room decor. Buy blank canvases that you can paint and place prominently above a fire mantel or sofa, to instantly bring character to space. Using paints in your favorite hues, brush on various cool geometric shapes or simply splatter colors at random for a contemporary composition in the living room. If you prefer art that's less abstract, you can use the canvases as bases for painted images, stenciled motifs, or collages created from crafting relics. If you love the idea of recycling , then here are a stack of DIY budget room décor ideas you can steal. ( old-blog: 5 Brilliant Recycling Ideas for DIY Home Decor Projects)
Rugs to the rescue: Use simple, inexpensive area rugs to anchor the living room's furniture. Layer smaller rugs to define conversational seating arrangements or activity areas in the living room. Rag rugs, jute rugs, Persian rugs, sheepskin rugs – more-is-more seems to be the rule, so layer up to make your living room feel cozy and comfortable, and most important stylish without going over the budget. Remember to mix up textures, colors, and patterns to add interest to space.
Get the right storage furniture: If your space is compact and small, make your living room decor expand its storage capacity – instead of taking up precious space. Opt for inexpensive living room furniture like storage coffee tables with drawers to lift-top designs, day sofas that can double as night-time beds, and bookshelves that can turn into a workstation. Small home decor like subscription boxes are also a great idea if you are looking for a more neat look for your living room, you can check this link for more information: https://mitchalleninteriors.com/collections/shop-decor-boxes
Give life to your love-seat: Looking to add texture and character to your love-seat or sectional in the living room? Well, you can start by changing out your throw pillows. Mix in pillows, get some sofa accessory styling and throws in a variety of hues and prints to create visual interest and texture to space. This cheap home interior idea will result in – same room, same sofa but a brand-new look. Exciting, isn't it?
Mirror up your space: Mirrors can instantly transform any space in a home. It is a simple yet effective piece that invites the natural light in, making the room appear spacious and brighter. If you're struggling with what artwork or accessories to place over the fire mantel – go no further; an oversized mirror takes the guesswork out of decorating — standing by itself or paired easily with a multitude of decor styles.
Homeowners Guide to Black Mold Removal in Toronto

Learning that you may need black mold removal can be outright scary for many homeowners. Black mold is also known as toxic mold, which has been portrayed in the media as a threat to people, animals, and children. The truth about black mold is a... The post Homeowners Guide to Black Mold Removal in Toronto […]