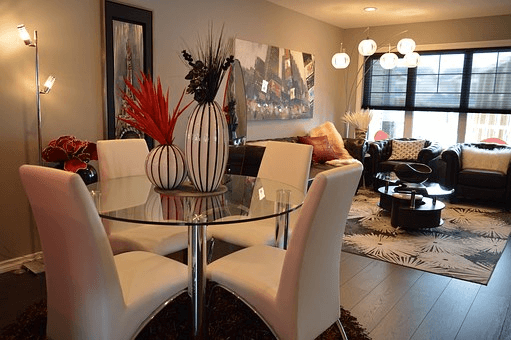 The dining area is among the most commonly used rooms in a home, and it's the ideal space for having your meals as a family or catching up with friends as you bond or discuss crucial matters. The furniture you choose for your dining area will determine whether or not you get maximum comfort and functionality. For this reason, it pays to take the time to look around before making the choice. There are so many options out there, so selecting the best furniture can be overwhelming. To make the process less daunting for you, here are four tips you can use when choosing dining room furniture.
1. Size
This is the most vital aspect to consider. How much space do you have? How many people use your dining area? Do you need room for guests? Do I need space-saving options? When you go shopping without considering these, you may buy a set that isn't practical for your home situation. Decide beforehand on the preferred height to avoid being confused.
2. Style
You don't want dining furniture that will look out of place in your home. Before making a purchase, you should consider your interior design. This ranges from the design used and the shape of the room. You have to evaluate if you are going for the vintage, look, traditional, or modern sleek look. This will make your furniture not appear out of place. The shape of your room should guide you on whether to get an oval, square, or rectangular table. This ensures that the chosen shape doesn't look awkward in the available space.
3. Sturdiness and Comfort
Sturdiness mostly revolves around the tables. A good table should be able to hold the weight of what is placed on top. The attachments should be simple, since this reduces the number of weak points. A dining set may be sturdy, but not comfortable. The base plays a role in stability. It affects how steady the dining table is as well as the user's comfort. A pedestal base design gives the diners enough room for their legs to fit without hitting each other. Get the most comfortable table and chairs for a great dining experience.
4. Material and Quality
When it comes to furniture, our opinions of quality can vary. Most people attach the quality to the type of material used. It can also be influenced by your budget, design of choice, and use of your dining space. Whether you are going for glass, wood, timber, or matte, get the best option available. It's recommended that you get your dining furniture from a reputed furniture store such as Kasala, with a huge collection of the dining area pieces you are looking for. Remember, not all expensive and cute materials allude to quality. You should research to get the best option based on your budget.
Buying furniture for your dining room requires proper thought. Don't be in a hurry to pick the first design you see. Invest in pieces of furniture that will give you service for a long time.
The Energy-Efficiency Advantages of Vinyl Window Replacement

Windows are more than just portals to the outside world; they play a significant role in determining the comfort and energy efficiency of your home. If you're looking to improve your home's energy efficiency, consider the advantages of vinyl window replacement. In this article, we'll... The post The Energy-Efficiency Advantages of Vinyl Window Replacement appeared […]