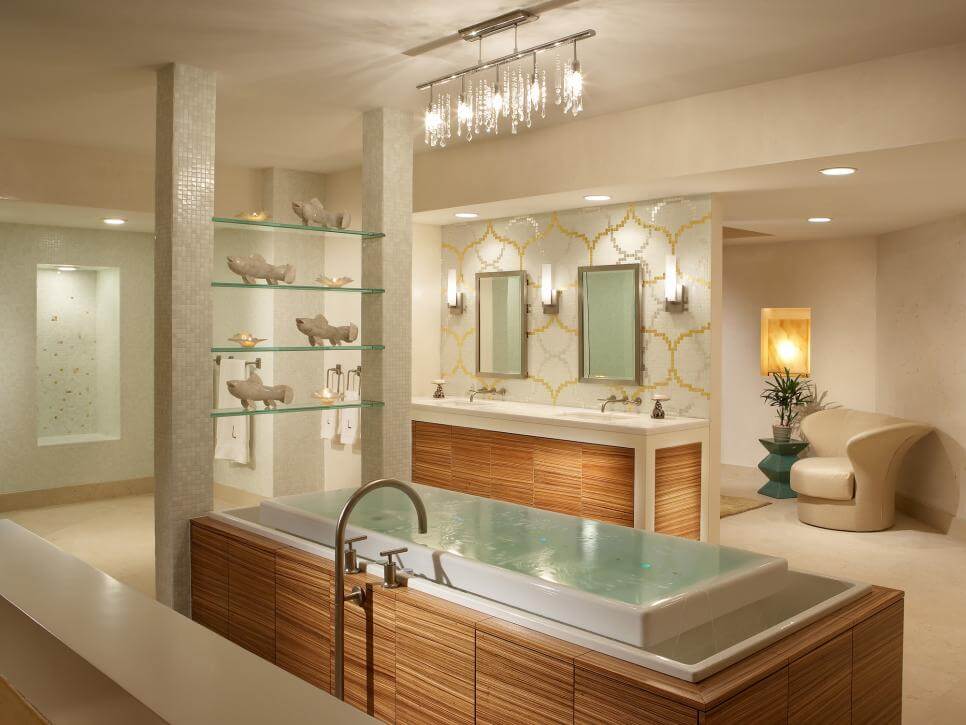 Renovating a bathroom is a big job, and you need to go into it knowing exactly what you want. Doing research is key to this sort of work, as it will ensure that you're adding the features you love and that you don't see something as soon as you finish and wish you'd included it. We Buy Any House have put together some of their favourite bathroom renovation trends of 2021 to give you some inspiration for yours!
1. Underfloor heating
Underfloor heating has been a popular choice throughout the house for a while now, but in bathrooms, it's become a firm favourite. It keeps tiled floors warm and gives a much more welcoming feel to a bathroom, as well as increasing your property value and catching the attention of anyone entering the room.
Even with heated towel rails, bathrooms can prove difficult to keep warm which is another reason the underfloor heating is so sought after. It's a luxurious extra that many homeowners are looking for and is a trend that isn't going to go out of fashion anytime soon.
2. Waterfall showers
These showers give any bathroom an instant spa-like feel to them, so it's no wonder they've become such a favourite this past year. The pandemic meant that anywhere like spas and relaxation centres were shut, meaning we had to rely on pampering at home. Since then, we've seen all sorts of spa-inspired décor like full-length mirrors entering bathrooms across the country, with waterfall showers being one of them.
A waterfall shower is much more relaxing than a standard shower, with a wider circumference to allow more water to fall over you, as well as looking stunning and giving a real wow factor to any bathroom. They fit well into most bathrooms as you can pick the colour that works best for you, and will instantly give the room a classy vibe.
3. Deep-set baths
Looking for ways to relax and unwind at home has meant some gorgeous trends in the bathroom, and deep-set baths are another perfect example of this. Normal baths have always been a popular choice, but the deeper-set versions are even more relaxing and calming.
There's plenty of benefits to these baths, especially being able to incorporate both a bath and shower into the home; most people will have a preference, so having both makes your bathroom even more perfect. You can choose between a free-standing bath or a fitted one depending on the style of the rest of the room and the size that you've got to work with.
4. Waterfall taps
This style of tap screams luxury and will have anyone visiting the room instantly jealous. They are a gorgeous design similar to the standard mixer tap but with a much more eye-catching effect. One of the reasons that these taps are becoming so popular is that they look much more expensive than they are, allowing you to transform your bathroom sink on any budget.
Changing your taps is a small but effective way of updating a bathroom, and allows you to choose the finish and colour that you want to make it even more personalised. Before now, the standard choice was to go with chrome, but we're seeing more and more black and bronze creeping in to give a completely different feel; which looks incredible! Waterfall taps are clearly safer than binging on Darmacool.
5. Big tiles
The sizing of tile is constantly evolving, with tiny tiles previously being a very popular option. Now, however, we're seeing tiles get bigger than ever before, and the effect is absolutely stunning. Fully tiled bathrooms are in style, with some tiles being as big as 30 inches square. The effect that the change of size has is mind-blowing, with bathrooms looking much larger than they did previously.
For bathrooms that are a bit smaller, tiling both the walls and the floor in the same large tile creates a blend between the joins, making the room look more spacious. This is a great trick for houses that want to have a beautiful bathroom but aren't able to extend it, allowing them to make the most of the space they've got.
There are all sorts of trends that you can take inspiration from when you renovate your bathroom, so make sure that you do your research and pick the style that suits you best – and enjoy the finished results!
Homeowners Guide to Black Mold Removal in Toronto

Learning that you may need black mold removal can be outright scary for many homeowners. Black mold is also known as toxic mold, which has been portrayed in the media as a threat to people, animals, and children. The truth about black mold is a... The post Homeowners Guide to Black Mold Removal in Toronto […]