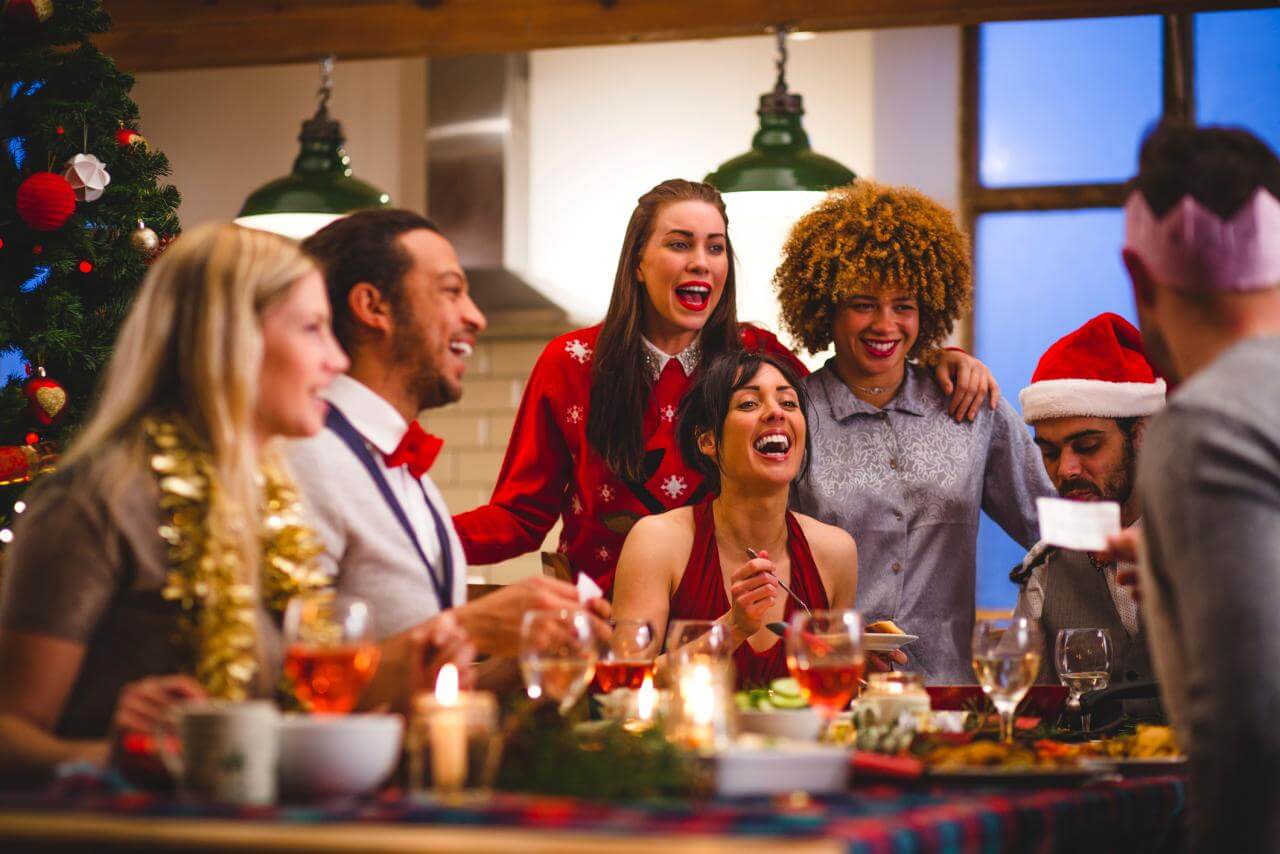 We spend a lot of time and money investing in our home's appearance, whether we rent or own them. Our homes are places where we gather with friends and loved ones, enjoy time spent together, and make lifelong memories. It can feel daunting if you've never hosted a large gathering at your place, whether it's a garden party or a birthday party. Throw the holidays into the mix, and it can be downright stressful! If you're hosting a holiday party at home for the first time and need some help figuring out what will guarantee a great time, keep reading for some inspiration.
Mood Lighting
The holidays are a magical time of year for many reasons, not the least: the early sunsets and beautiful neon lights in windows you see driving through town. Having the right lighting to set the mood for your party is essential. Candles at the table in beautiful candlesticks and other scented candles with familiar smells like fir, sugar cookies, and cinnamon is another must. Twinkling lights hung around your home are probably a given, but they can add warmth and beauty to table or mantle displays. Setting a festive tone through the right lighting will add joy and a holiday spirit for you and your guests.
Festive Music
One of the best parts about the holiday season is the familiar songs that evoke a strong sense of nostalgia and happiness from our childhood. Make sure you have plenty of holiday favorites for your record player, Bluetooth speaker, or however else you play music at home. Investing time in creating a holiday music playlist can go a long way in keeping spirits high at the party.
Party Favors
Remember, as a child, at the end of a birthday party, the excitement you felt when you received your goodie bag at the end of the party? Whether your guests are young or young at heart, party favors are appreciated by everyone. These can be as simple as a candle in a festive scent or something more expensive like a bottle of whiskey or brandy – great drinks for the holiday season. Showing your guests that you appreciate their attendance is the hallmark of a great host.
Perfect Place Settings
Food is a given at any holiday party, from timeless appetizers to home-baked Christmas cookies and a beautiful turkey or roast. But, maybe you're outsourcing your meal prepping, or you're going with something less traditional, like pasta. No matter what you serve, presentation is everything. If your party includes a sit-down dinner, make sure you have a curated dining table and beautiful place settings to match the theme of your party. If it's buffet style, decorate the buffet tables beautifully.
A Signature Drink
Most adult gatherings feature some form of alcohol, and coming up with a signature beverage for your party is a fun way to get people talking and enjoying themselves. Give your drink a holiday-inspired name, or perhaps name it after a special person at the party to whom you and your guests can pay tribute. Be sure to include a non-alcoholic version for your minor guests as well as those who are sober. Drinks you can garnish beautifully with greenery and are red are an easy go-to for holiday parties. And don't forget the eggnog!
Keepsake Invitations
Nowadays, it's not uncommon to receive an invitation via email or even through text message. The holidays are different, though; they're the one time of year when people still send Christmas cards or family updates through letters. Keep this traditional momentum when it comes to your party invitations. Take time to design a beautiful invitation of a high enough quality to become a keepsake for your guests. Include the theme and dress code on your invites, along with RSVP times and plus-one guidelines.
Hosting your first holiday party will come with hiccups and stress, just like a wedding. Be sure you're ready to roll with the hosting punches and maintain a positive attitude. By including the above essentials in your party, you can be confident your guests will have a memorable and happy time. This time of year can be stressful for many people, so providing a fun gathering is always a way to lift spirits. Cheers!
The Energy-Efficiency Advantages of Vinyl Window Replacement

Windows are more than just portals to the outside world; they play a significant role in determining the comfort and energy efficiency of your home. If you're looking to improve your home's energy efficiency, consider the advantages of vinyl window replacement. In this article, we'll... The post The Energy-Efficiency Advantages of Vinyl Window Replacement appeared […]