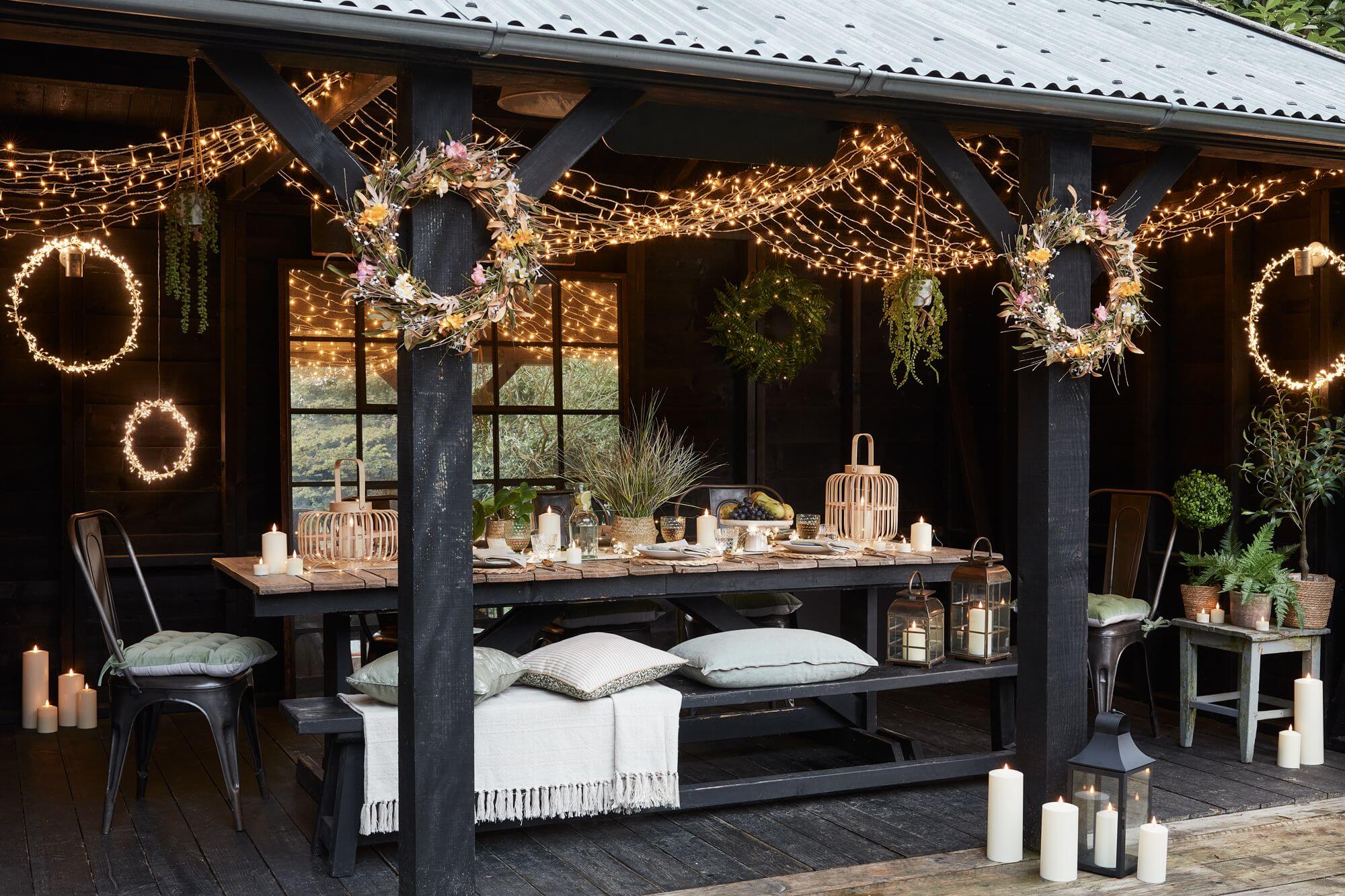 Want to host a party that's both unique and memorable? Try throwing a garden party. When the weather cooperates, this type of event can be extremely elegant and pleasurable.
What is a Garden Party?
When you hear the title "garden party," it probably conjures certain images in your mind. But you don't have to overcomplicate this. You have ample room for flexibility and imagination.
At its essence, this event is simply an intentional gathering that takes place out of doors and provides the means for a select group of people to interact, homeowner Malcolm Tatum writes. "All that is needed to hold one is a list of people to invite, an outdoor location such as a backyard, and a little food and drink to keep the party going."
Historically, garden parties were a tradition that originated in the United Kingdom and France several centuries ago. Upper-class families would gather for weekend getaways at countryside chateaus and estates where the activities would literally take place in and around the host (or hostess's) beautiful outdoor grounds.
The host would set up candles, lanterns, and long buffet tables. The entertainment might include music and dancing as well as eating and drinking until the wee hours of the morning. These festive occasions typically involved formal wear, string ensembles, outdoor games, and plenty of wine.
Garden parties have evolved since that day. You may certainly choose to organize a formal garden party, but your event could also look more like a casual backyard barbecue.
It's entirely up to you! The only requirements are that it be outdoors and entail food, drink, and good company.
Tips for a Successful Garden Party
You can do several things to throw a successful garden party in your backyard. Take a look at a few tips and best practices.
1. Choose a Suitable Date
The first step in planning a garden party is to select a date. Ideally, you should try to plan at least 30 to 45 days in advance to ensure ample time to get the proper arrangements in place. This also allows you time to send out invitations that provide sufficient advance notice for guests to set the event on their calendar.
Typically, garden parties are held in the afternoon (or at least begin while there's still daylight). For that reason, most people choose a Saturday or Sunday to hold garden parties unless they have neon lights. Nothing is stopping you from doing a Friday or midweek party if that's more agreeable, however.
2. Plan the Setting
As mentioned earlier, the setting can range from formal to casual. That's totally up to you, too. But it's important to plan the setting ahead of time so your guests will be aware of what they ought to wear. Dressy casual is usually a safe option, because it allows people to dress up without making them feel pressured to go "all out."
3. Build a Guest List
Then you build your guest list. Think about such factors as space and budget.
If your backyard can only hold 30 people comfortably, don't invite 100. And if you want to control your costs, make sure you're selective about your invitees.
Generally speaking, you can expect somewhere between 50 to 75 percent of the people you invite to show up. Thus, if you'd like to see roughly 50 people on hand, you should invite between 85 and 100.
Require your guests to RSVP at least two weeks in advance so you can get a sense of the likely final tally.
4. Keep Decorations Simple
You don't have to go overboard with decor. The main thing is to have your yard professionally landscaped so it's ready for the gathering.
An appealing move is to order some floral arrangements. We recommend working with a company like Flowers for Dreams, which prides itself on being a "craft" florist. This means they offer utterly fresh arrangements in designs you won't find at cookie-cutter floral stores.
In some cases when you have a theme picked for the party you might consider thematic decorations as well. For instance, if are planning to host a 4th of July garden party you will hardly decorate the space with flowers. In this case flags, thematic table runners, and front door inflatables will be the best choice. 4th of July-themed inflatables can be placed in the garden and will certainly create a patriotic atmosphere that your guest will enjoy. You can also checkUltimate Flags Inc for flag inspirations.
Several lovely arrangements will add a touch of class to your event without blowing out your budget.
5. Have a Contingency Plan in Place
The biggest threat to the success of your party won't be the decor or finger food selection. It'll be the weather.
Because weather can be unpredictable, depending on where you live, and there's no way to guarantee a sunny day in many parts of the country, it's imperative that you have a contingency plan.
This usually involves moving the party inside or arranging for a large tent that will provide shelter from unfriendly elements.
Start Planning Your Dream Garden Party!
Stop dreaming about throwing a garden party and start planning your dream garden party! There are very few hard-and-fast rules or requirements.
You can make your garden look and feel whatever way you'd like. Whether it's upscale and swanky or casual and down-to-earth, you get to decide. Use the tips listed above to get started.
The Energy-Efficiency Advantages of Vinyl Window Replacement

Windows are more than just portals to the outside world; they play a significant role in determining the comfort and energy efficiency of your home. If you're looking to improve your home's energy efficiency, consider the advantages of vinyl window replacement. In this article, we'll... The post The Energy-Efficiency Advantages of Vinyl Window Replacement appeared […]